LINCOLN SQUARE — Eco & The Flamingo, a zero-waste general store in Lincoln Square, is collaborating with Hyde Park-based Dinobi Detergent to offer its plant-based detergent in sustainable, reusable containers at the shop.
Eco's owners Bethany Barbouti and Jackie MacCartie opened their shop last year at 4754 N. Rockwell Ave. The two have been friends since attending Maine West High School in suburban Des Plaines and became interested in living a "zero-waste" lifestyle a few years ago before deciding to open their business. 
Their shop sells items like herbal salves for skin irritation, hypoallergenic laundry detergent, body scrubs, pasta, coffee, teas and bars of soap sourced from independent vendors in Chicago, Texas, North Carolina and Missouri. Because Barbouti and MacCartie want to reduce plastic waste, they sell their products in reusable containers.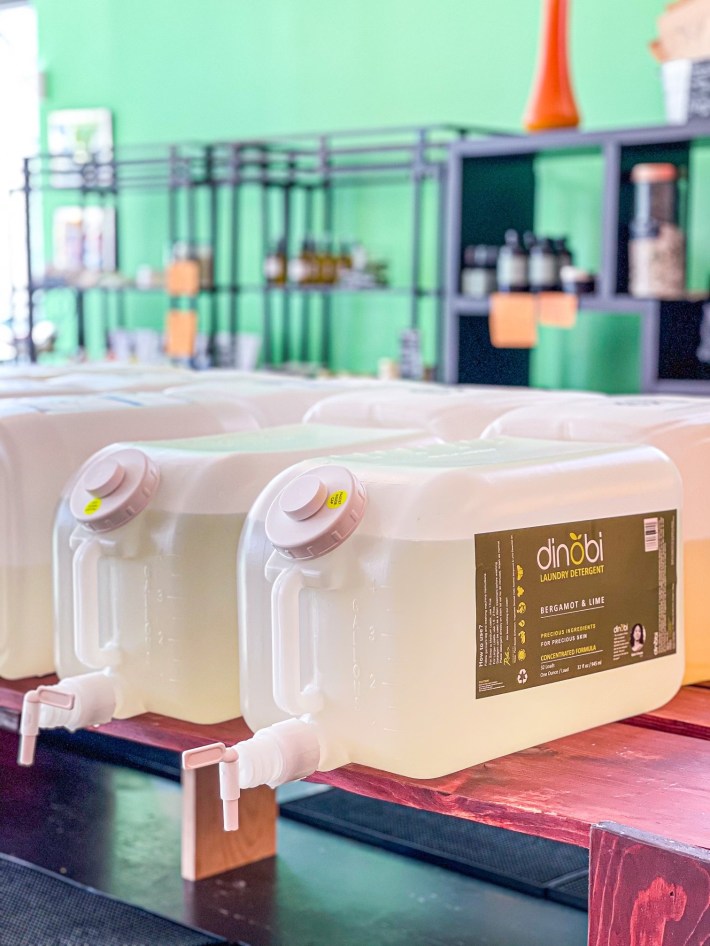 Since opening, the pair have also joined Plant Chicago's Circular Economy Leaders Network, which connects Chicago-area small businesses to cultivate "circular economies" to minimize waste created by the businesses, among other things. 
Barbouti learned about Dinobi during a virtual meet-and-greet organized by Plant Chicago earlier this year and realized its business model fit perfectly with Eco's zero-waste goals. 
"As I was watching Dinobi's owners speak about their business and their goals, I looked up their website and was like, 'Oh my gosh, this is amazing," Barbouti said. "I sent them a direct message on the Zoom chat right away."
Dinobi's owners, Sylvia and Augustine Emuwa, came up with the idea for their business seven years ago after the couple found the detergents they were using were too harsh for Augustine and their baby. 
"We were buying a lot of different products, but we couldn't figure out what exactly was trigging my husband and newborn's eczema," Sylvia Emuwa said.
After researching what ingredients comprise most detergents, the Emuwas decided to create a plant-based detergent for sensitive skin. They hired an organic chemist to formulate their detergent and in 2019 the couple won $5,000 from the South Side Pitch competition to diversify their line of products and improve their website.
The collaboration with Eco is Dinobi's latest expansion and the company's first time offering bulk refill services.
The Emuwas started dropping off gallons of their detergent at Eco's Lincoln Square location in large reusable containers last month. Now, customers can buy Dinobi detergent in a new glass jar or reuse their already purchased jar. 
When the large container of Dinobi's is empty, the couple picks it up to sanitize and refill it before dropping it off at Eco again. That both businesses are based in Chicago also helps reduce their carbon footprint, Barbouti said.
"We're reducing waste in a way that is almost like the milkman in the old days, when you just set the empty glass bottles outside and they'd come to pick it up and give you new milk," Sylvia Emuwa said. "It's a little bit of a remix of an old way of doing things."
Subscribe to Block Club Chicago. Every dime we make funds reporting from Chicago's neighborhoods.
Already subscribe? Click here to support Block Club with a tax-deductible donation.