EDGEBROOK — When Jim Kersten was a baby, he would spend his time crawling in the window of display cases at his parents' far Northwest Side bike shop.
"People would knock on the window and say, 'There's a baby in there,'" said his mother, Mary Kersten. "I would say, 'Yeah I know, I know where he is.'"
Thirty-five years later, Jim is still at the bike shop, but he's doing more than just crawling around. He co-owns Edgebrook Cycle along with his mother — and with occasional help from his dog, WallE, named after Disney Pixar's robot.
Edgebrook Cycle, 6450 N. Central Ave., surpassed 41 years in the neighborhood this past March. To commemorate the anniversary, the shop's owners were surprised with a mini celebration gift earlier this month from the community, as well as a plaque from the neighborhood group Everyday Edgebrook that now hangs in the shop.
"All of my memories are here," Jim said. "I grew up here, literally."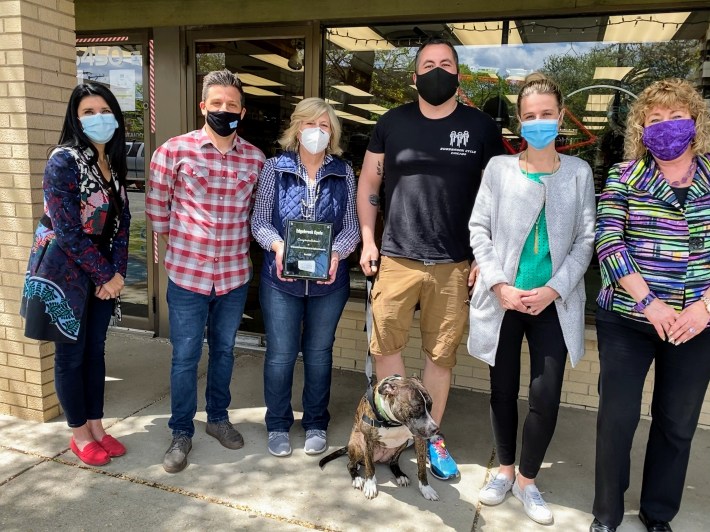 In 1980, the Kerstens bought Sauganash Cycle on Cicero Avenue from its previous owner before moving to Edgebrook, renaming the business and slowly expanding it from one storefront to three.
Mary said the shop's honorary name is Edgebrook Sauganash Cycles. For almost 20 years, the shop was located at Caldwell and Devon Avenues but has been at its current location for the last 21 years. Since then, she's watched her regular customers grow up and come back with their families.
"The kids we helped get their first bikes are now coming in with their kids so it's cute," Mary said.
Another memory the owners shared about the shop's long life is all the Chicago legends that have come through its doors, like Bulls star Scottie Pippen, Bears coach Mike Ditka and Jane Byrne, the city's first woman mayor.
Jim said the last year has been a blur because of the pandemic. The bike shop sold out of all of its bikes by May of 2020, as people flocked to bike shops worldwide to get outside and be active during the pandemic.
At the hight of the local bike craze, inner tubes or tires to fix flats were out of stock.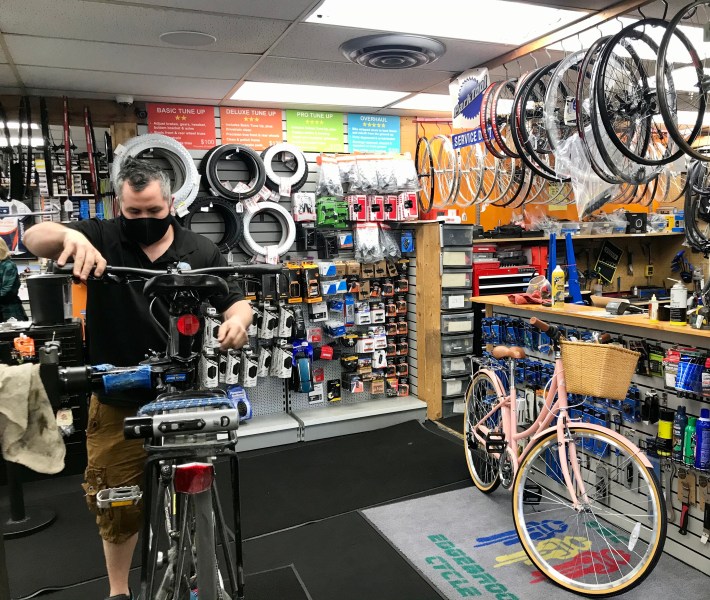 He said the shop, which is located two blocks from the North Branch Trail and services a majority of bikers from the trail, usually sells about 650 bikes a year. But in 2020, Edgebrook Cycle sold 500 by May and is still waiting for new bikes to come in from manufactures as the supply chain slowly gets back to normal.
But Jim doesn't expect that to happen anytime soon because cycling companies are still catching up and demand is still high, especially as nice weather approaches and more cyclists hit the trails.
"There were 4,000 bike shops in North America all playing hungry, hungry hippos with the bike supply chain," he said of the cycling pandemic boom. "But there's going to be a whole bunch more people riding bicycles that didn't do it before because they learned about it because of [the pandemic], so there are some silver linings, I suppose."
Like many bike shops, Edgebrook Cycle pivoted to be more service-oriented and opened up shifts for the 12 employees. Mary said some worked in the middle of the night because they didn't want to be around people during the day.
The owners said they only recently stopped curbside service and now offer normal, in-store service again. With the state and city easing coronavirus restrictions on businesses and mask-wearing mandates relaxed for vaccinated people, Jim hopes some sort of normalcy can return to the cycling community.
He said he's looking forward to group charity rides the shop has supported in the past, partnering with other groups for community events and hosting in-person bike maintenance classes again that couldn't translate to Zoom. He's also looking forward to just having more people frequent the shop again, he said.
"We gotta get the Boy Scouts back in here. I haven't done a flat tire class for the boys in over a year," he said.
The bike shop's anniversary celebration, which included cupcakes for the staff from neighboring business Mona's Sweet Spot, is overdue, said Everyday Edgebrook President Justin Ochonicki.
Edgebrook Cycle celebrated 40 years right as the pandemic took hold, so the Kerstens were not able to properly commemorate the milestone. But now, as people feel more comfortable going out again and standing close to each other, Ochonicki said it felt like the right time to honor the business.
"Any business that survives 40 years, that's like dog years," Ochonicki said. "That's really an achievement and nothing to sneeze at. We are so fortunate to have a business that is a pillar of this community, has a presence and that everybody loves."
He said his organization also wanted to honor Edgebrook Cycle for all of its contributions to the community and give back to the family that has given so much.
"These small businesses like Edgebrook Cycle help support our schools, churches and fundraise for the organizations that our residents love," he said. "The least we can do is recognize the journey they have been on."
Subscribe to Block Club Chicago. Every dime we make funds reporting from Chicago's neighborhoods.
Already subscribe? Click here to support Block Club with a tax-deductible donation.