PORTAGE PARK — Chicagoans wanting to grow their own tomatoes have a unique chance to order and pick up plants grown by the area's "Tomato Man" Saturday in Portage Park and Lincoln Park.
Bob Zeni, a 69-year-old graphic designer from suburban LaGrange Park, has grown tomatoes out of his home for 25 years. Chicagoans looking to choose from the nearly 100 varieties of tomato plants he offers normally would have to travel to his home for his annual plant sale in May.
But this year, Zeni will offer his plants for pickup May 15 in the city. He will sell them 9 a.m.-noon at Perkolator Coffee, 6032 W. Irving Park Road in Portage Park. In the afternoon, he'll sell them at a parking lot near the Peggy Notebaert Nature Museum in Lincoln Park.
Zeni will have extra plants at each location, but he said people should order in advance through his website.
Zeni started growing tomatoes after complaining to his wife, Wendy, about the poor taste of the store-bought ones. 
"I didn't know anything [about tomatoes], but I was working out of my house and she said, 'Why don't you grow your own?'" Zeni said.
Learning by trial and error, Zeni grew heirloom tomatoes for his family for about 10 years.
Heirloom vegetables produce harvests that can be mixed and are less predictable, according to Farmers' Almanac. Fruit size can vary greatly, even on the same plant — but advocates say they're far tastier than supermarket-favored varieties.
As Zeni sharpened his skills, he started growing several varieties — this year he has about 96 to choose from — and way more plants than he could give to relatives.
"Probably about 15 years ago, I had some extras, so I just gave them to neighbors. Then, the next year they started asking for them," Zeni said. "I start them around January, so that year I said, 'Let's see if I could scale up the process.' It went from 20 plants to 200 and then 500 in about two or three years."
Now Zeni's up to more than 2,000 plants. To grow that kind of volume, he installed fluorescent lights in his basement and heat pads that the seedling trays go on when they start, usually in January. Once they are about 6 inches tall, they are hardy enough to move into the portable greenhouse on Zeni's backyard patio. 
Zeni said he'll plant about 2,400, "but I'll screw up and kill about 200." He sells about 1,800 plants and gives whatever is left over to Gardeneers, a Chicago-based nonprofit that empowers students to garden and learn about healthy eating and living.
Through it all, Zeni said his wife has been "amazingly tolerant." But he knows she's looking forward to reclaiming the family's patio once the growing season is over and he takes down the greenhouse for the year.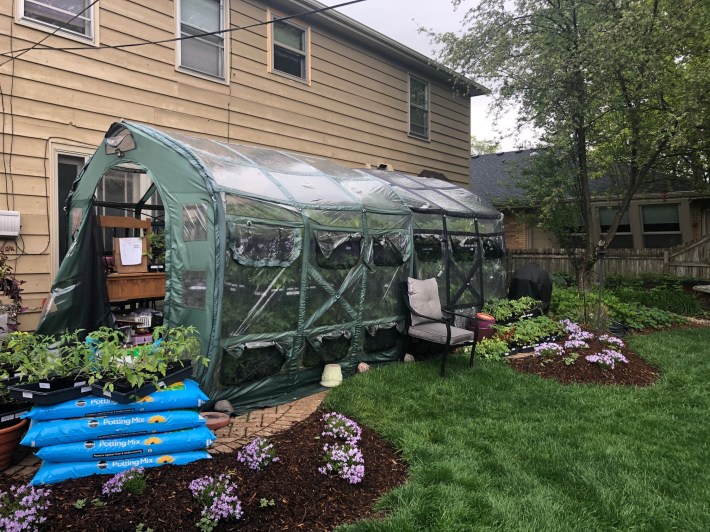 Wendy Zeni said she thinks her husband is a bit "crazy" and is often asked about him when someone finds out her full name.
"He's been dubbed the 'Tomato Man,' and everybody knows him. I'll meet somebody and they'll see my last name and ask, 'Do you know the Tomato Man?' And I'll say, 'Yeah, he's my husband," she said, laughing.
Zeni calls himself a hobbyist and describes his gardening skills in modest terms, but his daughter, Rebecca Zeni, recalled how he revived 1,800 plants that nearly died when Zeni was out of town and she forgot to water them. The state they were in "terrified" him, Zeni said, but he brought them back.
"I felt so bad, but he's a master gardener and he nursed them back to health," Rebecca Zeni said.
Once Zeni began selling the plants, word quickly spread. He said many of his customers have been buying for years and several come from Wisconsin, Indiana and further.
"There's a couple that comes up from St. Louis, and they were kind of chagrined to admit it, but they come to Chicago every year and plan their trip around the sale," Zeni said.
Zeni also said that although he may seem obsessed with tomatoes, some of his customers make him look like an amateur.
"I love them all, but there are some people who are over-the-top obsessive about it. I'll get notes asking, 'What's wrong with this plant, can you come out and look at it?'" Zeni said, laughing. "I try to discourage that."
This marks the second time Zeni is adjusting his normal tradition of selling plants from his driveway. Because of the pandemic last year, village leaders wouldn't allow Zeni to organize his normal event, so he and his daughter made hundreds of deliveries.
Customers can still order online and pick up from the suburbs this year. For those who don't want to trek to the suburbs, Zeni and the plants will come to the city. 
Subscribe to Block Club Chicago. Every dime we make funds reporting from Chicago's neighborhoods.
Already subscribe? Click here to support Block Club with a tax-deductible donation. 
Listen to "It's All Good: A Block Club Chicago Podcast" here: