CHICAGO — Another 52 Illinoisans were reported dead from coronavirus during the weekend.
The number of people dying from COVID-19 rose last week even as Mayor Lori Lightfoot and Gov. JB Pritzker laid out how they will reopen the city and state this summer. Deaths are a lagging indicator, Pritzker said — meaning the people dying now from COVID-19 are dying as a result from the surge in cases Illinois saw in late March.
Recently, other metrics — like positivity rates and new cases per day — have fallen.That's why Pritzker's not concerned the recent uptick in deaths signals a new wave or mean officials have to pull back on reopening plans, he said.
At the same time, people need to continue to take precautions — like getting vaccinated and wearing a mask — to ensure there's not another surge that would put people at risk and shut down officials' plans to return to normal life, Pritzker said.
"This good news [about reopening] comes with a caveat: We have all seen throughout this pandemic that this virus and its variants have proven to be unpredictable," Pritzker said at a Thursday news conference. "Metrics that look strong today are far from a guarantee of how things will look a week, two weeks, a month from now.
"What we do know is we have tools in our arsenal — like vaccinations and wearing masks — that, if we all use them, have proven extremely effective."
Cases, hospitalizations and Chicago's positivity rate climbed for weeks in March. But those numbers have recently begun to stabilize and fall, and people are getting vaccinated, making it possible to reopen — though it must be done slowly, Dr. Allison Arwady, head of the Chicago Department of Public Health, said at a news conference last week.
"This is happening, make no mistake, because people are getting vaccinated," Arwady said. "Things are heading the right way, but we are not done; and our ability to continue to move ahead is most dependent on people continuing to get vaccinated.
"… Talk to everybody you know and say, 'Have you gotten this vaccine yet? And if not, let me help you.'"
Still, the number of cases being reported per day is too high, Arwady said.
The state and city are racing to vaccinate as many people as possible so they'll be better protected against COVID-19 — and to prevent more variants from developing. But vaccinations are slowing down.
That change has come even though the vast majority of Illinoisans are not fully vaccinated, though everyone 16 and older is now eligible for the shots in Chicago and across the state.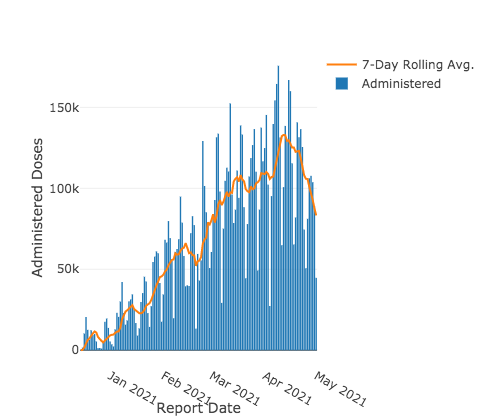 Arwady and Lightfoot have said they won't require Chicagoans to get vaccinated, and there won't be a "vaccine passport" that people will have to present to get into restaurants or events.
But they are looking at ways to incentivize people to get vaccinated — and that does mean they'll host events where vaccinated people can get concert tickets, or vaccinated people might get preferential spots at sports events and concerts, the officials said. The city also doesn't require fully vaccinated people to quarantine or get tested when they travel, nor are vaccinated people included in capacity limits for private events.
Officials will continue to urge everyone to get vaccinated and take precautions as there's still a high risk for spreading COVID-19 among unvaccinated people. Vaccines have been shown to be highly effective at preventing serious illness and death.
RELATED: Here's How You Can Get Vaccinated Against Coronavirus In Chicago
The victims reported over the weekend included 20 people from Cook County, including two men in their 50s and nine people in their 60s.
At least 22,223 people have died from COVID-19 in Illinois, and another 2,354 deaths are probably related to the virus, according to the state.
The state reported 3,470 cases over the weekend. That brings the total number of confirmed cases in Illinois up to 1,354,967.
RELATED: A Year Of Loss: COVID-19 Has Killed More Than 4,500 Chicagoans. For These Families, Life Will Never Be The Same
Across Illinois, 73,622 vaccine doses are being administered per day, based on a seven-day rolling average. Illinois and Chicago have administered at least 9,908,489 vaccine doses of the 12,459,585 provided to them.
City data shows 2,133,440 doses of vaccine have been administered to Chicagoans in the city, and 2,284,410 doses have been administered in the city overall. About 46.6 percent of all Chicagoans have gotten at least one shot, while 34.7 percent have completed their vaccination. Among Chicagoans 65 and older, about 67.7 percent have gotten at least one dose, while 57.5 percent have finished their vaccination.
Illinois' seven-day positivity rate fell to 2.9 percent Sunday with 65,930 tests reported. It was at 3.1 percent Friday. The figure represents the percentage of people testing positive among recent tests.
Illinois' seven-day test positivity rate, which measures the percentage of tests that were positive, fell to 3.4 percent Sunday. It was at 3.7 percent Friday.
As of Saturday night, 1,870 people were hospitalized with coronavirus in Illinois, including 452 people in the ICU and 232 people using ventilators.
In Chicago, 11 deaths and 727 confirmed cases were reported since Friday. There have been at least 5,229 deaths from COVID-19 in Chicago and 279,369 confirmed cases, according to state data.
The city is seeing an average of five deaths per day, down from six per day the week prior.
An average of 456 confirmed cases are being reported per day, a 12 percent decrease from the previous week. At the same time, testing has fallen 5 percent since a week ago.
The city's seven-day positivity rate is at 4.3 percent, down from 4.5 percent the week before.
Block Club Chicago's coronavirus coverage is free for all readers. Block Club is an independent, 501(c)(3), journalist-run newsroom.
Subscribe to Block Club Chicago, an independent, 501(c)(3), journalist-run newsroom. Every dime we make funds reporting from Chicago's neighborhoods.
Already subscribe? Click here to support Block Club with a tax-deductible donation.