JEFFERSON PARK — When a group of veterans learned that Thursday was Hillard Dominowski's 100th birthday, they felt like duty called.
So they sprang into action, organizing a birthday parade on his Jefferson Park block to pay the fellow veteran a visit.
Dominowski, who turned 100 on Thursday, was born in Chicago and grew up in the Wicker Park neighborhood. After bouncing around from state to state, he lived with his brother in California until he was drafted to serve in World War II. During the war, Dominowski spent 6 months in a German prison camp after being captured. After he was liberated, he returned to Chicago to marry, moving to Jefferson Park where he raised four children while working for the Chicago Park District for almost 38 years before retiring in 1985. 
The secret to his longevity may be "milk, cake and pie" — along with a lot of reading, completing crossword puzzles and models, and painting.
His birthday visitors, members of American Legion Post 335 and Veterans of Foreign Wars Post 5979 in River Grove, learned about Dominowski from fellow member and Marine veteran Richard Wojewnik, who got a call about him a few weeks ago. Wojewnik's 92-year-old mother attends a senior knitting class at St. Francis Borgia Church in Belmont Heights and heard about the 100th birthday. Wojewnik called Dominowski's daughter Joan Rush and got permission to pay tribute to him Thursday.
About a dozen veterans took six vehicles, including a 1950s era Marine Corps vehicle, and drove up and down Dominowski's block bleeping their horns and waving flags before stopping. Then the men got in formation, saluted Dominowski and thanked him for his service and wished him a happy birthday before spending time with him, his daughters Joan Rush, Jane Dominowski and his son Hillard Jr. and his wife Maribel at his Jefferson Park home.
Dominowski was also given a challenge coin by his daughter that was provided by the group and a marble plaque that highlighted his years of service.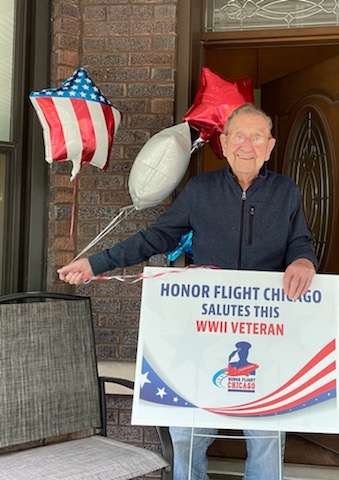 Before that, a representative from the Honor Flight Network, a group that transports America's veterans to Washington, D.C. to visit the memorials dedicated to honoring those who have served and sacrificed for our country, paid him a visit as well. So did Lt. Col. Brad Leighton from the Illinois National Guard, who drove up from Springfield for the occasion. 
"I can't believe what's happened to me today," Dominowski said when reached Thursday evening.
Rush said her father was moved to tears by all the attention.
"He cried. He was so moved by the show of support," Rush said.
For 60-year-old Wojewnik, who took part in Operation Eagle Claw, a mission to end the Iran hostage crisis in 1980, meeting older veterans is always a treat.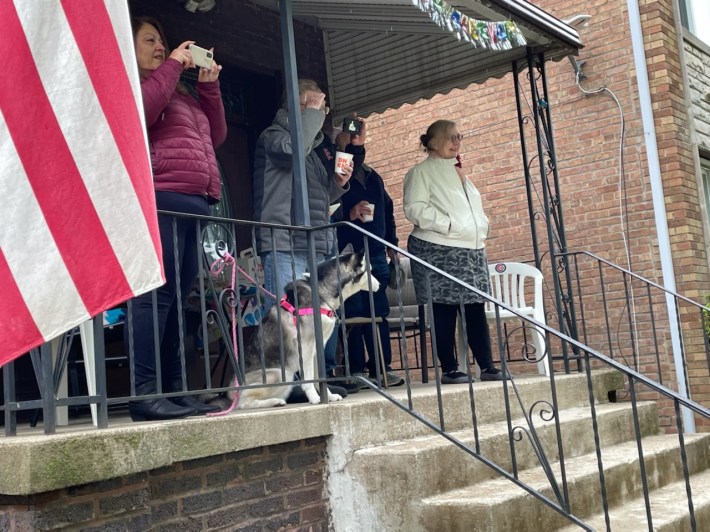 "When I meet these guys I'm like a kid. I get so excited because they really are my heroes," Wojewnik said. He added that finding out Dominowski served in the Army's 101st infantry regiment was extra special.
"He was one of those guys we heard about, from the unit that was the Band of Brothers, which I thought was so darn interesting."
American Legion post commander Lorenzo Fiorentino, an Army veteran who served from 1988 to 2009, including stints in Iraq and Afghanistan, said supporting a fellow veteran was an honor.
"It was so nice. He was asking us questions and we asked him questions. A couple of our Airborne guys asked him where he went for training. He really loved it," Fiorentino said.
Thursday evening, Rush said Dominowski was home with his family playing Scrabble and having some wine and is looking forward to a party scheduled for Saturday at a nearby banquet hall. She added that now that he made it 100, they are hoping he keeps going.
"I hope to talk to you again in ten years for his 110th," Rush said.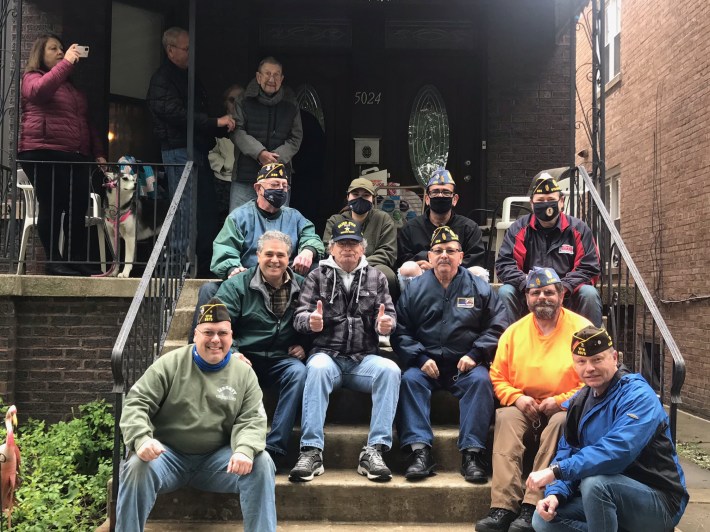 Subscribe to Block Club Chicago, an independent, 501(c)(3), journalist-run newsroom. Every dime we make funds reporting from Chicago's neighborhoods.
Already subscribe? Click here to support Block Club with a tax-deductible donation.