WEST HUMBOLDT PARK — On a recent afternoon, the corner of Thomas and Monticello avenues was buzzing with neighbors hard at work.
Some residents shoveled mulch onto a strip of land to make way for wildflowers, while another group — members of the area's block club — gathered down the street in a show of support. The patches of green surrounding them eventually will blossom into a row of community gardens, part of an effort to combat gun violence and drug dealing in their neighborhood.
In recent years, West Humboldt Park residents have organized safety walks and cleanups to reclaim the area and make it safer. Resident Andrew Christen is taking that a step further with "serious, hardcore guerrilla gardening," planting wildflowers, fruit trees and herb and vegetable beds on every unused city-owned parcel along Monticello between Cameron Elementary, 1234 N. Monticello Ave., and Chicago Avenue.
With help from neighbors and the organization Blocks Together, Christen said he hopes the blast of greenery also will help neighbors grow their own produce and tackle another persistent problem: food insecurity.
"I've lived here for 10 years. I thought, 'Let's just blow it up and try something radical.' What if I gave 40 hours a week to doing this … and see what comes of it," Christen said.
'We Have Tons Of Land Here That's Being Wasted'
Over the past several weeks, Christen has planted a half-dozen gardens on his block — the 1000 block of North Monticello Avenue — using wildflowers and native plants he finds in lots being redeveloped or lots that are overgrown and abandoned. There are plenty of them in West Humboldt Park.
Christen and neighbors also are planting apple trees and herb and vegetable gardens along the stretch with found materials. The team of volunteers has already built one traditional community garden on an overgrown lot at Thomas and Monticello, which will harvest everything from mint to rhubarb once it warms up.
"We have tons of land here that's being wasted. Might as well try to do something with it," Christen said.
Christen is uploading all of the plantings to an app called Falling Fruit, which tracks urban food sources around the world. Once the gardens are in full bloom and there are fruits and vegetables aplenty, Christen wants to partner with local food banks, corner stores and chefs so West Siders benefit from the produce.
The overall goals are to create more green space and promote the importance of sustainable agriculture and healthy eating, he said.
"Having fresh herbs to cook with is huge because the No. 1 killer on the West and South sides isn't violence; it's salt and sugar," Christen said.
Gardening comes naturally to Christen, who grew up on a farm in Nebraska, where he planted rows of squash and corn and tended to chickens. Before launching the garden project, Christen was a full-time artist who had no intention of creating a network of community plots.
When the coronavirus pandemic hit and dried up most of Christen's income, he rolled up his sleeves to start making the West Humboldt Park stretch a "green zone," as he calls it.
"I don't know if it's a mid-life crisis or whatever, but what am I going to do? The business died. Am I going to go work for someone? I don't want to. I would rather work for everybody," he said.
So far, the project has been well-received by most neighbors and by property owners and developers, Christen said. Christen said he hasn't received any pushback from the city, which owns all of the land, but if officials were to complain, the garden crates can be easily moved.
"It is city property, but to be honest, we don't care. They're wasting it," he said. "I borrow a lawn mower and mow it. I'm the one who's been taking care of it for five years now."
'There's A Lot To Do'
The area where Christen and his neighbors live has long been a hotbed of gun violence and drug dealing, so much so that many residents are sometimes afraid to leave their homes, Christen and other neighbors said.
An iron fence riddled with bullet holes sits next to the budding herb and vegetable garden at Thomas and Monticello. A few doors down, an elderly woman's home's living room window is patched up from a bullet, Christen said.
About four years ago, longtime resident Patricia Carrillo and her neighbors formed a block club and started hosting safety walks and neighborhood cleanups. Carrillo and other neighbors said they've noticed positive changes since the block club mobilized. People are starting to come out of their homes more and have become more comfortable in the area, they said.
Carrillo, a West Humboldt Park resident of 17 years, is helping launch other block clubs in the neighborhood.
"We want to change not just our blocks; we want to change our whole community," she said.
Christen's garden project bolsters that work.
Longtime West Humboldt Park resident Elida Carrizoza brought her 6-year-old daughter, Eizaly Contreras, a student at nearby Pablo Casals Elementary School, to the block on a recent afternoon to help out with one of the gardens.
"I think it's very important we support each other as neighbors so we can send that positive message and get rid of all of the negativity that has been going for years," Carrizoza said. "I don't think it's fair that my children can't go play in the street safely. There's too much violence; it's such an unsafe environment."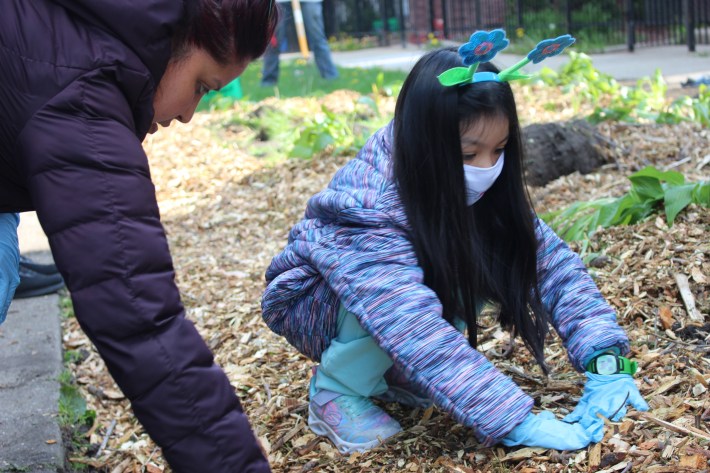 Just six weeks into the garden project, Christen noticed a lot more foot traffic in the area, but he said there's "a lot more to do" to make the neighborhood safer and its residents more prosperous. He estimates it'll take three or four years to create the kind of self-sustaining gardens that will have a lasting impact on the community.
"We've got people starving on this block. I got a guy living in an alley over there. I got a guy living in a vacant house over there. I got guys living in a car over there. There's a lot to do. But that's all man-made," he said. "I can feed people with the leftover space. We're just wasting the space."
If you're interested in volunteering, you can email Infomonticellogardens@gmail.com.
Subscribe to Block Club Chicago, an independent, 501(c)(3), journalist-run newsroom.Every dime we make funds reporting from Chicago's neighborhoods.
Already subscribe? Click here to support Block Club with a tax-deductible donation.
Listen to "It's All Good: A Block Club Chicago Podcast" here: