WEST TOWN — The owners of The Unwaste Shop, a "zero-plastic" store carrying natural beauty products, cleaning supplies, household items and more, want to help out people trying to live sustainably.
Wife-and-husband duo Jessica Naimy and Ben Mayne will open their West Town store Friday at 1821 W. Chicago Ave.
The couple is the third tenant to occupy the rotating pop-up storefront managed by the West Town Chamber of Commerce. Previous tenants included independent fashion designer NICKZA and local skincare line The Sunday Standard.
Every item inside The Unwaste Shop is plastic-free, and all packaging is recyclable or compostable, Naimy said. Because sustainable lifestyle changes can be "overwhelming," Naimy said she and her husband are excited to share their knowledge with neighbors.
"Anything you get here you never have to throw in the trash," she said. "It's really difficult to buy something plastic-free in a conventional store. That's why we wanted to open the store … to just make it easier."
Before moving to Ukrainian Village last year, Naimy and her husband Mayne were Broadway performers in New York City. The coronavirus pandemic upended their lives by halting productions in which both performers were cast.
The couple moved to Chicago to be closer to Naimy's family. Passionate about their vegan diets and plastic-free home, they decided that if they couldn't perform on stage, they'd open a business.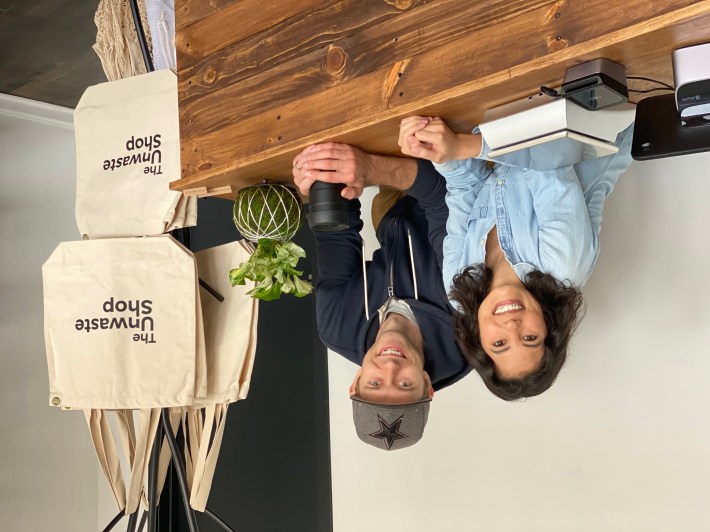 Naimy and Mayne started their plastic-free journey a few years ago with small lifestyle changes. Embracing the sustainable life can feel "overwhelming" at first, which is why they want to help make these choices easier for Chicagoans, Naimy said.
The couple have personally tried every product on their shelves and can help neighbors find the best product for their needs.
The store also has "zero-waste kits" to get people started making a particular aspect of their lives more sustainable, Naimy said.
For example, the $43 dishwashing kit comes with a dishwashing soap block, a wooden plate for the soap and various brushes.
Shampoos, conditioners, body wash and cleaning supplies are sold in bulk containers. Each item and its ingredients are listed on The Unwaste Shop's website.
Customers can buy reusable containers at the store, or they can bring in their own empty shampoo bottles and laundry detergent containers. Containers are weighed before they are filled.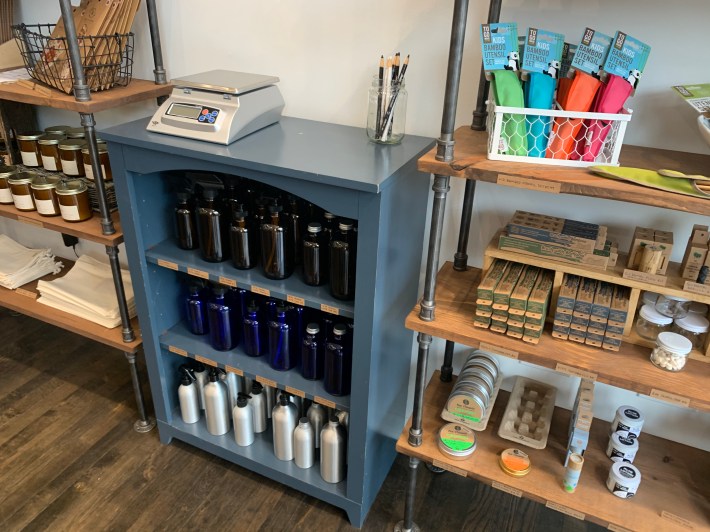 Have leftover toothpaste tubes, make-up products or stainless steel containers? These products are recyclable, though they're harder for consumers to deal with than typical plastic and cardboard, Naimy said.
If you bring these items to the store, The Unwaste Shop will help you recycle them. The shop owners will take your stainless steel to a special city recycling plant, while the Zero Waste Box company will convert beauty and oral care products into things like car mats and rubber playground flooring.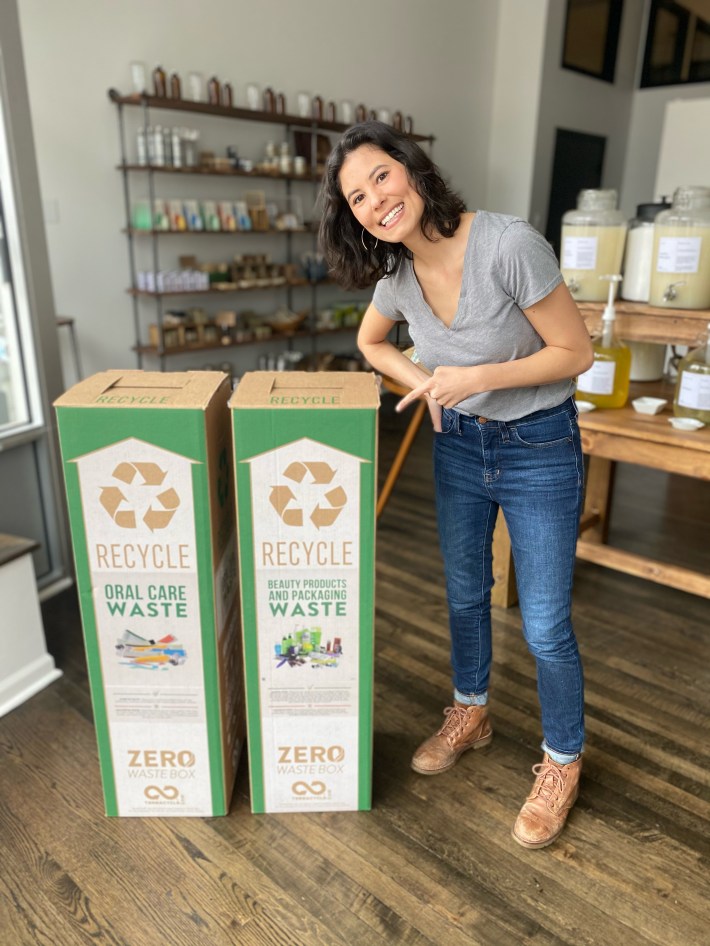 In the spirit of recycling, the store will also maintain a community "take a book, leave a book" library program.
While recycling plastic is "great," it's not always as helpful for the environment as people realize, Naimy said. In 2018, the Better Government Association found less than 9 percent of Chicago's blue bin waste ends up recycled.
The responsibility to shift away from plastic packaging should fall on manufacturers and not consumers, Naimy said. But until that happens, buying items packaged in compostable materials can help people feel better about what might end up in a landfills, she said.
"The average person creates 4.5 pounds of waste each day," she said. "That's so much when you think about how many people there are in the world."
Naimy, who is pursing a master's degree in sustainability from Virginia Tech, said she looks forward to having conversations with neighbors and answering questions about climate change and the environment.
"If I don't know the answer, I'll look it up," she said.
Hours of operation are 11 a.m.-7 p.m. Tuesday-Saturday and 11 a.m.-5 p.m. Sundays. The store's lease ends Aug. 31.
Learn more online and follow the shop on Facebook and Instagram. Contact the store by emailing hello@theunwasteshop.com or calling 248-229-6581.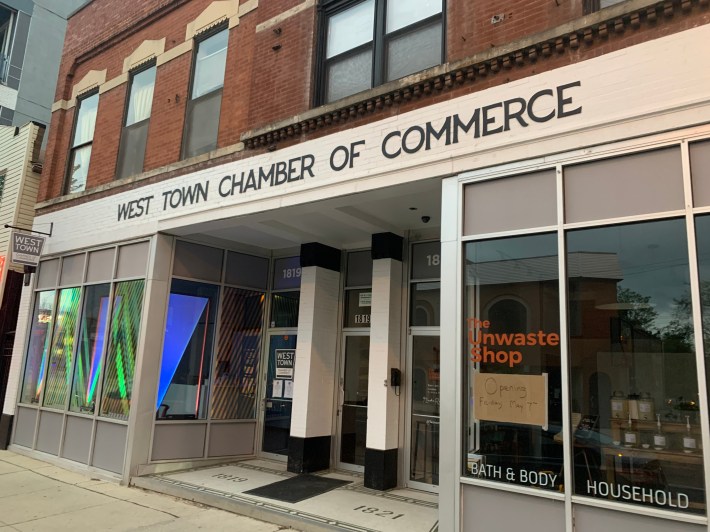 Subscribe to Block Club Chicago. Every dime we make funds reporting from Chicago's neighborhoods.
Already subscribe? Click here to support Block Club with a tax-deductible donation.
Listen to "It's All Good: A Block Club Chicago Podcast" here: