WEST LOOP — Prominent West Loop developer Sterling Bay showed off its plans for a 33-story apartment tower near the Morgan Green Line station Tuesday night, a project that would be the neighborhood's second tallest residential building west of Halsted Street.
But during the meeting, some neighbors pushed back on the plan to add 320 apartments to an already congested area, with some noting that cars double-parking on Morgan Street can often shut down traffic on Morgan.
Sterling Bay officials detailed its plan for 160 N. Morgan St. at a Zoom community meeting. The building designed by Chicago-based bKL Architecture would also include 90 parking spaces, 2,800 square feet of ground-floor commercial space and a fifth-floor amenity deck with a dog run.
The project would mostly feature studio and "convertible units." Of the over 60 affordable apartments Sterling Bay is required to build as part of the project, 10 percent would be located on-site and 10 percent would be built off-site, said Fred Krol, Sterling Bay's senior counsel.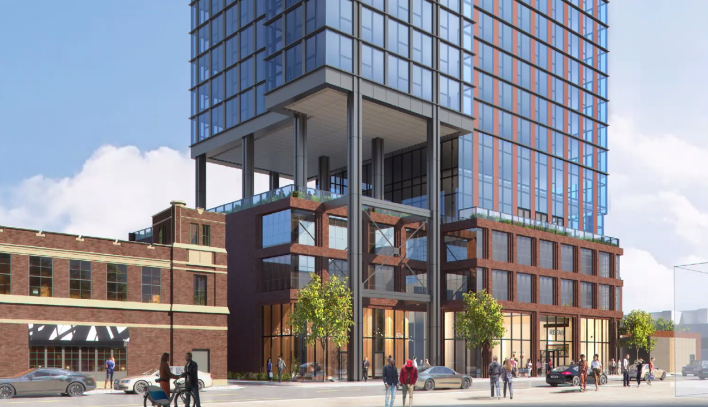 The proposed tower would replace the former drive-thru South Central Bank building just south of Federales restaurant. 
During the meeting, residents and a nearby business owner and property owner asked how they would deal with the additional traffic the project would bring in an already congested stretch between Randolph and Lake on Morgan Street. Many cars already park in the middle of the street "with their flashers going" to pick up food from carryout restaurants near Morgan and Lake, one property owner said.
"What's been done in the design to deal with the horrible traffic we have?" the property owner asked.
To mitigate some of those concerns, cars would access the building off of a southern alley, said Michael Werthmann, a traffic consultant for Sterling Bay. Most deliveries will be done through the alley, too, Werthmann said.
"We are moving all of our traffic off of Morgan Street which will greatly enhance the pedestrian experience, pedestrian safety as well as the flow of traffic on Morgan Street," Werthmann said.
But Ald. Walter Burnett Jr. (27th) asked the developer to look into adding a drive-in, drop-off area to alleviate the traffic on Morgan.
"It is challenging on that street," Burnett said. "Unfortunately, people do try to double park even though it's one lane, which we've asked [the city's] transportation [department] about but maybe we need to revisit that."
Sterling Bay officials said they would look into the possibility of a drop-off area within the property.
Burnett said he wants to talk with Sterling Bay and the city's Department of Transportation to "do something" about the traffic on Morgan Street before he considers supporting the project.
"Something has to be done because right now it's not working," Burnett said.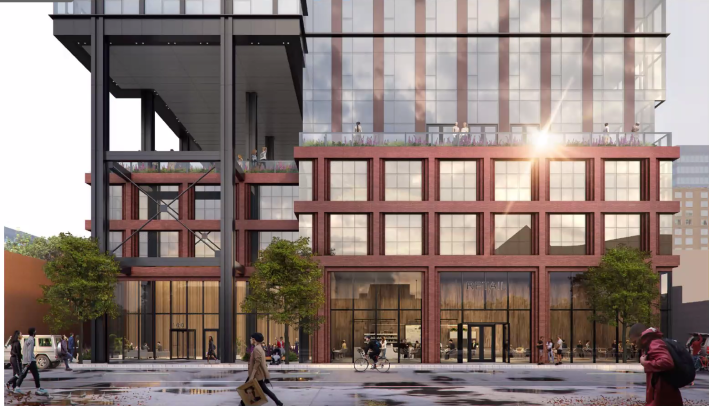 Carla Agostinelli, executive director West Loop Community Organization, also said the group will ask Sterling Bay to come up with a pedestrian safety and traffic management plan.
In the Zoom chat, one resident said they disagreed "with the idea that we should cater to cars with drop-off zones, parking for takeout, etc."
At 380 feet tall, the project would be the neighborhood's second tallest residential tower west of Halsted Street — eclipsed only by the 495-foot rental building in the works at 906 W. Randolph St. 
One resident said the Sterling Bay project is "out of context" and too tall compared to surrounding buildings. They asked for the developer to reconsider the overall height. 
Matt Letourneau, Neighbors of West Loop president, asked how Sterling Bay would work to address a lack of public green space in the Fulton Market area.
Krol said the area doesn't allow for open space because of the property's footprint.
If approved, Sterling Bay would start construction on the apartments at 160 N. Morgan St. later this year. It would last two years.
The developer would pay more than $2.7 million into the Neighborhood Opportunity Fund, the city program that allows developers to build taller and more dense buildings in exchange for contributing to a fund that helps blighted neighborhoods.
The apartments will be Sterling Bay's first residential development in the West Loop area after the prominent developer spent the last decade focusing on commercial projects like the Google building at 1K Fulton, the Ace Hotel, and the McDonald's global headquarters.
The developer has zoning approval for additional office projects in the area including 1200 W. Carroll Ave., 1000 W. Carroll Ave., and 345 N. Morgan St.
Subscribe to Block Club Chicago, an independent, 501(c)(3), journalist-run newsroom. Every dime we make funds reporting from Chicago's neighborhoods.
Already subscribe? Click here to support Block Club with a tax-deductible donation.