CHICAGO — After the wrongful and humiliating raid on her home, Anjanette Young is asking aldermen to sign on to support the search warrant reform proposal that bears her name.
Young, a social worker, was launched into the spotlight after she was left naked and handcuffed for 40 minutes as 12 male police officers raided her Near West Side home in 2019, and CBS2 made the footage public in December. Ever since then, Young has worked to hold the officers and city officials accountable and work to reform the policies that allowed it to happen.
At a virtual forum with the five Black alderwomen co-sponsoring the proposed Anjanette Young Ordinance, Young called on the 31 aldermen who haven't signed on as co-sponsors yet to support the measure.
"I don't know what your hesitancy is, but if you've seen the videos, and they're out there, I would challenge you to dig deep into your heart and do the right thing," she said. 
All 50 aldermen should be signing on to the changes, Young said.
"If I need to come have a personal conversation with you to help you understand why this is so important, then I welcome an invite so we can have that conversation," she said.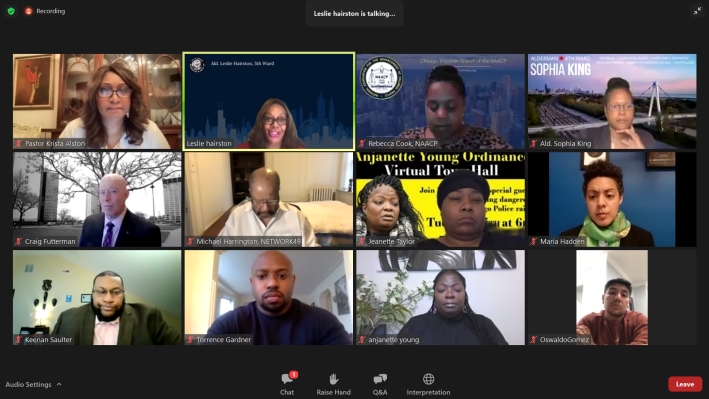 The raid on Young's home gained national attention in December when CBS2 Chicago aired videos of the raid the news station obtained from Young's attorney, Keenan Saulter. City attorneys asked a judge to block the news station from airing the footage, but were denied.
During the raid, Young pleaded with officers and told them 43 times she was innocent and they were at the wrong home. She did not match the description of the person being sought by police.
Young filed a lawsuit against the city, the Chicago Police Department and 12 officers involved in the raid in state court in February. The nine-count lawsuit alleges the officers began a conspiracy to cover up the incident the night of the raid and the conspiracy was further by city officials, including Mayor Lori Lightfoot.
Lightfoot initially said she first learned of the raid through CBS2's news report, but later revealed her staff alerted her to the raid by email a year prior.
The Civilian Office of Police Accountability said last week it had concluded its years-long investigation of the incident and delivered the findings to Police Supt. David Brown. Although the full report will not be released publicly until Brown completes his review, Civilian Office of Police Accountability officials said the investigation "produced nearly one hundred allegations of misconduct stemming from the actions of more than a dozen officers."
Lightfoot tapped former federal judge Anne Claire Williams and her law firm, Jones Day, to lead a separate investigation. Chicago's Inspector General Joe Ferguson is also reviewing city official's handling of the incident.
The Anjanette Young Ordinance would ban no-knock warrants and place tighter restrictions on Chicago Police's ability to obtain warrants. The measure also would restrict officer's interactions with children, mandate at least one female officer be present when raids are conducted and would mandate the release of raid video footage to the resident whose home is raided within two days of a request.
The proposed ordinance would outlaw no-knock warrants and requires officers to announce themselves and give the occupant at least 30 seconds to respond before entering the premises, Raids could only be conducted between the hours of 9 a.m. to 7 p.m. "absent verifiable exigent circumstances," the measure states.
No search warrant could be sought solely on information from a confidential informant, and the police department must record and publish data on search warrant operations, including any allegations of police misconduct.
When conducting a search warrant, officers must "use tactics that are the least intrusive to people's home" and "take measures required to protect people from physical and emotional harm."
Young said Tuesday she was "invisible" to the officers who conducted the raid.
"There were 12 white men who didn't acknowledge me as someone who deserved respect or dignity," she said. 
"This ordinance would help us to show police officers and others what it means to treat people with dignity and respect, and this ordinance would allow us to hold police officers accountable when they don't act in that manner," she said.
Ald. Jeanette Taylor (20th), who sponsored the ordinance with Ald. Maria Hadden (49th), Ald. Sophia King (4th), Ald. Leslie Hairston (5th) and Ald. Stephanie Coleman (16th), thanked Young for "turning this trauma into triumph."
"Ms. Young, our word to you is we will fix it," she said. "I appreciate you and I thank you, because some people would have took the money and not cared, but you actually care about what happens to women in our community, not just Black women, but women all over.
"The thought that you don't have 50 [aldermen] who are agreeing to this ordinance, we definitely got a problem…," she said. "…Enough is enough, you either stand with us or get rolled over."
In March, Lightfoot announced proposed changes to the Police Department's search warrant procedures, including a limit, but not a ban on no-knock warrants. 
The controversial practice would be banned except in "specific instances where lives or safety are in danger."
All search warrants would be approved by a deputy chief or someone in a higher position. Before, they only needed a lieutenant's approval. Raids would require an independent investigation prior to being approved to verify the information used to obtain the search warrant.
Female officers would be required to be present for all raids, as well as an officer with the rank of lieutenant or higher, under Lightfoot's proposed changes.
The reforms were posted online for a 15-day public review period that ended on March 18, but was extended. The department expects the new policy to be in effect by Memorial Day, a spokesman said.
RELATED: Search Warrant Policy Changes Would Ban Most No-Knock Raids After Anjanette Young Fiasco
The supporters of the measure face an uphill battle to pass the ordinance without Lightfoot's support. It must first be approved by the Committee on Public Safety before garnering approval by the full City Council.
Of the 19 aldermen who have signed up as co-sponsors of the ordinance, only four — Ald. Roderick Sawyer (6th), Ald. Raymond Lopez (15th), Ald. Emma Mitts (37th) and Ald. Matt Martin (47th) — are members of City Council's 19-member Committee on Public Safety.
Hadden said the supporters have had one meeting with Public Safety Committee chairman, Ald. Chris Taliaferro (29th), and have another scheduled soon to discuss placing the ordinance on the committee's agenda. 
Subscribe to Block Club Chicago, an independent, 501(c)(3), journalist-run newsroom. Every dime we make funds reporting from Chicago's neighborhoods.
Already subscribe? Click here to support Block Club with a tax-deductible donation.