PILSEN — After police killed Anthony Alvarez and Adam Toledo during foot chases, a coalition of Latino leaders want the entire foot pursuit practice to stop immediately until Chicago police overhauls its policy. 
On Tuesday morning, members of the Pilsen Law Center, Illinois Latinos Agenda and Instituto del Progreso Latino said Mayor Lori Lightfoot and Police Supt. David Brown should bar foot chases to prevent further harm to community members and officers.
"The police should not be allowed to set in motion a chain of events like those that took the lives of Adam and Anthony, and that cheaply values of lives of the members of our community with quick and mindless resort to use of lethal force," Pilsen Law Center attorney Arturo Jauregui said. "This is not an acceptable way for foot pursuits to end."
On March 29, 13-year-old Toledo was shot and killed by Chicago Police Officer Eric Stillman at the end of a foot pursuit in a Little Village alley. Footage of the shooting shows Toledo complied with the officer's demands to stop and raise his hands when he was shot. In the video, Toledo appeared to throw a gun behind a fence during the pursuit.
Two days later on March 31, Officer Eric Solano shot Alvarez in his back during a foot chase in Portage Park. Footage showed Alvarez was carrying a handgun but did not point or fire it, and was running away from officers when he was killed.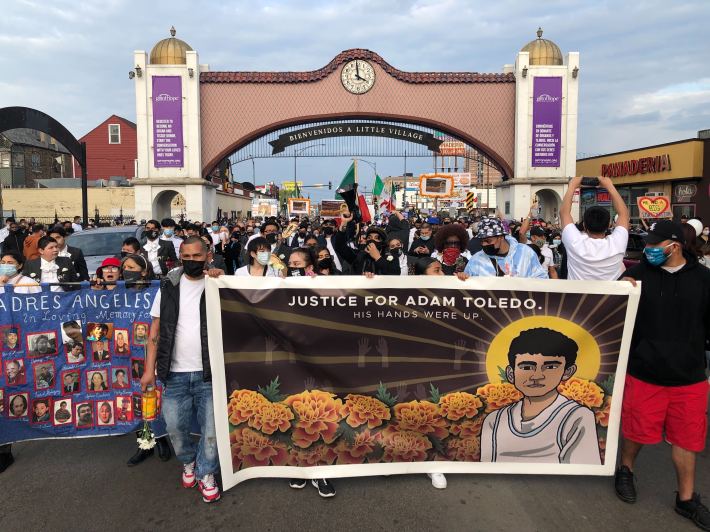 After Toledo was killed, the mayor said the department policy on foot chases needs to be changed, an issue already flagged in a federal consent decree put in place in 2019. But the mayor has not offered specifics as to what the new rules could be, only saying the public would be able to comment on the policy "sometime in May."
But after footage of Alvarez's death was released last week, group leaders said the changes need to come quickly to protect Black and Latino communities. 
Member and founder of Illinois Latino Agenda Jessie Fuentes said neither Toledo nor Alvarez "posed an imminent threat to CPD the day they were murdered." 
Toledo and Alvarez deserved a right to due process and "they were denied that right," Fuentes said.
"Both foot pursuits created an emotional climate that allowed CPD officers to make an unjustified and irrational decision to kill two Latino, young men from our community. We can no longer our allow our young men to be assassinated at the hands of CPD," Fuentes said.
Fuentes said Lightfoot had "a moral obligation to answer to the Latino community."
"I hope she takes this seriously," Fuentes said.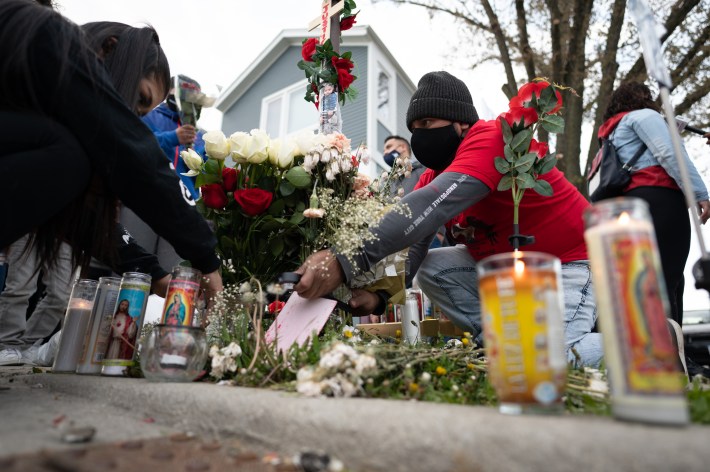 The group said a foot chase moratorium must remain in place until new procedures and polices "aimed at protecting the sanctity of human life during between police officers and city residents are in place and all police officers are fully trained," Jauregui said.
The videos of Alvarez's and Toledo's deaths showed "a department in crisis. The Chicago Department's inability to protect human life during foot pursuits and use of lethal force, is further evidence of a department in need of immediate reform," Jauregui said.
"We don't want any more of these tragedies. Our communities are traumatized by this," Jauregui said. "You cannot continue to have these interactions that result in the loss of human life. This has to end right now. We demand better. We deserve better."
The Pilsen Law Center and the Illinois Latino Agenda said changes to police policies like this are long overdue.
In an analysis of police pursuits from 2010 to 2015, the Chicago Tribune found one-third of 235 chases resulted in people being wounded and killed.
"The problem we are facing is not new. We have known this for many years," Jauregui said.
In a statement, Chicago Police Department officials said they had made reform "a top priority" and were "dedicated to fulfilling all of the consent decree requirements, as well as truly changing the culture of the institution."
The deadline for revisions to its foot pursuit policy has been extended to Sept. 3 and department leaders expect to fulfill that requirement while working through arranging "necessary community engagement, as well as setting up a period for public comment." The department also is working on "an expedited policy, which will be implemented by the end of May."
The department did not respond to questions as to why they had not yet revised the foot chase policy despite the 2019 consent decree. The city missed about 40 percent of last year's consent decree deadlines, the Sun-Times reported.
On Tuesday, groups demanded that department leaders directly engage with and seek input from community groups to "avoid future tragedies."
"They need community input. If those policies are to have any lasting effects, they need to have input from the community, otherwise, it's not going to work," Jauregui said.
Subscribe to Block Club Chicago, an independent, 501(c)(3), journalist-run newsroom. Every dime we make funds reporting from Chicago's neighborhoods.
Already subscribe? Click here to support Block Club with a tax-deductible donation.