UPTOWN — Saying the area cannot afford another upscale apartment building, a group of Uptown neighbors is trying to stop the sale of Weiss Hospital's parking lot to a developer.
National development firm Lincoln Property Company wants to redevelop the Weiss parking lot at the corner of Wilson Avenue and Marine Drive, where it wants to build a 314-unit structure. The 12-story, courtyard-style building would include 136 parking spaces, a bike room and a rooftop deck.
As the project is being considered by Ald. James Cappleman (46th) and his development advisory committee, a group of neighbors rallied outside Weiss Hospital Thursday evening seeking to block the proposal.
After years of development activity in Uptown, another apartment complex aimed at young professionals should not be a priority in an area that has seen an exodus of affordable units and social services providers, neighbors at the rally said.
"You can take a walk around this community and see the glass buildings going up," Angela Clay, an Uptown native, said at the rally. "We are at a tipping point in our community. We do not need any more luxury housing."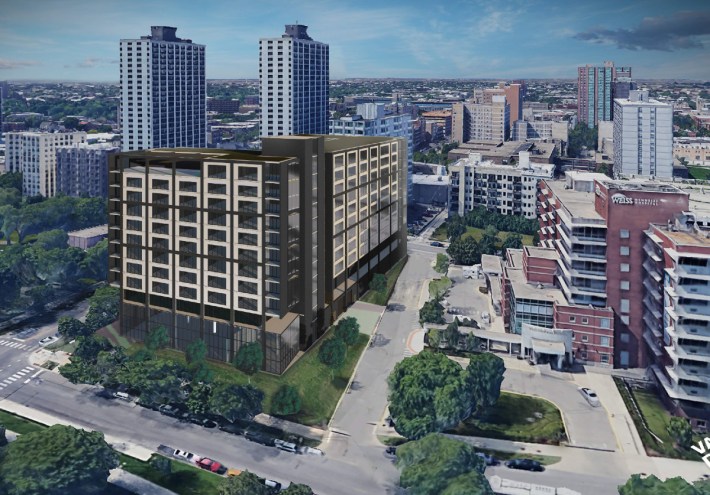 Lincoln Property Company is under contract to buy the surface parking lot from Weiss, but it needs to be rezoned to accommodate an apartment building on what currently is land designated for hospital use.
It isn't clear how much Lincoln would pay for the lot. The sale would help secure the future of Weiss Hospital, a community health center that has seen multiple owners over recent years, hospital executives have said.
RELATED: Sale Of Weiss Hospital Parking Lot To Apartment Developer Would Secure Health Center's Future, Officials Say. But Neighbors Question Need Of Project
Weiss was purchased by Pipeline Health along with two other suburban hospitals in 2019. Since then, Pipeline has invested $20 million into Weiss, including $12 million to improve its parking garage, $13 million on an electronic medical records upgrade and $5 million on facility improvements. Weiss has also rolled out a new outpatient behavioral health program and a new pulmonary care unit, CEO Irene Dumanis said last week.
The infusion of cash from selling the parking lot would help support Weiss' expansion plans, she said.
"We're continuing to grow the hospital," Dumanis said at a community meeting. "Weiss Hospital is here to stay."
Some neighbors, however, say they are unconvinced of Pipeline's true plans for the hospital. They cite the company's decision to close Westlake Hospital in Melrose Park shortly after purchasing the facility.
Even if the Weiss parking lot is redeveloped, another apartment building wouldn't be the best use for the property, some residents said. The site would be better off as affordable housing or as a social services center, neighbors said.
"This is a line in the sand," Marc Kaplan, member of Northside Action For Justice, said at the rally. "We cannot afford another single luxury unit. If it has to be developed, it has to meet the needs of the community."
Lincoln Property Vice President Joe Segobiano said his company would not be pursuing the project if there was no demand for such housing. Of the recently completed "class-a" apartment units in Uptown, 90 percent are occupied, he said. There is demand for studios and one-bedrooms and "smaller demand" for family sized units in Uptown, Segobiano said.
"Overall, the new product has fared well," Segobiano said at a community meeting. "We feel very confident the market will support these units."
Lincoln's plans include 88 studios, 168 one-bedrooms and 58 two-bedrooms. Units average just over 700 square feet. Studios will likely start at $1,700 and two-bedrooms at $2,900,
Cappleman's zoning and development committee reviewed the proposal Thursday. The committee votes for or against major Uptown developments, and Cappleman weighs that input before formally supporting or rejecting a project.
During the meeting, members said they were worried the parking lot project could be the first in a larger asset sell-off at Weiss, which is situated on prime lakefront property. Others said the sale of the lot would allow investment into the hospital and help achieve neighbors' goals of keeping the facility open.
After about three hours of discussion, the committee decided to table the vote for about a month so it can consider new information including shadow studies of the project.
Subscribe to Block Club Chicago, an independent, 501(c)(3), journalist-run newsroom. Every dime we make funds reporting from Chicago's neighborhoods.
Already subscribe? Click here to support Block Club with a tax-deductible donation.