PORTAGE PARK — More than 100 people marched alongside Anthony Alvarez's family in Portage Park Saturday, memorializing the young father and demanding criminal charges for the Chicago police officer who shot and killed him March 31.
The rally and march was organized by Alvarez' relatives, Centro Autónomo de Albany Park, ANSWER Chicago and other social justice groups in the wake of police footage of the shooting being released to the public.
The event also coincided with May Day advocating for workers' rights, especially immigrants, and Black and Latinx working-class neighbors. Alvarez, 22, worked at a meat processing facility.
With matching white t-shirts and bilingual signs reading "Justice for Anthony Alvarez," family, friends and community activists led marchers down Irving Park Road onto Laramie Avenue to where Alvarez was fatally shot at Laramie and Eddy.
Alvarez's 2-year-old daughter, in a stroller being pushed by her mother, carried a sign: "I miss my daddy."
"I remember Anthony as a sweet kid," said his aunt, Teresa Martínez. "He didn't deserve to get killed. They killed him and they killed a part of our family. We are never going to be the same."
Relatives want Officer Evan Solano, who fired at least five shots toward Alvarez as seen in bodycam video, to be fired and charged with murder so they can start the path to healing, said Roxana Figueroa, Alvarez's cousin.
"We want that officer to [get] jail time," Figueroa said. "Not five years, not 10 years — we want him to get jail time for life. We want him to not be able to see his family just like we won't be able to see Anthony anymore."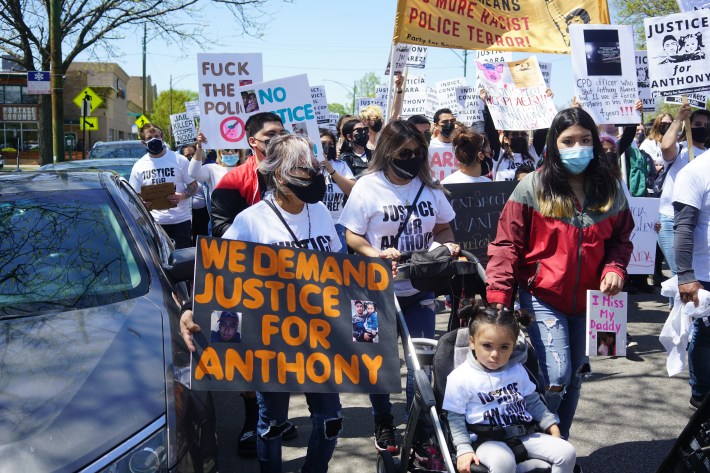 Jim Santoyo, a Portage Park resident and ANSWER Chicago member, said it was important to be vocal in his own neighborhood about Alvarez's killing and push for the officer to be held accountable.
"There's this initial reaction that what the police say is going to be OK," Santoyo said. "As a Portage Park resident, we have to come out here and say that there are those of us who care, who demand justice and demand to end this police terror."
RELATED: After Another Deadly Cop Shooting, Aldermen Blast Lightfoot, CPD Leaders For 'Standing In The Way' Of Police Reform
He said Alvarez's death was painful to hear about because Santoyo is also a father. He said it's heartbreaking to think that Alvarez will never get to watch his child grow up.
"I have a 4-year old and Anthony had a 2-year-old — I've already had two more years with my child than he will ever have with his daughter," he said. "They are just learning how to interact and talk, and he was stolen from his child by this murderous cop."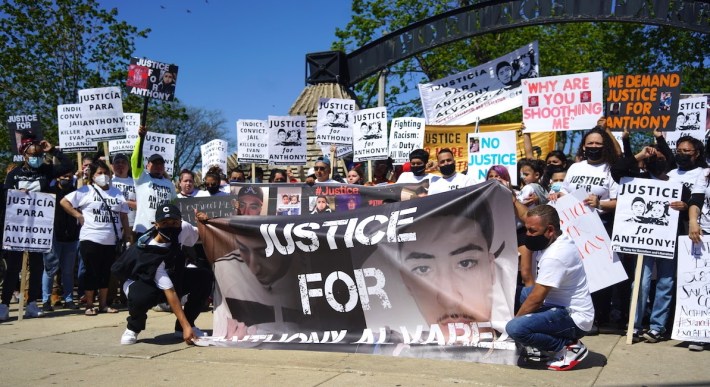 'They are refusing to answer questions for us'
For nearly a month after Alvarez's death, his family struggled to get basic information from police and the Civilian Office of Police Accountability, which investigates police shootings. Alvarez was killed in a foot chase the same week an officer killed 13-year-old Adam Toledo in Little Village.
Toledo's killing became international news, in part because of his age and videos that show the officer shooting the teenager when his hands were apparently up and empty.
Figueroa previously told Block Club she felt her cousin's story wasn't being shared enough. Mounting outrage over Toledo's death pushed city officials to quickly release footage of the shooting, which overshadowed what happened to Alvarez.
Figueroa said Saturday that Alvarez's story is getting more attention now, but there are still gaps about what happened that night and why police were chasing her cousin.
"Instead of them giving us answers and reasons why they were chasing him, they are bringing stuff up from his past, like old pictures, and saying he was a gang member and all that," she said. "That's not what we want to hear — we don't want to know what you think of him, we want to know what you did to him. They are refusing to answer questions for us." 
Shortly before the videos were released, Mayor Lori Lightfoot said Alvarez was shot after a traffic stop. That was the first insight given from a city official how the foot chase started.
"We can't live in a world where a minor traffic offense resulted in someone being shot and killed. It shouldn't be acceptable to anybody," Lightfoot said at an unrelated press conference.
When the footage was made public, COPA spokesman Ephraim Eaddy said in a statement "tactical officers attempted to stop and speak with Mr. Anthony Alvarez — an individual familiar to the officers," and chased him when he fled. Eaddy said officers told Alvarez to drop the gun he was carrying before shooting him multiple times.
Videos show Alvarez was carrying a gun, but he didn't point it at anyone and was shot while running from officers.
Less than an hour after the videos were posted, Police Supt. David Brown repeatedly refused to answer questions about why officers were pursuing Alvarez or why they tried to stop him. Brown also wouldn't say whether Alvarez was legally carrying the gun he was holding.
While COPA released the video, accompanying police reports provided no added insight as to why officers wanted to stop Alvarez. Brown said that information will be shared following a COPA investigation.
An attorney for Solano told WBEZ the officers recognized Alvarez because he was a "known gang member in the Portage Park neighborhood." The day before the shooting, they had tried to pull him over because they suspected he was driving on a suspended license but Alvarez took off, the lawyer said.
But Alvarez's family and their lawyers have rejected those claims. Alvarez has no gang affiliations, they said, and they saw no evidence officers tried to run his driver's license or attempted a traffic stop. The night of the shooting, surveillance footage shows Alvarez was on foot walking outside a gas station when the officers pull up to him.
"He was not a troubled kid," Martínez said. "He used to calm us down when we got loud. He was a great person… they try to throw all this dirt on my nephew and they're all lies. They don't know Anthony like we do."
Attorney Tania Dimitrova told the Saturday crowd she watched the young father grow up and has represented his family for years.
"We are committed to bringing justice for Anthony and to discern exactly what happened and hold the people who are responsible accountable," Dimitrova said.
'He Was An Amazing Kid'
Friends and family said Alvarez was a quiet, peaceful, funny and caring man who always wanted to help and provide for his 2-year-old daughter.
Mike Friedberg, a Chicago Public Schools teacher, came from Rogers Park to support Alvarez's family.
Friedberg once taught at William Gray Elementary School, where Alvarez attended and which marches passed on their route. Although Friedberg never taught Alvarez in his class, he said he remembers Alvarez as a kind kid who comforted him after a medical scare.
"I had a seizure at school [because] I have epilepsy… when I returned, he came and gave me a big hug, even though I was not his teacher," Friedberg said.
Figueroa read a poem to the crowd that she wrote for Alvarez. She said she wants to remember her cousin as a sweet, hardworking person and honor him by being a positive role model for his daughter.
She told Block Club he was a talented soccer player and a smart kid who enjoyed making others laugh, and wants others to remember his loving personality.
"He was a very quiet person so when he smiled and laughed and had a conversation with you, it was very special and nice to cherish that moment," Figueroa said. "He was an amazing kid. Our family can get a little wild — I mean, we are Hispanic — and he would get upset, like, 'Oh my god, you are embarrassing me.'"
Subscribe to Block Club Chicago, an independent, 501(c)(3), journalist-run newsroom. Every dime we make funds reporting from Chicago's neighborhoods.
Already subscribe? Click here to support Block Club with a tax-deductible donation.