LOGAN SQUARE — A man was arrested Saturday afternoon after he hit a woman with his truck on Logan Boulevard, in what witnesses say was a targeted attack on a group of picnickers after the man yelled anti-Asian comments.
The incident happened around 5:15 p.m. Saturday on the grassy median at Logan Boulevard and Sacramento Avenue, as numerous families were out in the neighborhood enjoying the warm spring weather.
A group of about 10-15 friends were enjoying a cookout when the driver of a red pickup truck plowed into the group, trapping one woman under the truck and scattering bicycles and clothes across the lawn.
The picnickers said the man argued with them leading up to the attack. Rob Lopez, who was part of the group, said he heard the driver say "f—— Asians" or "goddamn Asians" to his friend, who is Asian, before hopping the curb and ramming into the picnic.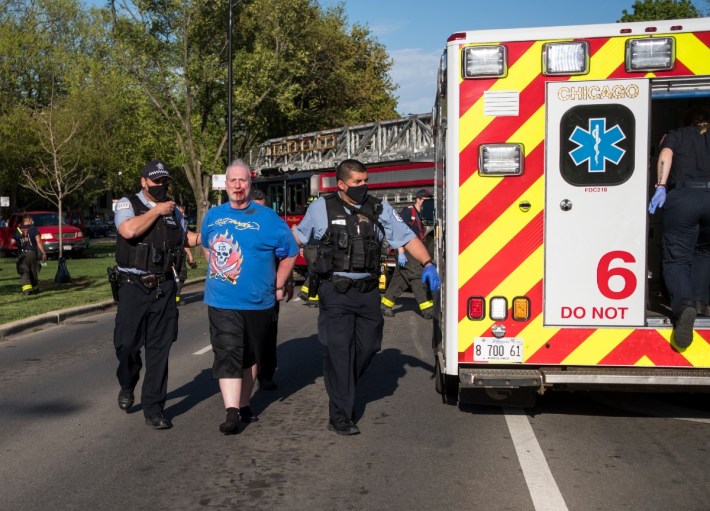 "I'm very, very confident that he said that," Lopez said. "That stuck out to me. That's what I feel triggered everyone to be like, 'F— no, get out of here, dude."
Another picnicker, Troy Brown, said the group of friends is multicultural — the man the driver argued with is Asian, Brown is Black and other friends are Hispanic. The victim who the driver hit with the truck is white, Brown said.
A neighbor also heard the driver call the picnickers "yuppies with dogs" before the attack, Lopez said. Some of the picnickers had dogs with them.
Neighbors who provided photos to Block Club showed officers leading two men away from the scene in handcuffs. Police said charges were still pending against the 57-year-old driver as of Sunday evening.
Two people were taken to Illinois Masonic Medical Center for treatment, one in serious condition and the other in good condition, said Chicago Fire Department Chief Walter Schroeder. A third person refused treatment at the scene. Schroeder could not say if those injured were all people who had been sitting on the grass or if those injured included the truck driver, as well.
Brown said the friends are part of a running club and they were celebrating a belated 40th birthday. There was some back and forth shouting with the truck driver but he didn't hear exactly what was being said and everything happened very quickly.
After the exchange, the truck driver put his car into reverse, cut his wheels in the group's direction and drove directly at the group, Brown said. With their friend pinned under the truck, Brown and a few others tried to stop the driver from getting away. Brown said there was a scuffle and during the altercation the driver cut him with a small knife on his left arm.
Brown and Lopez are friends with the woman who was pinned under the truck. Luckily, the truck hit a cooler, and while the woman was temporarily pinned under the truck, she was able to get free, Brown said.
The woman, who sustained cuts and bruises and was traumatized by the incident, has been released from the hospital, Brown said.
"I'm upset. This shouldn't have happened," he said. "This is stuff you hear about, but you never expect it to happen to you and people you're close to, but then it happened. … It's kinda hard to shake it because I was a part of it. But moreso, I'm thankful that my friend is OK and they're not severely injured or nothing worse happened."
Lopez agreed, saying, "I"m relived that my friend is going to be OK. I'm still in a state of disbelief that something like this could happen."
"In Logan Square you expect to be careful when you're walking alone or late at night or maybe not hang out in your car at 2:30 a.m., you don't expect someone to plow through your picnic in an F-150," Lopez said.
The truck driver's license plate appears to have a Chicago Fire Department memorial license plate, but Schroeder said those plates can be bought by anyone and aren't exclusively given to Chicago firefighters.
Photos showed crime scene tape surrounding the truck, which had both its driver- and passenger-side doors open, and several items underneath, including cups, clothes and bicycles. Detectives are continuing to investigate.
Logan Square resident Vincent Geraghty witnessed the incident while out walking his dog.
"It was a really horrific thing to witness," Geraghty said. "I've been in Logan Square since 1993. I've never seen anything like this."
Geraghty said the incident drew many onlookers and concerned neighbors, and a few witnesses stopped to cry on the sidewalk after what they had seen.
"We've all been on this lockdown. You had a group of friends together, probably after a long time of not being together, enjoying an early May beautiful day. They were so innocent," he said.
Another witness who arrived on scene as police had the men in handcuffs said the driver appeared to be impaired.
Subscribe to Block Club Chicago, an independent, 501(c)(3), journalist-run newsroom. Every dime we make funds reporting from Chicago's neighborhoods.
Already subscribe? Click here to support Block Club with a tax-deductible donation.