ROSELAND — Players on the Jackie Robinson West team that came within one game of winning the 2014 Little League World Series have settled with the youth baseball organization, but the team's U.S. Championship will remain vacated, Little League International announced Tuesday.
Residency violations that led to the team being stripped of its national title occurred "unbeknownst to the [Jackie Robinson West] players," Little League International said. Coaches Darold Butler and Jerry Houston also said Tuesday they've been vindicated, as Little League dropped its fraud suit against the pair.
Jackie Robinson West, which plays in Washington Heights, defeated the Las Vegas-based Mountain Ridge squad 7-5 in the 2014 U.S. Championship game. The South Side team then lost 8-4 to a team from Seoul, South Korea, in the world championships.
The team of all-Black youth was celebrated with a parade and rally at Millennium Park and met then-President Barack Obama at the White House following the national title game victory.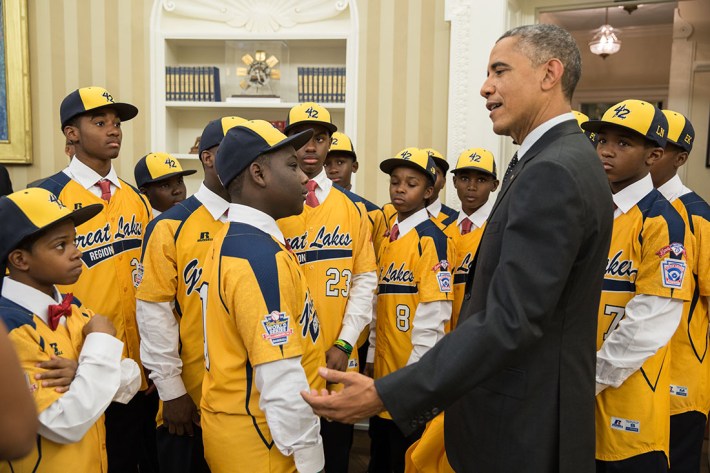 Months after the World Series, a neighboring south suburban league alleged Jackie Robinson West violated residency rules by recruiting key players from the suburbs, as first reported by DNAinfo. The allegations sparked an investigation that at first appeared to clear the team of wrongdoing.
However, Little League's summary of that investigation alerted neighboring city leagues to the likelihood Jackie Robinson West officials had changed their district boundaries — with help from Illinois District 4 administrator Michael Kelley. The changes allowed the team to pull players from a wider area without the neighboring leagues' approval.
Kelley, who oversaw several South Side leagues during the 2014 season, approved and filed the boundary changes with Little League International before asking permission from the neighboring leagues set to lose out on players, according to DNAinfo.
That investigation ended with Jackie Robinson West being stripped of its U.S. title. Little League officials awarded the national title to Mountain Ridge and removed Kelley from his position.
The players' settlement with Little League International this week acknowledges some of them didn't meet residency requirements, though the players themselves were unaware of their administrators' decisions to change the team's boundaries, Little League spokesperson Brian McClintock said in a statement.
Jackie Robinson West's U.S. Championship title will not be reinstated, McClintock said.
"Little League International stands by its decision to disqualify the 2014 [Jackie Robinson West] team," he said.
This week's settlement clears the players of wrongdoing, Butler and Houston said at a press conference Tuesday. Little League also sued the two coaches for fraud, but dismissed the case last week.
Butler, who was suspended from Little League activity after Jackie Robinson West's title was stripped, praised his former players' fight to clear their names. Had Little League not dropped its fraud claims, the two coaches would have similarly worked to clear their names "for another 10 years," he said.
"The way these kids have fought from 2014 to now, it was only right for us as coaches to do the same thing and show the same example," Butler said.
The coaches maintain contact with their former players, Butler said. The players are "brothers for life" and have worked to achieve their dreams since their season together, he said.
"I'll definitely keep in contact with the guys," Butler said. "Watching them grow up and the things they've been through, I'm going to continue to keep up with them. Like I said, I'm one of their biggest fans."
Both coaches are still "heavily involved in youth baseball," said John Bowley, Butler and Houston's attorney.
"Some adults involved in the 2014 Jackie Robinson West program cheated," Bowley said. But in the six years since Little League's investigation, no documents have shown or suggested the coaching duo was involved in the boundary map scheme, he said.
"Darold and Jerry refused to settle and refused to submit to any gag order," Bowley said. "They demanded claims against them be unconditionally dismissed or tried before a jury. I think that says a lot about their integrity."
With Little League's finding that players were not aware of the residency violations, and with the dismissal of claims against the coaches, it's disappointing officials will continue to erase Jackie Robinson West's title over the actions of league administrators, Bowley said.
"That doesn't mean taking anything away from the team from Las Vegas that now has that in the record book," he said. "But simple acknowledgement as to what these kids of the Jackie Robinson team did would, I think, be an appropriate gesture by Little League."
McClintock confirmed Little League dismissed its suit against Butler and Houston. He said the organization will have no further comment on the litigation around Jackie Robinson West.
Subscribe to Block Club Chicago, an independent, 501(c)(3), journalist-run newsroom. Every dime we make funds reporting from Chicago's neighborhoods.
Already subscribe? Click here to support Block Club with a tax-deductible donation.