This story has been updated to clarify the scoring on different chess rating scales.
SOUTH SHORE — Chess grandmasters Magnus Carlsen and Hikaru Nakamura, check your inboxes — a newly-crowned Chicago champion wants a chance to defeat you.
Betty B., an eighth-grader at Parkside Community Academy in South Shore, is a Chicago Public Schools junior high chess champion. The 13-year-old requested Block Club only use her last initial.
When Betty first entered CPS competitions, she said she was nervous and swayed by her opponents' prestige, as they often attend selective-enrollment schools on the North Side.
But when Betty actually got a chance to compete against them, she realized, "Oh wow — they're not as good as me."
The junior high championship completes a CPS Chess season that was held entirely online. Weekly "blitz" tournaments of five-minute matches were complemented by several longer matches.
During the March 20 championships, Betty was able to tell whether she'd beat her opponent within the first five moves of a match, she said. She also placed 35th out of 562 competitors in last weekend's qualification round for the U.S. Chess National Online Scholastic Championships.
The 13-year-old credits Howard Fishbein, whom she calls "Da Coach" of the Parkside chess team, for his guidance and support.
"I really appreciate Mr. Fishbein because I didn't know anything about chess, and now because of him I'm one of the top junior high players in Chicago," Betty said.
Less than two years after picking up chess in seventh grade, Betty was rated by CPS for the championship matches at 1397 on the Elo scale by the online ChessKid.com program for the CPS championship matches. With few in-person matches under her belt due to the pandemic, she's provisionally rated at 357 by the U.S. Chess Federation.
Ratings don't matter much to Betty. She dreams of challenging Carlsen and Nakamura as soon as possible despite their Elo ratings of 2847 and 2736, respectively.
"I don't really know how [the rating] works. It's very weird," she said. "It doesn't really have a significant meaning, it's just, 'Oh wow, that's how good they think I am.'"
Betty is a self-starter, said Fishbein, who is also a diverse learning teacher at Parkside. Unsatisfied with the school's weekly online practices, she took it upon herself to watch YouTube videos and learn strategies to improve through the rest of the week.
"If someone tried to be very directive or over-the-top with Betty, I don't think that would work," he said. "She has that motivation and natural curiosity — so let her work."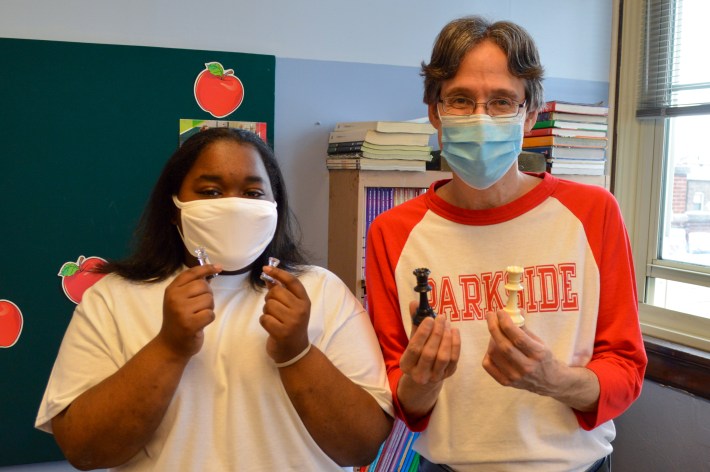 Though Betty won a championship playing virtual chess, the matches just aren't the same as sharing a board in-person, she said.
"When I first stated playing chess at the over-the-board tournaments before the pandemic, I met a lot of amazing people," Betty said. "Online tournaments have created a barrier, and it's not really as fun anymore."
However, she plans to continue playing as she transitions to high school next year, regardless of whether matches are held online or in person.
Betty is interested in studying law and politics, with an eye on earning a spot among the nine U.S. Supreme Court justices. Chess has had a positive impact on her schoolwork, she said.
"It's helped me expand my thinking, especially in my English and literacy class," Betty said. "It helps me think about the lessons a little bit differently, and it just helps me with all of my in-school activities."
Chess requires players to use logic and recognize patterns, so Fishbein is not surprised that Betty has grown academically since learning the game, he said.
Nearly two decades ago, Fishbein started a chess program at the shuttered Canter Middle School — which now houses Kenwood Academy High School's academic center — before knowing how to play chess himself.
CPS and the regional Renaissance Knights Chess Foundation are "stepping it up" in their push to grow the game of chess across the city, Fishbein said. He hopes to see other teachers and community organizations build up chess programs, allowing more students like Betty to find a new outlet.
"Because it seems like such an intense game … teachers are reluctant to be the chess coach," Fishbein said. "It seems like something only a genius could play … but really it's accessible to just about anybody."
Subscribe to Block Club Chicago, an independent, 501(c)(3), journalist-run newsroom. Every dime we make funds reporting from Chicago's neighborhoods.
Already subscribe? Click here to support Block Club with a tax-deductible donation.