EDGEWATER — After nearly a decade in the works, Metra's plans to build a new rail station in Edgewater have hit another snag, possibly causing another year in delays.
Crews for Metra were slated to break ground in May on the train station at Peterson and Ravenswood avenues. Due to a permitting issue with the city, work will be delayed by roughly three to five months, said Joe Ott, director of Metra's construction department.
If the permits take any longer to secure, major construction on the new station could be pushed to spring 2022, he said.
The permitting issue comes down to Metra's green infrastructure plans for the $15 million station project.
Metra had plans to build the station's kiss-and-ride and car turnaround with permeable pavers and green landscaping features that would return water runoff to the ground rather then send it into the city's sewer system, Ott said.
The problem is that the ground beneath the station holds city water mains, and the city's Department of Water Management was worried about groundwater from the station leaking into the water mains, he said. The city agency said the project's groundwater system needs revision before a permit will be granted.
"We thought this was a great plan," Ott said at a community meeting Monday. "It's a green thing. It reduces the need for capacity in our deep tunnels.
"They're worried about chloride and corrosion of their system," Ott said of the city's water department. "It's going to slow down the job a bit."
It is just the latest setback for a project first announced in 2012.
The project fell by the wayside during the state's years-long budget impasse. Local officials said in 2017 funding for the project was nearly secured, but a $1 billion fund earmarked for Metra was slashed in half that year.
In 2019, Metra announced the $15 million in funding needed for the project had finally been allocated.
Work was then supposed to start in September, but that date came and went.
Crews for Metra recently cleared the construction site, which sits between Peterson and Ridge avenues along the east side of the Metra tracks than run parallel with Ravenswood Avenue. But the permitting issue has halted work.
Metra is working on a new stormwater system, Ott said. The hope is that work could start in late summer, but that is contingent on the water department OK'ing the revised plans.
Department of Water Management spokesperson Megan Vidis said in a statement that the agency is working with Metra on the issue.
"We continue to work with Metra to identify a solution for protecting the existing water main located beneath the new station from corrosion or contamination from runoff caused by the new infrastructure," Vidis said.
The project will require a year-long construction period, Ott said. It's timeline will be determined by how much work can be done before the winter.
"There's some temperature-sensitive work," Ott said. "They plan on working through the winter."
Ald. Andre Vasquez (40th) said his office will receive weekly updates from Metra on the project and that it will talk to the Department of Water Management to help solve the problem.
"It's a big change that neighbors have wanted to see for awhile," Vasquez said at Monday's meeting. "Thankfully we're getting closer."
The station will be as long as six train cars. Its Downtown-bound platform will have a warming shelter, including an enclosed waiting area and an additional warming station. The northbound platform will have a warming station as well, Metra officials said at a public meeting Monday.
There will be 41 on-site parking spaces at the station, with the ability to add more spaces if needed. A pedestrian plaza will include a car turnaround for dropoffs and pickups.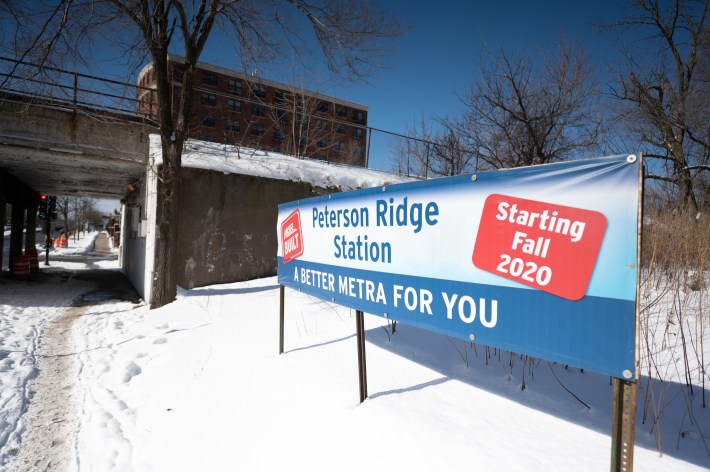 Subscribe to Block Club Chicago, an independent, 501(c)(3), journalist-run newsroom. Every dime we make funds reporting from Chicago's neighborhoods.
Already subscribe? Click here to support Block Club with a tax-deductible donation.