LOGAN SQUARE — Facing pushback from neighbors and Ald. Daniel La Spata (1st), the developer looking to build an apartment complex on the Project Logan site has agreed to incorporate a replacement graffiti wall into the development should he receive zoning approval.
But the new graffiti wall would be much smaller than the existing one, and artists would be required to submit designs for approval, a plan that has disheartened the founders of Project Logan.
The development hasn't been approved yet, but Flash ABC, one of Project Logan's founders, said the beloved graffiti wall likely won't survive if the apartment complex gets built.
"The developers are out of touch with what we actually do there, and it seems like they already have their agenda of what they should do there, and I'm not feeling that," Flash said.
Developer Stanislaw Pluta, of Wilmot Properties, wants a zoning change to build a five-story, 56-unit apartment complex with a 56-spot parking lot at 2934-40 W. Medill St. The site's current zoning only allows for 23 residential units. Of the 56 apartments, eight would be reserved as affordable housing under the city's Affordable Requirements Ordinance.
Under the proposal, Pluta would raze the existing one-story buildings on the site, effectively destroying Project Logan, a four-sided wall that has become a neighborhood staple over the past decade.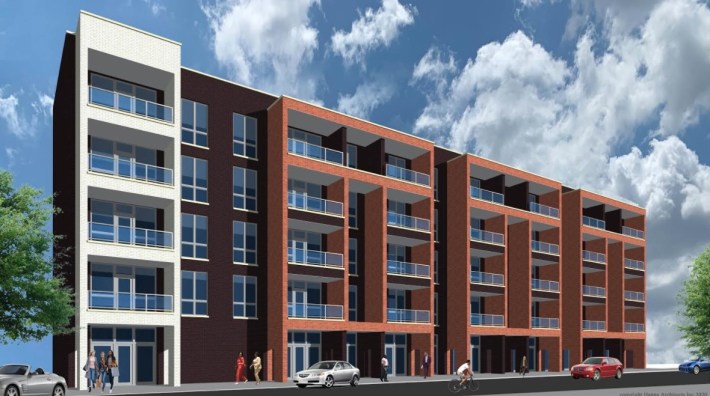 After outcry from Project Logan's founders, neighbors and La Spata, Pluta is offering the Project Logan crew a chance to recreate the graffiti wall.
Under the developer's plan, shared at a community meeting Monday evening, the artists would get a 125-foot portion of the apartment complex's wall and another 30-foot section on the western end, only a fraction of the space they currently have. They'd also be required to submit designs for approval to Pluta.
But Flash and co-founder BboyB ABC said they're frustrated by the plan, which would mean a huge loss of space and an approval process that goes against the spirit of Project Logan.
"My initial gut reaction was like, 'Ughhhh, more red tape, more … people who don't understand the art trying to control the art,'" BboyB said.
While BboyB said he's "hopeful" the developer will do more to incorporate Project Logan, Flash said he's emotionally preparing to say goodbye to the graffiti wall at the center of his life for a decade.
"I thought I could put something up in my own neighborhood that would last, but the gentrification in Logan Square will not let anything last," he said.
How the development will impact Project Logan was one of many questions raised at Monday's community meeting. Residents also voiced concerns about the project's design and lack of affordable apartments.
Neighbor Bridget Montgomery called the development's design "flavorless," saying the complex "could be built in Niles or pretty much anywhere."
The complex would be built close to the California Blue Line station, but just outside of the zone the city requires for transit-oriented developments. Under the city ordinance, transit-oriented developments allow for more residential units and fewer parking spaces than the zoning code would require for non-transit-oriented projects.
Asked why they're proposing a 56-spot parking lot given the project's close proximity to public transportation, Pluta's architect, John Hanna, said the project is different from other transit-oriented developments in Logan Square and across the city.
"We're not doing one of those projects where the units are 300-400 square feet and it's occupied by a bunch of 20- and 21-year-olds who use Uber and Lyft and all those things," Hanna said. "Our developer here thinks we need — for these 900-square-foot units — one car per unit, and it's fairly easy to provide that on this project, so that's what he wanted to do."
La Spata is collecting community input before he decides whether to grant Pluta the zoning change. Neighbors are encouraged to email feedback to zoning@the1stward.com.
"This isn't at the end. This is something we brought to the residents for more feedback," Nicholas Zettel, La Spata's policy director, said at the meeting.
RELATED LINKS:
Developer Will Pitch Plan To Build 56-Unit Apartment Complex On Project Logan Site In April
Logan Square Apartments Could Wipe Out Beloved Graffiti Wall: 'They Came For The Culture … Now That They're Here, They Don't Want It'
Another Large Apartment Complex Proposed Near California Blue Line In Logan Square
Subscribe to Block Club Chicago, an independent, 501(c)(3), journalist-run newsroom. Every dime we make funds reporting from Chicago's neighborhoods.
Already subscribe? Click here to support Block Club with a tax-deductible donation.