PORTAGE PARK — Family and friends held a vigil Friday for Anthony Alvarez — and asked for witnesses who saw a police officer kill the 22-year-old to come forward and tell them what happened.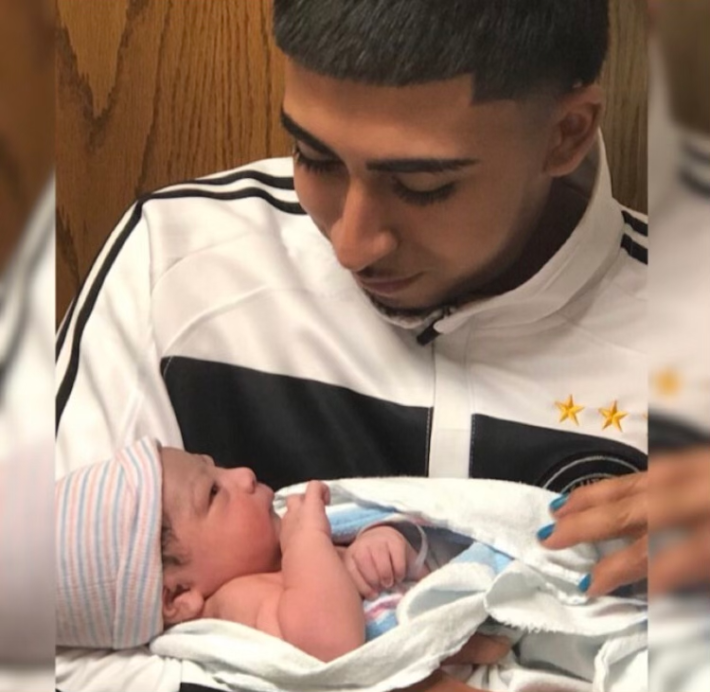 A Chicago police officer shot and killed Alvarez, a young father, March 31 during a foot chase in Portage Park. At Friday's vigil, his family said officials still haven't told them much about the shooting — and they are desperate for answers.
The shooting happened the same week an officer killed 13-year-old Adam Toledo in Little Village after a chase.
Toledo's killing has become national news, in part because of his age and videos that show the officer shooting him when his hands were apparently up and empty.
Alvarez's slaying has not received as much attention — and his family still hasn't heard from city agencies about when video or other documents related to the shooting will be shared with them or made public. Police and the Civilian Office of Police Accountability, which investigates police shootings, have still not answered questions about the shooting or why officers chased Alvarez in the first place, Alvarez's family said.
"I feel like Anthony's story is not being shared enough," his cousin, Roxana Figueroa, said at the vigil. "The Toledo family was able to get their videos super quickly compared to us. It breaks our heart and it feels like the city's hiding something."
Alvarez's family has filed a Freedom of Information Act request for videos and documents tied the shooting.
A representative for the Civilian Office of Police Accountability did not respond to questions.
Ald. Ariel Reboyras (30th) stood just down the block from the memorial Friday and watched the crowd gather at sunset.
"COPA's gotta do to their job. It's tough. It's difficult. Nobody wants to see a family member die," Reboyras said.
Alvarez's family is also asking neighbors who may have footage or knowledge of Alvarez's killing to contact them.
Before the vigil started, squad cars circled the block around the memorial at West Eddy Street and North Laramie Avenue. Once the crowd started gathering, a police officer from the Jefferson Park (16th) District parked on the southern side of the intersection and told the family he'd be there if they needed anything. 
Throughout the vigil, the officer stood alone across the street while at least 50 people came to pay their respects and share their memories of Alvarez.
"He loved playing soccer since he was a small child," his aunt, Norma Alvarez, said in Spanish. "I remember when he was little, the coach once told him he had to come off the field during a game, but he still wanted a little more time to play. He stayed a little longer and scored a goal, which made the entire team content. He was such a good player."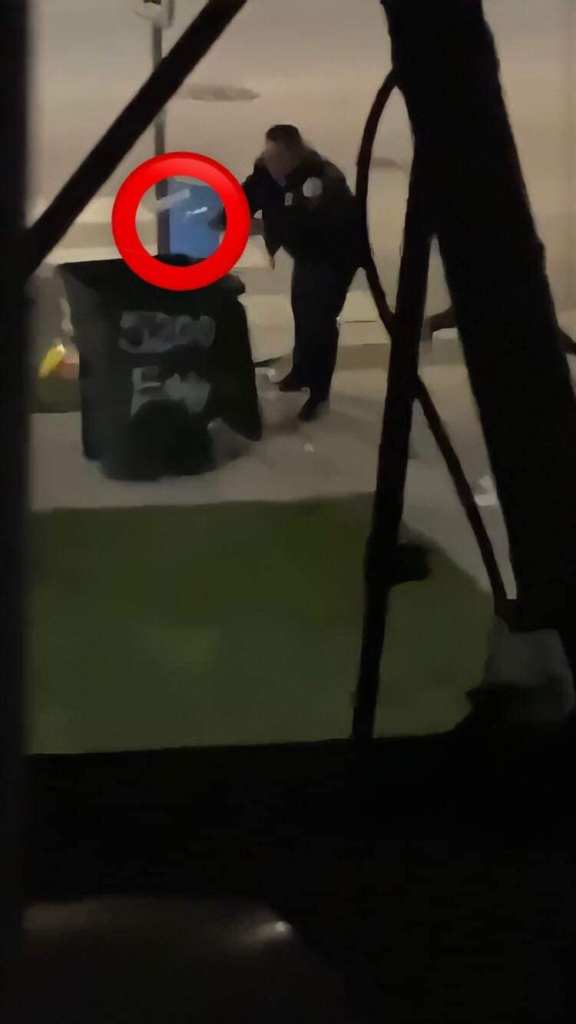 This is the second memorial the family created for Alvarez at this intersection, Figueroa said. The first one was set up the same week her cousin was killed, but an officer removed it April 1, she said.
"We kindly asked one of the cops if we could leave this here. They said we could as long as we blew out the candles before we left," Figueroa said. "But I received videos from a neighbor later of a cop throwing everything out: candles, flowers, everything. It was very hard to watch, to see how he was treating the arrangements we had made for Anthony with love."
Figueroa worries this kind of behavior may intimidate neighbors from coming forward with information about the shooting.
When asked about the removal of the initial memorial, police said they do not have "any information about that."
RELATED: After Police Kill Young Portage Park Father, His Family Demands Answers: 'We Want To Know Why He Was Being Chased'
The last time Alvarez's family saw him alive was around 9 p.m. March 30. He stopped by his parent's place in Portage Park to show off a Jeep he just bought and to make family dinner plans. 
About three hours later, officers were running after him in the 3500 block of North Laramie Avenue, police said. 
The chase continued to the 5200 block of West Eddy Street, about two blocks from where Alvarez lived. There, police said Alvarez pulled out a handgun "which led to a confrontation." At least one of the officers shot Alvarez, police said. 
Alvarez was taken to Illinois Masonic Medical Center and pronounced dead at 1:13 a.m. He suffered multiple gunshot wounds and his death was ruled a homicide, according to the Cook County Medical Examiner's Office. 
Police said they found a gun at the place they shot Alvarez. The officers involved have been placed on routine administrative duties for 30 days. 
After Alvarez and Toledo were killed by police following foot chases, Mayor Lori Lightfoot said the department's foot chase policy needs to be overhauled. But officials do not yet have a timeline for that.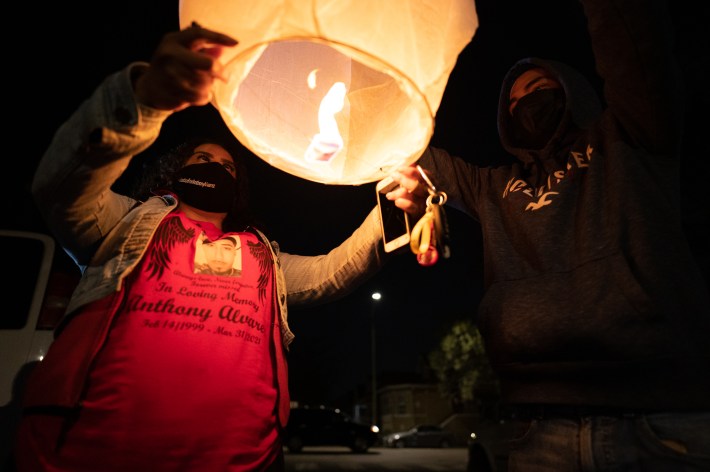 "My family has always been in Portage Park. He grew up here and went to carnivals from the church here and the owner of the corner store on Addison has known him since he was a kid," Figueroa said. "His mom's place is right by here, too. There's no way you can argue he was in the wrong place. This was his home."
Alvarez's family will gather again noon May 1 at the intersection of Irving Park Road and Central Avenue to march south to the memorial at West Eddy Street and North Laramie Avenue.
"It's a peaceful march to demand justice and let [the Police Department] know we're not giving up. We want an explanation. We want answers, justice and peace for our family," Figueroa said. "To remember my cousin for the beautiful person he was. I hope the Portage Park, Belmont Cragin [communities], and really anybody, friends and family, to come out and support us."
Subscribe to Block Club Chicago, an independent, 501(c)(3), journalist-run newsroom. Every dime we make funds reporting from Chicago's neighborhoods.
Already subscribe? Click here to support Block Club with a tax-deductible donation.