WICKER PARK — Companies that boot cars in private lots can no longer work in the 1st Ward after a City Council vote this week.
Ald. Daniel La Spata (1st) told Block Club he introduced an ordinance to ban the practice after private booting company Innovative Parking Solutions refused to give drivers a verbal warning before booting cars. In some cases, drivers were standing in the parking lot while their cars were booted, he said.
"We kept consistently hearing complaints about this. Consistently. To the point that it felt like time to act," he said.
Drivers who get booted by the company can pay up to $170 in fines to get the boot removed.
Several years ago, Bucktown resident Dan Hayes parked in the lot of a liquor store in Logan Square.
Before shopping, Hayes walked across the street. Within five minutes, he said, he returned to the parking lot to find a boot on his car's wheel.
"There was only two other cars in the lot, one of which was the person who booted my car," he said. "I told them I was going into [the lot's store], but they said it didn't matter because I went across the street first."
Hayes was charged $140 to remove the boot and hasn't supported the store since.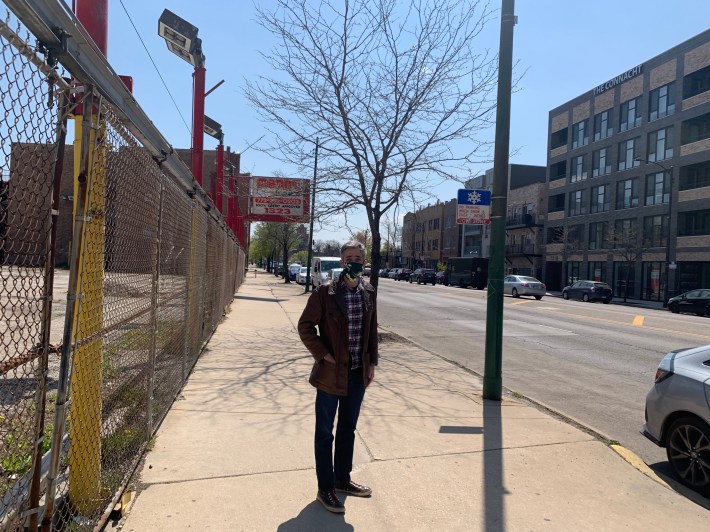 Innovative Parking Solutions, formally known as Global Parking Management, is the sole private booting company in Chicago. It has existed in some form in the city since 2002, WTTW reported.
Business and property owners hire Innovative Parking Solutions to ensure drivers who park in private lots are patronizing those businesses.
Before introducing the ordinance, La Spata said he tried asking the company to lower its $170 boot removal fee. He said he also tried working with the company to create a fairer appeals process. Currently, La Spata said, the only way to file an appeal against a private boot is to go through one's alderman or sue the company directly.
"A $170 is a lot to ask for a five-minute mistake," he said. "When somebody isn't willing to do any kind of reform, that doesn't make sense to me."
On Friday after this story published, Innovative Parking Solutions co-owner Mike Denigris told Block Club he didn't feel La Spata did enough to reach out before introducing the ordinance. He recalled a 15-minute phone conversation during Ward Night, which was cut short. Denigris said he asked La Spata for a list of the complaints and was denied.
Additionally, Denigris said, the company does have an appeals process through the city's Business Affairs and Consumer Protection department.
"We go to court once a month," he said. "He's banning a business that he knew nothing about. … We don't work every lot 24 hours a day. He's defaming our business."
The company hired former 49th Ward Ald. Joe Moore as its lobbyist, La Spata said. Before the ordinance passed, Moore called him.
"He was on the phone with me trying to talk me out of this," La Spata said. "He said to me, 'If they do a verbal warning for folks, then that kind of eliminates or hurts their business model.' I was like, 'If their business model is trying to catch people in a trap, that's a bad business model.'"
Though the ordinance passed City Council on Wednesday, the city's Business Affairs and Consumer Protection department will give booting companies 30 days to vacate the 1st Ward, La Spata said.
The 30-day grace period gives the companies "time to make preparations" and allows employees time to "find other positions," La Spata said during City Council.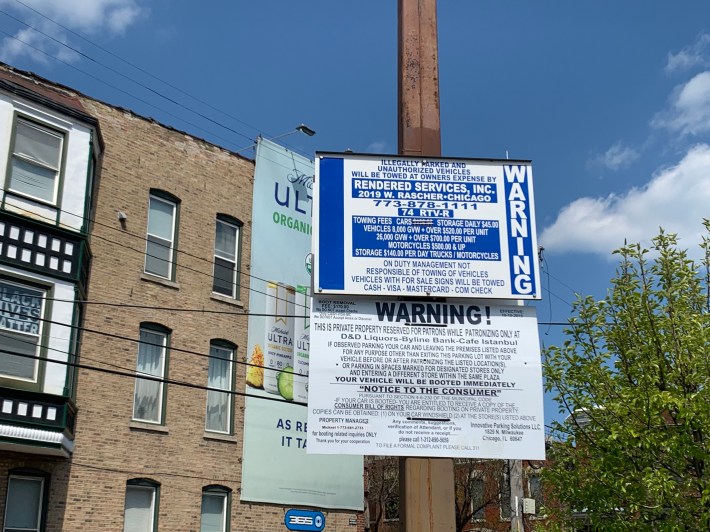 Booting companies are required to post at least two signs at each location where they perform booting operations. These signs must display the fee for boot removal, contact information and a 24-hour phone number.
In 2016, the cap on boot removal fees was $140. In 2018, City Council raised that number to $170.
In 2019, DeNigris told WTTW private booting was a benefit for business owners and a "softer approach" than city towing.
"We try to explain that it could have been worse, given [their] car could have been taken away," he said. "We try to explain to them how the business owner loses more money when people pass the lot and see that it's full and go to another business, so these small businesses are suffering because of that."
RELATED: Booting Cars on Private Lots Now Legal in More Than Half the City
After Hayes returned to the liquor store's parking lot, he talked with the man who booted his car.
"We talked while waiting for them to call their supervisor to process my payment and he told me someone sits there all day to boot people who park and not enter one of the approved businesses," Hayes said. "He didn't mention the irony of taking up a parking spot himself to do this."
The man told Hayes that receiving a boot is "better than getting towed." To which Hayes replied, "I would have been gone before the tow truck got there."
"I waited for almost an hour for him to process my payment, which again would have caused a delay for people wanting to park had it actually been busy," he said.
View the city's rules for private booting here.
Subscribe to Block Club Chicago, an independent, 501(c)(3), journalist-run newsroom. Every dime we make funds reporting from Chicago's neighborhoods.
Already subscribe? Click here to support Block Club with a tax-deductible donation.