LAKEVIEW — The company behind a secretive project at a busy Lincoln Square corner is planning an even more massive development at a crowded commercial stretch in Lakeview.
And like with its plans further north, developers won't say what businesses could set up shop.
Hubbard Street Group plans to knock down the Fifth Third Bank building at 3179 N. Clark St. and redevelop the property into a two-story commercial building with underground parking, according to plans listed on Ald. Tom Tunney's (44th) website.
The 107,883-square-foot site would include 59,000 square feet of retail space inside the triangle at Clark, Belmont and Halsted, with an anchor tenant taking up part of the first floor and all of the second floor, according to the designs. The plans for the 48-foot-tall building have room for four more stores along Belmont and a revamped, scaled-down Fifth Third Bank at Clark and Belmont.
But Hubbard Street Group hasn't told community members or Tunney's office who what would occupy the building. The soonest they might make an announcement would be this fall — after construction is slated to begin.
The timeline for the project shared with Tunney's office would have demolition starting this summer and earmarking about two years to build. The undisclosed tenants would open for business around mid-2023.
"Unfortunately, I am not at liberty to disclose any of our tenants at this time," said John McLinden, managing partner of Hubbard Street Group. "It is possible that we will be able to make an announcement sometime this fall."
The project is estimated to cost $35 million and generate 175 permanent jobs and more than half a million in annual sales tax revenue for the city, according to the plans.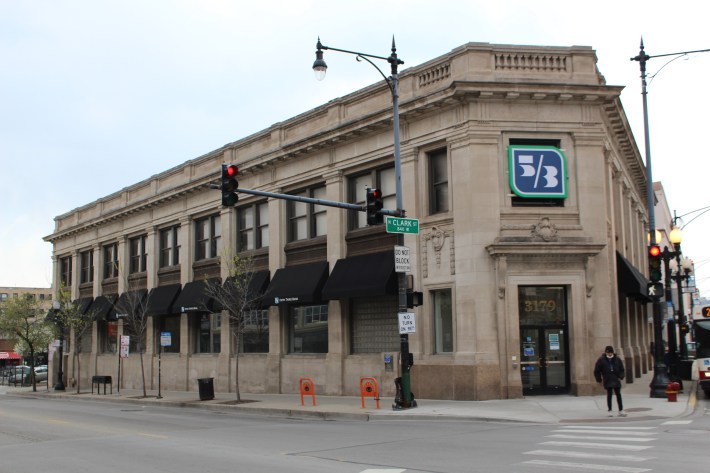 Hubbard Street Group similarly is looking to take over a Fifth Third Bank site in Lincoln Square.
For that project, Hubbard Street Group plans to bring a corporate grocer to the second floor of the bank building at 4800 N. Western Ave., but it's entered a non-disclosure agreement that prevents it from naming the tenant.
Ald. Andre Vasquez (40th) introduced an ordinance in February to downzone the property to try to force the developer into revealing its plans and getting aldermanic approval to proceed.
So far, Hubbard Street hasn't budged. Vasquez told Block Club that while downzoning is one of many options on the table right now, he'd prefer the developer simply come to the table to share its plans with him and the community.
For the Lakeview property, there doesn't appear to be any requirement for Hubbard Street to disclose its plans ahead of time. A developer would only need to present at a community meeting if it were asking for a zoning change to build or a liquor license, said Bennett Lawson, Tunney's chief of staff. Since neither of those are required, and the project already fits into the current zoning, Hubbard Street is in the clear to move forward without the alderman's review or approval.
The bank's building can also be demolished because it isn't landmarked or "orange-rated" in the Chicago Historic Resources Survey, which would mean it has some architectural features that contribute to the historic quality of the area, Lawson said.
However, some neighbors have argued the building has architectural features that should be maintained. They want the structure incorporated into the developer's plans and are circulating a petition opposing demolition. The petition has more than 400 signatures.
"I've lived in Lakeview for the last seven years and noticed we've lost a lot of buildings along Clark Street to newer developments," said neighbor Michael Jon, who launched the petition. "This bank building has been here for about 100 years now, and I'd hate to lose it to the rapidly changing character of the neighborhood."
The alderman's office has been made aware of the community's concerns and is working with Hubbard Street Group to make adjustments to their plans, Lawson said.
"Our office is in contact with the developer with regard to the matters raised by the community and will update neighbors as information is available," Lawson said.  "This includes the request to re-use or re-purpose the old facade in the new building."
This is at least the third Fifth Third branch in the city being targeted for redevelopment, all at busy commercial corners and all short on public details. Another project from developer CRG was proposed for 3950 N. Damen Ave. with a grocer anchoring that building. Ald. Matt Martin (47th) rejected the plans after the developer would not say which retailer was attached to the building.
Jake Wittich is a Report for America corps member covering Lakeview, Lincoln Park and LGBTQ communities across the city for Block Club Chicago.
Subscribe to Block Club Chicago, an independent, 501(c)(3), journalist-run newsroom. Every dime we make funds reporting from Chicago's neighborhoods.
Already subscribe? Click here to support Block Club with a tax-deductible donation.