FOREST GLEN — Wedged between a highway onramp with no crosswalk, no sidewalk and a busy arterial road intersection, a Northwest Side bus stop is getting a bad reputation nationwide. 
The northbound bus stop at the intersection of Cicero, Winnemac and Elston Avenues for route 54A, which goes along Cicero Avenue north to Skokie Boulevard, has been named one of the worst bus stops in the country by national transportation news site Streetsblog USA.
The bus stop made it to the final four of the Sorry Bus Stop 2021 competition, a reader-nominated Streetsblog competition that rounds up dangerous and neglected bus stops around the country. It serves as a public shaming for local transit agencies to do better while bringing attention to the treatment of bus riders and pushing for safer street infrastructure. 
"It's a powerful way to call attention to the conditions that we force our bus riders to endure and press the conversation about why does it have to be this way," said Kea Wilson, senior editor at Streetsblog USA, who compiled the competition. "Why shouldn't waiting for the bus be a comfortable, safe, pleasant experience, at the minimum, in a way that it is in other countries?"
The competition took a hiatus in 2020, but Wilson decided to bring it back this year. She said readers sent in more than 100 nominations from around the world, but she decided to focus on North America and pair stops that would "illuminate the commonalities about bad bus stops in the country."
While most of the sorry bus stops highlighted are along old, low-volume routes, that doesn't mean they should be deprived of basic amenities like benches, shelters, more sidewalk space or even ADA compliance, Wilson said.
The Forest Glen bus stop was defeated by a Staten Island, New York, stop last week. That stop sits tightly against a road with no sidewalk, overgrown vegetation and near a dark and spooky shed set way back from the road.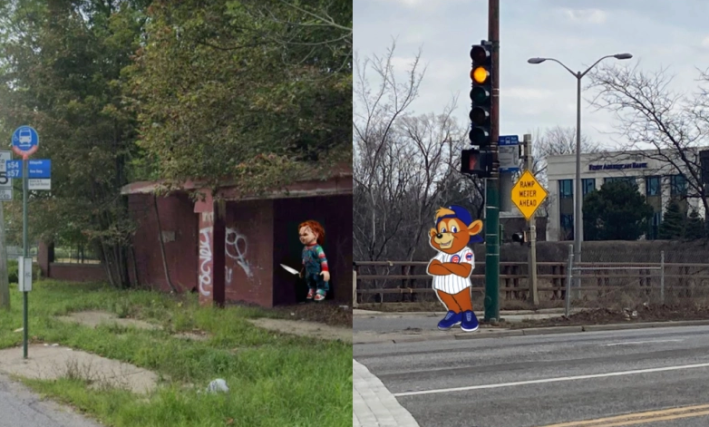 "I'm a little bummed [the Forest Glen stop] got knocked out, but Staten Island is worthy in its own way," Wilson said.
Wilson said the bus stop was chosen due to its location near a highway onramp, its lack of a crosswalk and the high crash rates at a nearby intersection.
The area around Ashmore Playlot at Cicero Avenue and Gunnison Street, just a few blocks south of the bus stop, saw four bike and pedestrian crashes, three serious or fatal crashes and 35 crashes involving children or teens 2009-2012, according to city records from the Department of Transportation.
Speeding has long been an issue along Cicero Avenue, which serves as an alternate route around the gridlock that builds north and south along the Edens Expressway from the junction with the Kennedy Expressway. To combat this, the city installed a speeding camera at 4909 N. Cicero Ave. in 2015, which issued $1.1 million in fines in the first 18 months of operating, according to city data. 
That works out to about 180 violations issued every day, records show.
Despite the camera, Jefferson Park resident Lena Guerrero Reynolds, who has driven and walked that stretch of Cicero, said she sees speeding cars all the time in the area, usually running to catch the light or turn at Cicero and Elston. 
Reynolds, who works at the Environmental Law and Policy Center and is a transportation and sustainability advocate, nominated the 54A bus stop for the Streetsblog competition because of its nearly invisible standing room and its unsafe location. 
Reynolds said she has never used the stop because of its unpleasant location and its detriment to pedestrians, but she wants people to be aware of it and pressure the city to make improvements. 
"It always shocked me it was a stop at all because it's so awful," Reynolds said. "I've seen other cars clip that curb trying to make the turn [and] people literally driving over what should be a bus stop." 
Last week, a Block Club reporter saw the driver of a large semi-truck attempt to turn left from Elston onto the highway ramp. Because of the truck's size and the small, congested intersection, the driver went onto the curb where the bus stop is. 
The northbound bus stop at Cicero and Argyle, just a block south from the sorry bus stop, doesn't fare much better. It is up against the highway fence shoulder with no sidewalk or crosswalk. With Cicero's narrow roadway and no sidewalk along the highway shoulder, Reynolds said it creates many unsafe situations, not just for bus riders. 
"Cicero is a scary kind of stretch to drive because it's so fast and narrow by the highway — it's not surprising the speed [camera] pumps out tickets," she said.
A CTA spokesperson said the northbound stop was grandfathered in several years ago and is a very low-volume route, seeing about two riders a day. According to bus trackers, there are about two hours between buses there on weekdays.
Although the CTA is not in charge of managing stops like this one, the agency said it plans to work with local municipalities like CDOT to improve the conditions of the 54A stop. 
"In general, to make an efficient use of resources, CTA makes every effort to encourage bus stop changes as part of municipalities' street resurfacing projects, as well as other projects in the vicinity of a bus stop," the agency said. "The CTA also continually works with municipalities to encourage improvements to the public way that support bus stops — like sidewalks and ADA ramps."
CDOT was made aware of the bus stop's condition by Block Club and will work on improvements, said spokesman Mike Claffey.
"Our team will be working with CTA to explore all options for improvements, including short-term and longer-term upgrades to this stop," Claffey said.
Transportation advocates like Reynolds want to see improvements to neglectful bus stops like this one that could boost ridership and preserve people's dignity. She said moving the stop to the northwest corner of Cicero, past the highway entrance — which would be directly across from the southbound stop — would be a small step to decrease haste and recklessness seen at the intersection.
"The bus is such an essential tool for so many of our neighbors," Reynolds said. "Any unsafe infrastructure for anyone who relies on it [is] a deterrent for the people who might want to."
Subscribe to Block Club Chicago. Every dime we make funds reporting from Chicago's neighborhoods.
Already subscribe? Click here to support Block Club with a tax-deductible donation.