LITTLE VILLAGE — Hundreds of people marched Sunday and dropped carnations, daisies and other flowers under a new mural for Adam Toledo in the alley where a police officer fatally shot the 13-year-old last month.
Little Village residents and other Chicagoans gathered at Farragut Community Academy parking lot to celebrate and mourn the life of Toldeo. They also called for justice in his killing and an end to gun violence across the city.
Esmeralda Gonzalez, of nonviolence group Increase the Peace, said this is a moment for the community to come together and heal following the deaths of Toledo and Lydia Jimenez, 17, who was shot and killed last week. Video of police shooting Toledo was released Thursday, leading to protests and memorials like Sunday's.
"The video that was released was tragic for all of us … and also our communities of color," Gonzalez said through tears. "Our voices were only heard once we lost a life. And we want to stop that. When we are yelling, 'Defund the police and fund our community,' it's very important.
"Adam didn't have a chance. He was just starting his life."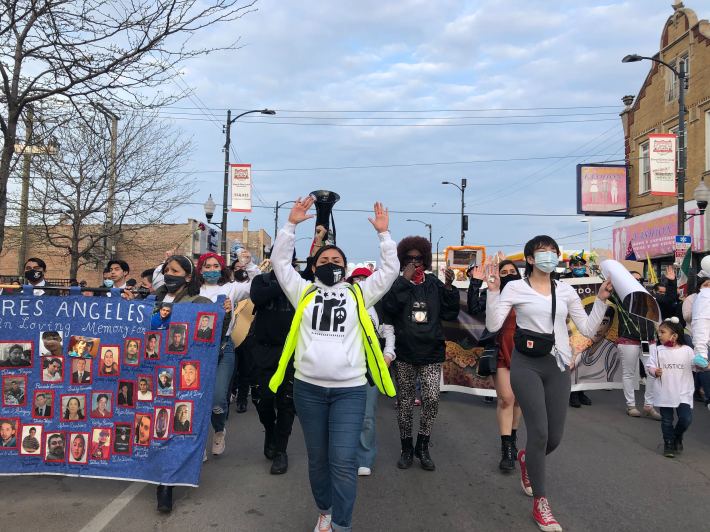 Attracting about 1,000 marchers, the event featured Aztec dancers, a youth mariachi band and a peace walk through the streets of Little Village. It was organized by community groups, including Increase the Peace, La Villita Community Church, Chicago Youth Boxing Club, the Southwest Collective and New Life Centers.
"We are here to share peace. We are here to share nonviolence. We are here to share our love with the community," said Henry Cervantes, of Aztec Danza. "Violence in the streets of Little Village is nothing new … . In some way, somehow, this has to stop."
Marchers walked through Southwest Side streets before stopping for a moment of silence under the Little Village arch.
Flanked by community members, the Toledo family was serenaded by a youth mariachi band under the arch before the group walked through the alley chanting "Justice for Adam" and "Justice for Lydia Jimenez."
The videos of Toledo's shooting deepened outrage in the community. In the videos, it appears Toledo's hands are up and he is not holding a gun when officer Eric Stillman shoots him. The footage does not show Toledo point or raise a gun at Stillman at the end of the chase.
Many people once again expressed a need for police reform — and others for the department to be defunded after years of reforms have failed to stop deaths at the hands of police officers. Instead, activists want the city to invest more money in the neighborhoods and preventing violence, which has surged during the pandemic.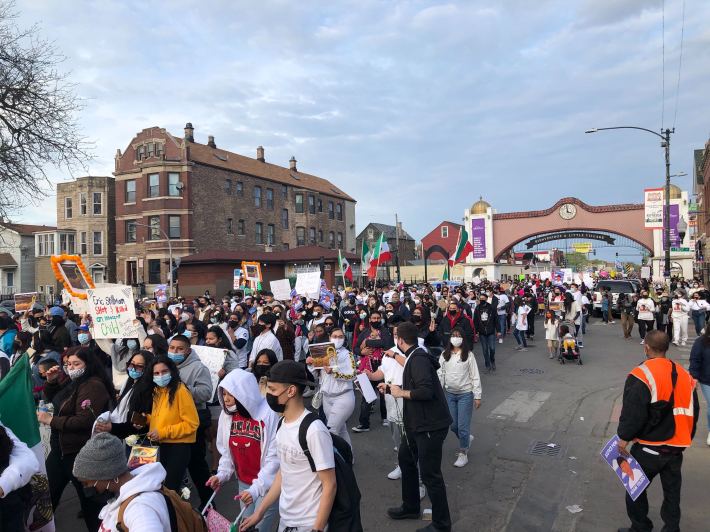 U.S. Rep. Jesus "Chuy" Garcia, who attended the event, said the video has "shaken the community like nothing else that I can remember."
"This is a huge tragedy, and it's brought to the [forefront] the failure to bring in police reform in Chicago," Garcia said. 
The tragedy also highlights "the pandemic of historic disinvestment of communities of color … and in our youth," Garcia said. 
"My hope is that this tragedy will serve as a spark to mobilize us to achieve police reform, locally and nationally, … and increase investments of resources to neighborhoods to schools to day care centers, to recreation centers to create an abundance of opportunities that young people need to be healthy to succeed in their lives to reach their full potential," Garcia said.
Increase the Peace Youth leader Anahi Botello, a Little Village native, said it's sad she's become "numb to the violence" in the community.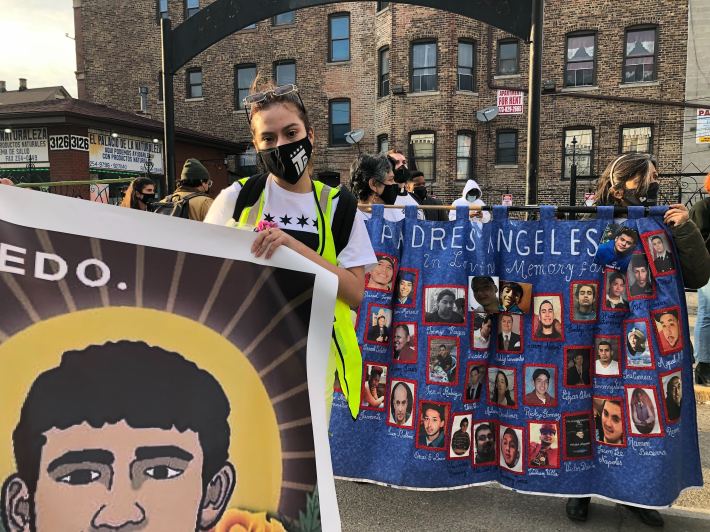 Growing up in Little Village, Botello said she "grew up with kids like Adam."
"I am tired of the kids from my hood not receiving the proper guidance … that they deserve … . Instead of focusing on whether these kids were bad or good, gang-affiliated or not, let's talk about the complex system that was built to make us, minorities, fail in these hoods of Chicago," Botello said. 
The 19-year-old said the community needs more social workers, counselors and therapists to address systemic failures and guide and heal young people. 
"These kids who are lost to the streets are our future doctors, lawyers, engineers and teachers," Botello said. "They were our future, and it upsets me that their future was cut far too short to see what they could have [become] if only another door would have opened up for them.
"I'm tired of seeing our community get the short end of the stick, so defund CPD and fund our hoods. Because how many more of my brothers and sisters of my community have to fall for us to see change?"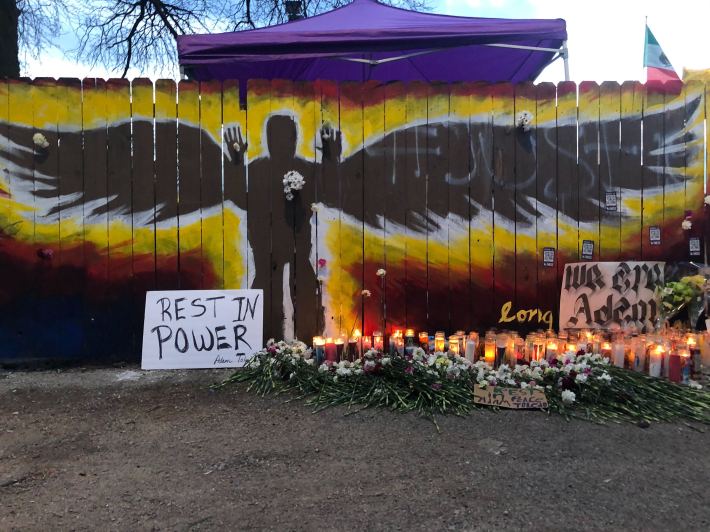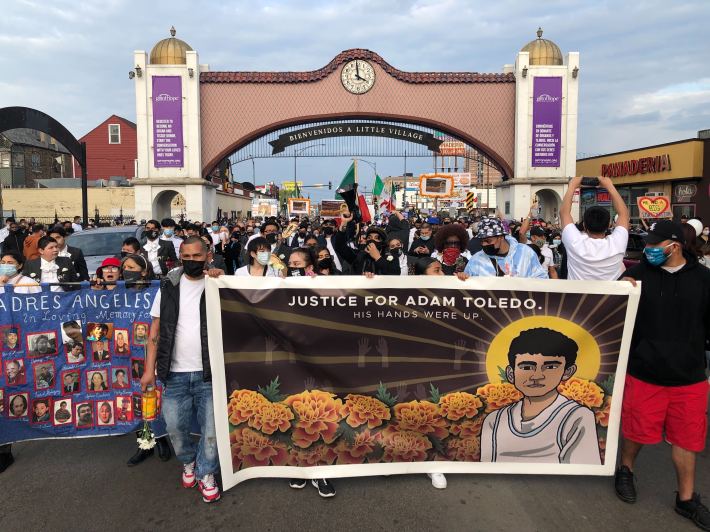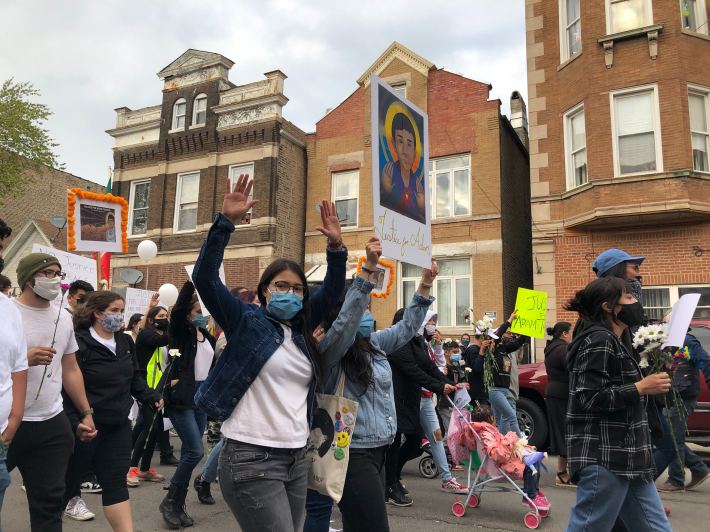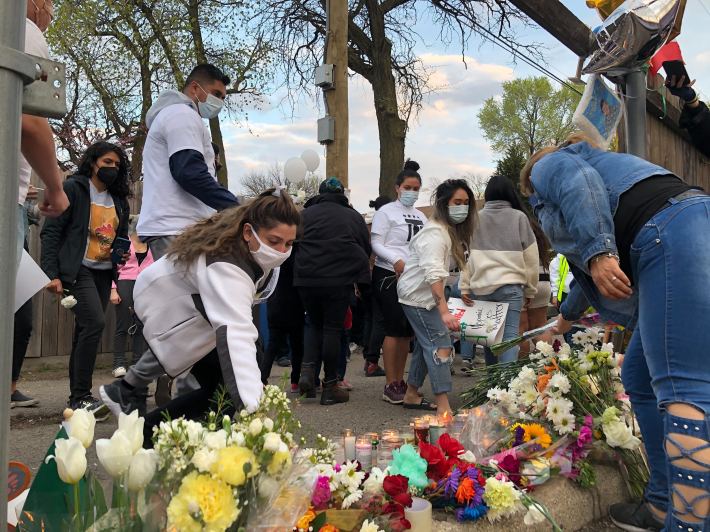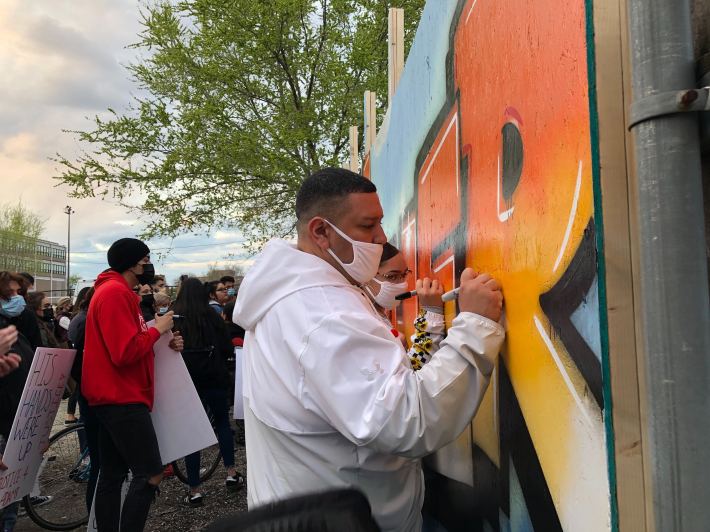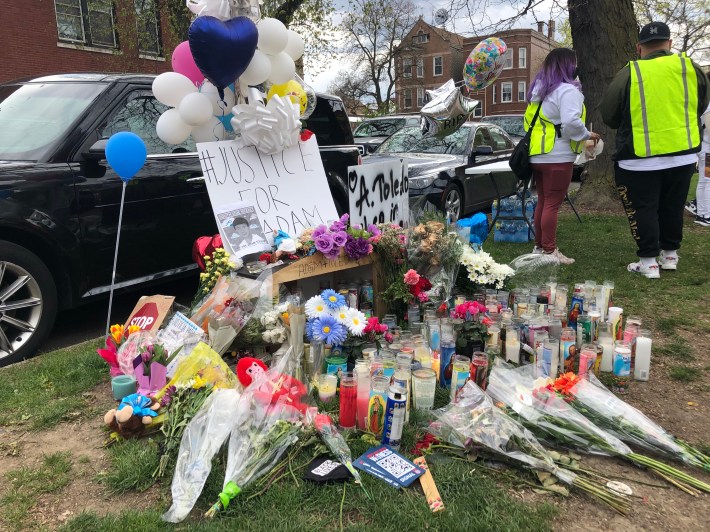 Subscribe to Block Club Chicago. Every dime we make funds reporting from Chicago's neighborhoods.
Already subscribe? Click here to support Block Club with a tax-deductible donation.
RELATED STORIES
Video Appears To Show Adam Toledo Wasn't Holding Gun When He Was Shot By Cop, Refuting Claim Of Prosecutor, Cop's Lawyer
Chicago Police Officer Who Killed 13-Year-Old Adam Toledo Won't Be Charged With A Crime, His Lawyer Says
'I Saw A Child With His Hands Up': Chicago Reacts To Video Of Police Shooting 13-Year-Old Adam Toledo
Lightfoot, Toledo Family's Attorneys Call For Peace As City Releases Video Of Police Shooting 13-Year-Old
Adam Toledo, Holding A Gun, Was Told To 'Drop It' Before Cop Fatally Shot 13-Year-Old, Prosecutors Allege
After Chicago Police Kill 13-Year-Old Adam Toledo, Little Village Neighbors Demand Answers At Vigil: 'We Want To See Justice'
13-Year-Old Adam Toledo's Mom Thought Her Son Was Missing — Until Cops Came Knocking 2 Days After Killing Him
Police Foot Chase Policy Should Be Changed, Lightfoot Says After 13-Year-Old Boy Killed By Officer