SOUTH SHORE — From Ausar's opening line on his newest track "Paradise" — "as long as the family straight, I can't complain at all" — the Southeast Side rapper and singer shares his visions of bliss while reflecting on the experiences that shaped him.
They're themes that will permeate the 24-year-old's multimedia project "Me and My Friends," for which Ausar will release songs during coming months. The project comes as he gears up to drop his album, "David," at the end of the year.
Ausar, full name Ausar Bradley, shows off his deep ties to South Shore in the video for his brief track. Filmmaker D.Roe sets the scene with visuals of Rosenblum Park, the old South Shore High School and the home Ausar grew up in with his aunt.
"Being able to return to my childhood crib … and kick it over there where I grew up — I don't show that side of my artistry often, so it was really dope to me," he said.
Thelonious Martin handles the production on "Paradise," flipping the rare Maryland funk cut "I See Heaven" by F. Toliver and Company.
Ausar has admired the SaveMoney producer since high school, but the pair got to know each other personally through basketball over the past year. "We had instant chemistry" from their first game together, running pick-and-rolls that worked every time, he said.
The chemistry carries over to their track, a quick-hitter where Ausar celebrates his independence, determination and intelligence.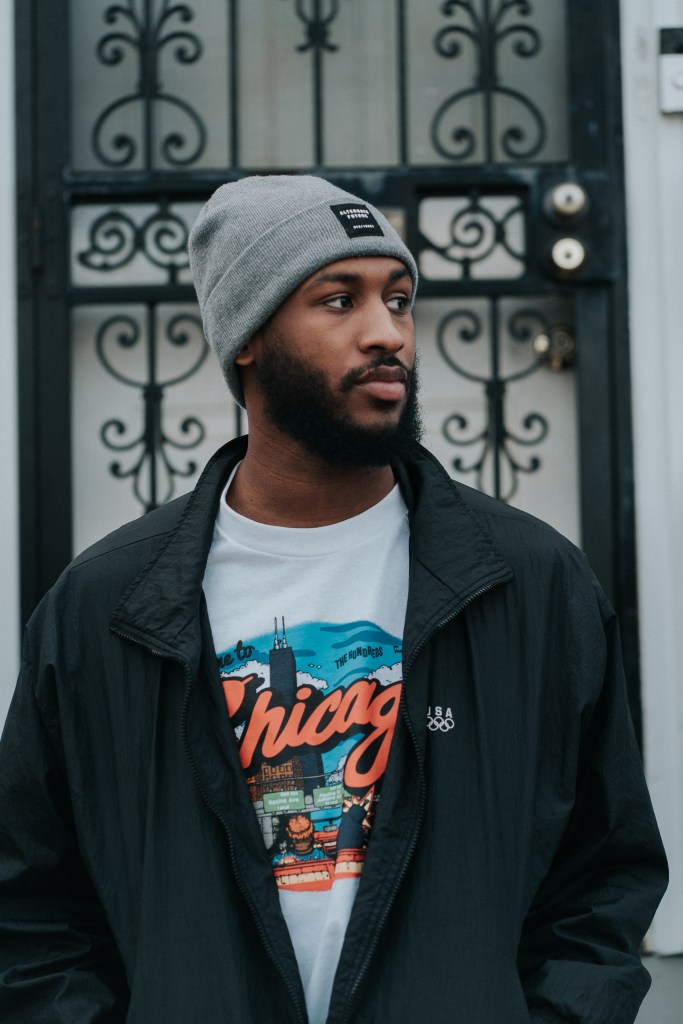 To work with Thelonious Martin on "a joint that's about my formative years is really dope," Ausar said. "It's just a full-circle moment all around."
"Paradise" is the first release from "Me and My Friends," a series of songs that will explore the experiences that were "pivotal to my upbringing," Ausar said.
"Me and My Friends" will roll out with "interviews with the homies," video drops and "maybe even a merch run or two" as Ausar explores the outside influences that shaped him, he said.
On his "David" album, Ausar will explore the flip side of that concept, going "a lot more in-depth in terms of me as a person."
The artist will use the story of David, and Michelangelo's marble sculpture of the Biblical king, as inspiration for introspection.
"The statue of David is his masterpiece, so it's a really dope concept to create my own masterpiece," Ausar said. "The statue itself is exposed, and the album is an exposé of my own life in a sense — giving all the little bits and pieces that make me."
The pandemic will delay the "David" release by about a year when all is said and done, as Ausar chose to wait to release it until he could tour in support of the album.
"God has been really looking out," and virtual performances have allowed Ausar to continue building his fanbase without in-person shows, he said. "It put us in a position where we were able to grow more than we probably ever had, from home."
The next time Ausar can get on a stage, he'd love for it to be a headlining show at Metro, or a return to Schubas after a packed performance his first time around. But after more than a year at home, "anyone can book me and I will be more than happy to be there," he said.
"I love to perform — in all honesty, I just want to be out and about again," Ausar said.
"Paradise" is out now on all streaming platforms.
Subscribe to Block Club Chicago. Every dime we make funds reporting from Chicago's neighborhoods.
Already subscribe? Click here to support Block Club with a tax-deductible donation.