SOUTH CHICAGO — Savvy neighbors have long used an abandoned rail line as a shortcut through a Southeast Side neighborhood, so a new community group is planning to develop the trash-strewn vacant land into a dedicated path and park.
Friends for a Natural South Chicago, founded by local couple Brandi Kishner and Dana Kraus, will take the first step toward turning a section of old B&O Railroad tracks into a public park this weekend.
They're holding the Clean Up the Cut-Thru event 1 p.m. Saturday at the vacant property, 8211 S. Manistee Ave. Ald. Greg Mitchell's (7th) office is supplying bags and rakes for volunteers to pick up litter, while attendees are encouraged to bring gloves and masks.
"If you live in the neighborhood, you cut through right there — and why wouldn't you cut through?" Kishner said. "We just want to make it beautiful and make it something everybody can respect."
The plot of land between 82nd and 83rd streets and Manistee and Muskegon avenues is a common shortcut for South Chicago residents, Kishner said. It saves time for people looking to reach the nearby Save A Lot, get to school at Ninos Heroes Elementary or make their way a bit further south to the Commercial Avenue business strip.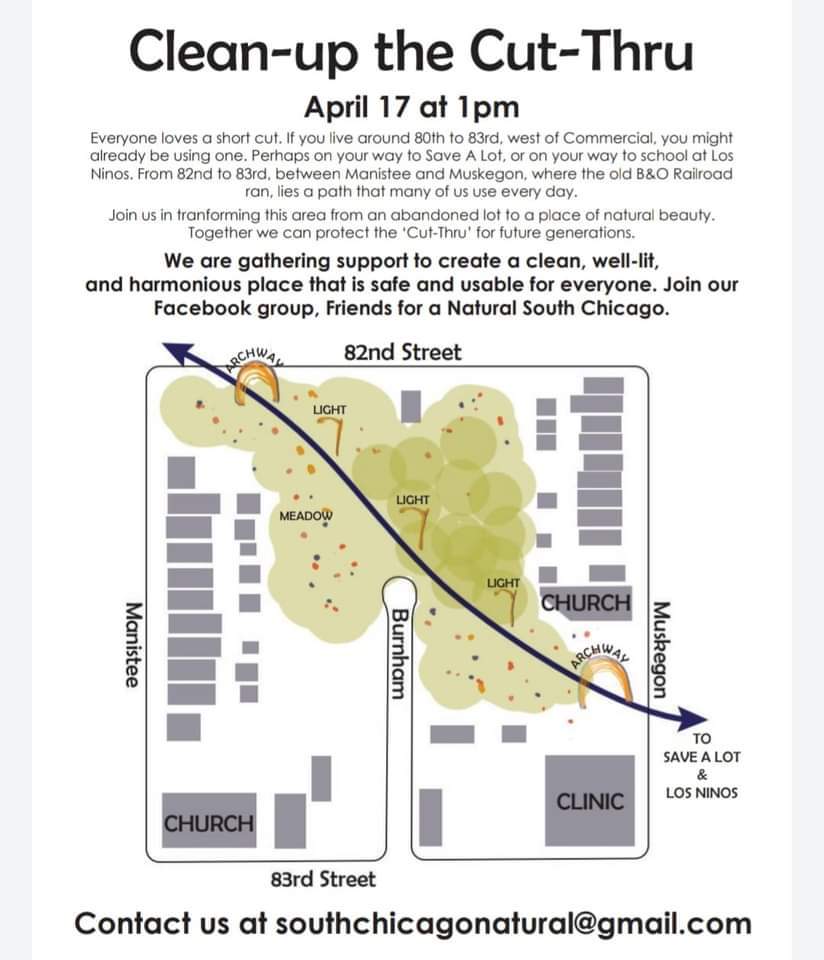 Kishner and Kraus have discussed pushing for a park on the site since moving in together a few years ago. Earlier this year, they ramped up their efforts, handing out flyers to residents and reaching out to community groups like TreeKeepers and NeighborSpace about their plans.
They envision a well-lit, well-maintained path with archways at each entrance. It can be functional for travelers and relaxing for people simply looking to get fresh air. After this weekend's cleanup, the next step would be "getting the railroad to give up the land," Kishner said.
As they continue raising awareness to formalize the railroad shortcut, they'll also explore ways to improve Steelworkers Park, Rainbow Beach and other parks "that just don't have that kind of investment and aren't as well known," Kishner said.
"We don't want gentrification, with big investors coming and raising rents," Kishner said. "But you do want investment in the area so the quality of life for people is good and it stays affordable. We're envisioning some kind of a middle way that represents investment, but not gentrification."
South Chicago — already home to numerous community gardens on once-vacant properties — has land available for more green space that can improve residents' mental and physical health, Kishner said.
"We all get so bogged down in these big-picture government things, but focusing on what we can clean up in our own home and our own area really matters," Kishner said. "You can make your own area natural and beautiful."
To get involved with Friends for a Natural South Chicago, email the group at southchicagonatural@gmail.com. Kishner and Kraus hope to find a volunteer who can help with fundraising for the planned park.
Subscribe to Block Club Chicago. Every dime we make funds reporting from Chicago's neighborhoods.
Already subscribe? Click here to support Block Club with a tax-deductible donation.