LOGAN SQUARE — As developers continue to raze workers cottages for single-family homes and condos in gentrifying Logan Square and other parts of the city, preservationists are embarking on a project to raise awareness about the historical yet overlooked homes and to shape policies that would save them from demolition.
Leaders with Preservation Chicago and the newly-formed Chicago Workers Cottage Initiative recently teamed up with students in the historic preservation department at the School of the Art Institute of Chicago on a data project that aims to shed light on the loss of workers cottages throughout the city.
The project kicked off this week with a half-dozen students in adjunct professor Charles Pipal's preservation planning studio class surveying an area of Logan Square bounded by Fullerton Avenue to the north, Armitage Avenue to the south, Western Avenue to the east and California Avenue to the west.
Using the Loveland Technologies app, the students have collected data on each of the workers cottages in the area, answering questions like: What is the home's condition? How many original details are left? Is the home in danger of being torn down?
"If you see two poor-conditioned workers cottages next to each other, that's a threat," said Mary Lu Seidel with Preservation Chicago. "Developers will buy them up, get a 50-foot-wide lot and build their mega-mansion Barbie dream house."
After the surveying process is complete, the data will be sent to the city, Seidel said. The data is meant to lay the groundwork for city policies around preserving workers cottages, she said.
Eventually, the group would like the city to craft a policy or legislation to protect workers cottages from demolition. Seidel said that could mean creating a thematic landmark district across city neighborhoods to protect against teardowns or helping the owners of workers cottages with renovation projects so they're able to stay in their homes.
In the coming months, the preservationists plan to expand the project and collect data in other neighborhoods home to a lot of vulnerable workers cottages, such as McKinley Park, Pilsen and Wicker Park. But the groups started with Logan Square because the gentrifying neighborhood has seen more teardowns in recent years than other neighborhoods.
Using city data, the preservationists found workers cottages made up the largest share of demolition permits issued in Logan Square from 2006-2020.
Logan Square resident Tom Vlodek, who helps run the Chicago Workers Cottage Initiative, said he's watched many of the workers cottages around him disappear in favor of single-family homes and condos. Vlodek said in recent years he's counted as least nine teardowns in the four-block radius around where he lives.
In 2018, Logan Square resident Matt Bergstrom, who is also helping with the workers cottage effort, documented the transformation of his street, which at that time had lost roughly two dozen homes for construction.
With Logan Square continuing to attract luxury apartment towers and cocktail bars, Vlodek said saving workers cottages has become a matter of affordability.
"You'd be hard-pressed to think of [workers cottages] as affordable housing or anything in Logan Square anymore, but I see this as our mandate. These are Chicago's original affordable, single-family homes, built for workers that built the city. Once you tear down one of those homes, there will never be an affordable home there again," he said.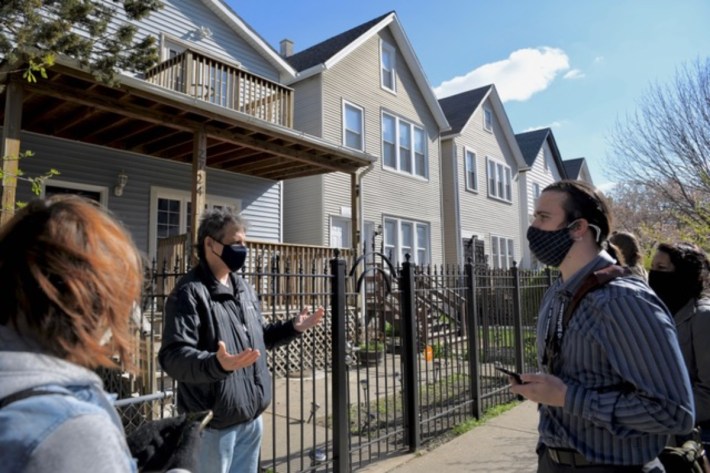 Workers cottages arrived in Chicago in the 1850s and were constructed through the late 1910s. The narrow, gable-roofed homes were built for working-class Chicagoans and came to define working-class life in the city.
"This style of housing marks a significant time in our city. Suddenly young immigrant families were able to afford to live in their own homes. This was an opportunity," Seidel said.
By collecting data on workers cottages in Logan Square and in other neighborhoods across the city, the preservationists involved in this effort also hope to inspire residents to learn more about their homes and the role they play in Chicago history.
"We want to be the Woody Guthrie of workers cottages," Vlodek said. "We're not going to be writing any songs anytime soon, but we're going to advocate for the little workers' houses like he advocated for the working man and woman."
Subscribe to Block Club Chicago. Every dime we make funds reporting from Chicago's neighborhoods.
Already subscribe? Click here to support Block Club with a tax-deductible donation.