LINCOLN SQUARE — The Chicago Park District will decide in a few weeks if a Lincoln Square nonprofit can move forward with its proposal to install lights at Welles Park for night softball and baseball games. 
The Welles Park Parents Association wants to add lights at four of the park's five diamonds so there can be night games, providing more playing opportunities so dozens of children on the league's waitlist for baseball and softball can participate.
If the Park District supports the proposal, the lights could be ready to use by spring 2022. They would allow the league to add about 280 slots for practices and games during the spring season, which runs mid-April to mid-July.
RELATED: Lincoln Square Group Wants To Install Lights To Host Night Games In Welles Park
Park officials will consider feedback from neighbors, the Welles Park Advisory Council and Ald. Matt Martin (47th) before announcing their decision to approve, deny or delay the proposal later this month, Welles Park supervisor Becky Kliber said at a Saturday community meeting. 
Some neighbors said that timeline is too quick.
"Why are we rushing this issue during a pandemic?" said Gene Schulter, former 47th Ward alderman and current real estate agent. "I would ask that we should wait until we can get beyond this pandemic so we can have a meeting at Welles Park."
RELATED: Nighttime Welles Park Ballgames Would Be Great For Kids And Businesses, Lincoln Square Group Says — But Some Neighbors Torn
The association estimates the installation would cost about $600,000 and has offered to completely foot bill by fundraising and applying for grants. Some of those grants have upcoming deadlines, which is why the parents group is pushing for a quick decision, said Michael Sewall, Martin's director of constituent services.
Neighbors who previously shared concerns about the project again said they worried the added games and practices would create traffic and parking congestion and generate too much noise and trash at the park.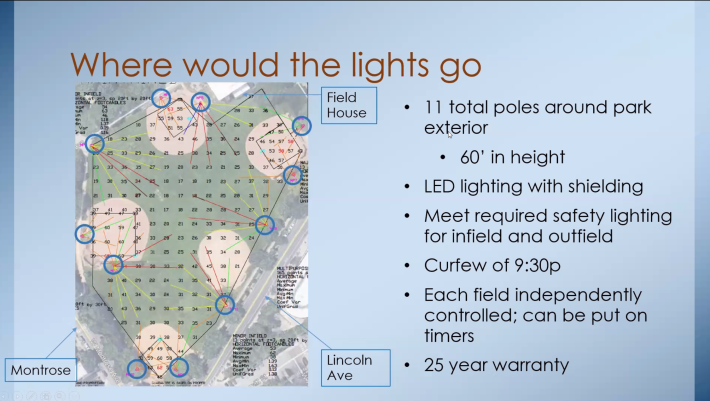 Members of the advisory council shared a survey of 271 neighbors, with 196 respondents saying they are in favor of the proposal while 68 are opposed it, said Sherry Skalko, an advisory council member.
The majority of people who live within two blocks of the park oppose the proposal, Skalko said.
"The primary themes in support of the proposal was that it increases the use of public space to the benefit of community and businesses," Skalko said. 
People who support the proposal said it would add opportunities for children to participate in sports, liked that the lights would be added with no cost to taxpayers and like that the Park District will enforce a 9:30 p.m. curfew for the lights, according to the survey results. 
Lindsay Eanet, the North Center Chamber's executive director, told Block Club in an email the lights could make Welles Park even more of an important community gathering space for the 47th Ward. If the lights are approved, it could be a "win on multiple levels."
"The proposed additional lighting would allow the community to play and gather safely for longer, which we hope will help drive foot traffic to our local businesses during the spring and summer," she said.
Neighbors can still submit feedback to the advisory council via email WellesParkAC@gmail.com, to Martin's office by emailing michael@aldermanmartin.com or to the Welles Park supervisor by emailing becky.kliber@chicagoparkdistrict.com.
"I'm very happy to be able to hear and see firsthand the questions and comments that folks in the community have about this proposal … to inform the position I'm going to take on this," Martin said. 
Subscribe to Block Club Chicago. Every dime we make funds reporting from Chicago's neighborhoods.
Already subscribe? Click here to support Block Club with a tax-deductible donation.