CHICAGO — Dozens of Chicagoans demonstrated Downtown on Tuesday to demand justice for Daunte Wright, fatally shot by a police officer during a traffic stop outside Minneapolis on Sunday.
About 100 people gathered at The Bean in Millennium Park, marched through part of the Loop and kneeled at Dearborn Street. Demonstrations springing up throughout the country to protest yet another instance of police violence.
Wright's death comes in the midst of peaking tensions and frustrations toward police. Many in Chicago are reeling from police fatally shooting 13-year-old Adam Toledo in Little Village two weeks ago. The trial of Derek Chauvin, the Minneapolis police officer charged with killing George Floyd last year, is ongoing about 10 miles away from where Wright was killed.
Wright, 20, had a 2-year-old son.
"I'm very angry, I'm a 19-year-old," said activist and youth documenter known as the KiD from Pilsen. "Daunte Wright was 20. It could have been anyone…"
Demonstrators from throughout the city participated, many of them saying it was critical they show up to support one another's communities as they grapple with Toledo and Wright's deaths, and wait to find out if Chauvin, who killed Floyd by kneeling into his neck, will face criminal punishment.
Separately, as the demonstration was going on, members of Toledo's family met with the Civilian Office for Police Accountability to watch the police footage of the seventh-grader being shot. It is unclear when that footage will be released publicly.
"Today was just a rally to show solidarity, but we know that the heart of the people is beating louder and we are going to beat that drum in the streets every day," organizer Troy Gaston said.
'I feel like they stole my son's dad from him.'
Wright was driving to his older brother's house with his girlfriend Sunday afternoon when police pulled him over in Brooklyn Center over an expired tag, according to CNN. Officers learned he had an outstanding warrant and tried to handcuff him while he was standing outside his car, police said.
In the body worn camera footage released Monday, an officer tells Wright "don't" as Wright twisted away from an officer to get back into the car. Officials said it appeared from the video Wright was trying to leave.
One of the officers then can be heard warning Wright she's going to use her Taser on him, before repeatedly shouting, "Taser! Taser! Taser!" Then, the officer is heard screaming, "Holy s**t! I just shot him."
Wright died of a gunshot wound to the chest, the local medical examiner said. His family spoke to reporters Tuesday alongside George Floyd's brother, who joined to offer his support.
Chyna Whitaker, the mother of Wright's son, said Tuesday: "I feel like they stole my son's dad from him."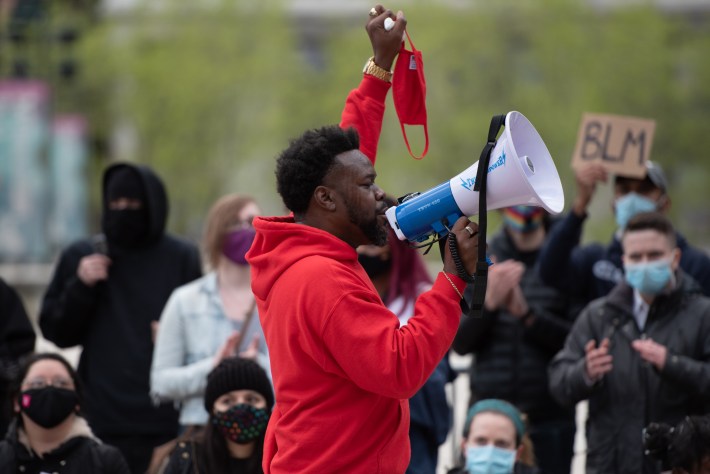 Police officials claimed officer Kim Potter "accidentally" shot Wright during the encounter, saying she'd meant to deploy a Taser instead. She has resigned, as has the Brooklyn Center police chief, Mayor Mike Elliott said.
Wright's parents rejected the notion it was an accident.
"I can't accept that — a mistake. That doesn't even sound right," Wright's father, Aubrey Wright, said in an interview with ABC. 
Prosecutors told CNN they hope to decide on charges against Potter by Wednesday.
Wright's killing is at least the third high-profile death of a Black man at the hands of police in the Minneapolis area in the last five years. Philando Castile also was fatally shot by a police officer in Falcon Heights in 2016. Floyd's death last year sparked massive nationwide protests and renewed broader demands to overhaul, reform and slash funding to police departments throughout the country.
The Chicago march concluded with demonstrators lined up in front of The Bean with signs reading, "Justice for Adam Toledo," and "Justice for George Floyd."
The KiD from Pilsen said the recent surge in racist violence against Asians and Asian Americans also motivated him to protest.
"With every single one of the people that have that have encountered injustice, we need to come together in solidarity with Black, Brown, whatever you might be — this is our problem, too," he said. "And in order to have an answer to our problem, we need to come together right now because when we come together, they don't want to see us come together."
Subscribe to Block Club Chicago. Every dime we make funds reporting from Chicago's neighborhoods.
Already subscribe? Click here to support Block Club with a tax-deductible donation.