LITTLE VILLAGE — The family of 13-year-old Adam Toledo viewed police body camera footage of his killing Tuesday, and subsequently asked a police oversight agency to delay the public release of the video, officials said.
In a statement Tuesday night, the Civilian Office of Police Accountability (COPA) said it would not immediately release the footage of an officer fatally shooting Toledo in a Little Village alley on March 29 as the family continues to grieve their loss, COPA spokesman Ephraim Eaddy said in a statement.
The video will ultimately be released, however, Eaddy said.
"COPA has advised family representatives that, while it is acutely sensitive to the family's grief and their desire to avoid public release of materials related to Adam's tragic death, COPA is mandated to comply with the City's Video Release Policy," the statement reads.
COPA said it was in the early stages of its investigation into Toledo's killing, which includes interviews with witnesses, police reports, police dispatch audio and 911 calls.
"We met this evening with Adam Toledo's parents and representatives of the Civilian Office of Police Accountability to view the police body camera video and other evidence pertaining to the March 29 police shooting of 13-year-old Adam," family attorneys Adeena Weiss Ortiz and Joel Hirschhorn said in a statement. "The experience was extremely difficult and heartbreaking for everyone present and especially for Adam's family."
The attorneys did not disclose what the family saw on the video, but said they are conducting their own investigation into his death "as we seek justice for Adam and his family."
"We are meeting with representatives of the city of Chicago and will have no further comment on the facts in the case at this time," the statement read. "We do, however, want to take this opportunity to express the family's deep appreciation for the grace and respect that the community, Chicago authorities, and the media have shown for their suffering as they mourn the loss of their child."
Toledo, a seventh grader at Gary Elementary School, was laid to rest on Friday. His family thanked Little Village community members for the outpouring of support they received since his death.
"We also want to thank leaders and members of the Latino community for remaining peaceful in their protests and calls for justice," Weiss Ortiz and Hirschhorn said in a statement. "Adam's memory can best be honored by refraining from violence and working constructively for reform."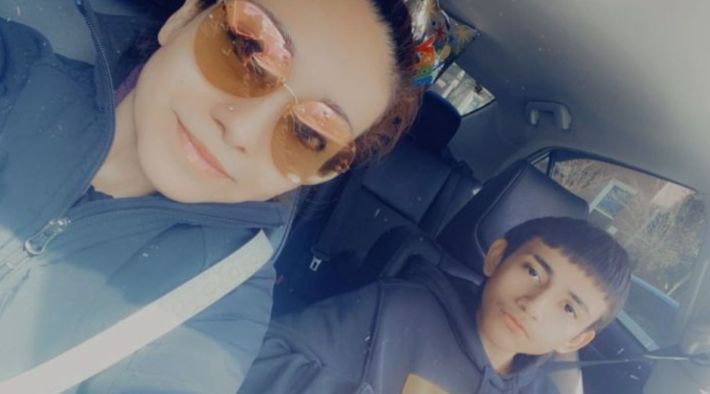 Officers were responding to a ShotSpotter alert of eight shots fired in the 2300 block of South Sawyer Avenue around 2:30 a.m. March 29 when they saw two "males" in an alley, and one of them had a gun. The officers chased, "which resulted in an armed confrontation," officials said. 
Over the weekend, prosecutors alleged Toledo was holding a gun and was told twice to "drop it" before a Chicago Police officer fatally shot the 13-year-old. 
Ruben Roman, 21, who was with Toledo the night of the shooting, charged with felony reckless discharge, unlawful use of a weapon and child endangerment.
During his bond hearing, prosecutors said Roman and Toledo ran north on Sawyer together and cut into a gangway and an alley near 2324 S. Sawyer Ave. Two uniformed Chicago Police officers in a marked vehicle responded in less than a minute after the shots were fired, spotted Roman and Toledo and began chasing after them, Cook County Prosecutor James Murphy said.
Roman was taken to the ground first and one of the officers detained him, Murphy said. Video surveillance shows Roman dropped a pair of red gloves to the ground which later tested positive for gunshot residue, Murphy said. 
As Roman was being detained, the second officer continued to chase Toledo down the alley, Murphy said. He repeatedly told Toledo to stop but Toledo continued running. The teen stopped near a wooden fence and the officer repeated commands to show his hands, Murphy said.
Murphy said Toledo was holding a gun in his right hand, at his right side, and standing with his left side facing the officer.
"The officer tells (Toledo) to drop it — 'drop it, drop it' — as (Toledo) turns toward the officer. (Toledo) has a gun in his right hand. The officer fires one shot at (Toledo), striking him in the chest," Murphy said.
The gun Toledo was holding, a Ruger 9mm, landed against the fence nearby, Murphy said. The officer immediately called for an ambulance and started doing chest compressions on Toledo, who was pronounced dead at the scene.
It wasn't until two days after Toledo was killed that police contacted his mother, Elizabeth Toledo, and told her the description of her son matched that of an unidentified person in the morgue, officials said. Police said detectives were stymied in notifying his family because he was not carrying any identification and the other person arrested at the scene gave officers the wrong name.
The shooting has set off a number of protests calling for an expedited investigation and release of the video. 
The shooting is being investigated by COPA. The officers involved have been placed on administrative duty for 30 days.
Following the shooting, Mayor Lori Lightfoot said the Police Department will reform its foot chase policy.
Subscribe to Block Club Chicago. Every dime we make funds reporting from Chicago's neighborhoods.
Already subscribe? Click here to support Block Club with a tax-deductible donation.
RELATED:
Why Were Police Told To Turn Off Body Cameras Minutes After Adam Toledo Shooting? It's Standard Policy, Department Says
After Chicago Police Kill 13-Year-Old Adam Toledo, Little Village Neighbors Demand Answers At Vigil: 'We Want To See Justice'
Why Did Police Shoot Adam Toledo? Week After 13-Year-Old Slain, Few Details Revealed
Police Foot Chase Policy Should Be Changed, Lightfoot Says After 13-Year-Old Boy Killed By Officer
Marchers Take To Logan Square Streets To Demand Justice For 13-Year-Old Adam Toledo
Video Of Chicago Police Killing 13-Year-Old Adam Toledo Will Be Released, Agency Says After Public Pressure
13-Year-Old Adam Toledo's Mom Thought Her Son Was Missing — Until Cops Came Knocking 2 Days After Killing Him
Chicago Police Killed A 13-Year-Old Boy In Little Village Monday
Subscribe to Block Club Chicago. Every dime we make funds reporting from Chicago's neighborhoods.
Already subscribe? Click here to support Block Club with a tax-deductible donation.