ROGERS PARK — Gale Elementary seventh-grader Jeremy Burgos has never played on a soccer team — or any sports team, for that matter.
Gale does not offer sports, but Jeremy does play soccer after school with his friends and classmates. One day, Jeremy and his peers told Mimi Kelso-Grant, a teacher and after-school monitor, about how much they'd like to join a team.
"I've never been on a sports team," Jeremy said as he played soccer with friends at Willye B. White Park in Rogers Park. "I wanted to be on a team and see how it feels."
Now, Kelso-Grant has joined with a North Side soccer league to make the kids' dreams come true — but she needs the public's help.
Most of the kids trying to join a soccer team are members of CommUnity Makery, a non-profit, after-school program that gives kids in the area North of Howard academic and social experiences. The program has teamed with Northside Chicago American Youth Soccer Organization to raise money to place at least 14 Rogers Park kids on soccer teams this summer.
The soccer organization has agreed to donate "scholarships" for the kids, which covers the cost of their registration and uniforms.
But because many of the kids come from disadvantaged backgrounds, more help is needed for them to be able to participate. Kelso-Grant has launched a GoFundMe to pay for the kids' transportation, gear like soccer cleats and sports bags, pregame meals and even an insurance fund should any kids get hurt.
To donate to the fundraiser, click here.
"The kids get outside and they play soccer every day, but they don't have a team or coaches," said Kelso-Grant, a teacher at Gale Elementary. "There are barriers, items and materials that the kids still need in order to play. I thought, 'Well what could I do to help?'"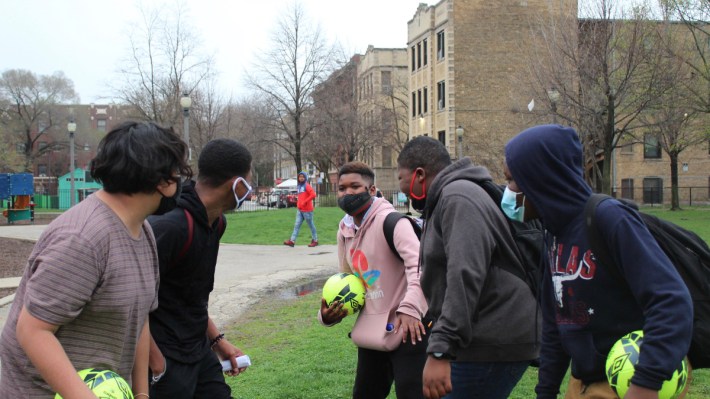 During outdoor time, Kelso-Grant noticed how much the kids enjoyed playing sports. Then she learned just how many barriers there are to local kids joining teams.
For one, there is the cost of kids' sports. Local families may be facing housing or food insecurity that prevents them from even considering things like sports, Kelso-Grant said. There can be transportation and language barriers, too.
"The inequalities just build up and create an ugly wall around what other kids might take for granted," Kelso-Grant said.
Kelso-Grant reached out to the soccer organization, which covers the Far North Side and North Shore. The organization has recently received grants from corporations like Target and local businesses to boost its social justice efforts.
The local soccer chapter also received fundraising RP Hooligans, a soccer fan group, to help in its outreach to low-income families. Beloved local business R Public House and Charmers Cafe contributed to scholarships being offered to local kids, said Natalie Allman Dumstorff, regional commissioner of Northside Chicago American Youth Soccer Organization.
"Northside Chicago [American Youth Soccer Organization] serves a diverse community," Dumstorff said. "We celebrate that diversity by striving to be as inclusive as possible. We never want funds to stand in the way of getting kids out to play soccer."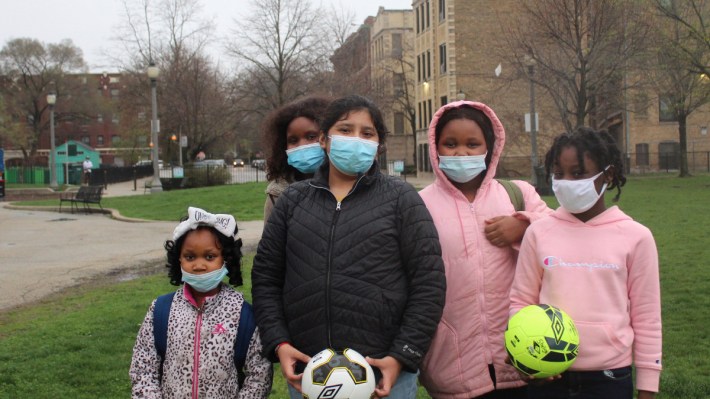 Access to sports can help kids stay healthy and can help with their academic and social development. And since the local soccer chapter spans a large part of the city and suburbs, Rogers Park kids will be able to make friends with kids from all types of backgrounds.
"It's about access and opportunity," said Adam Welter, a seventh-grade teacher at Gale. "And just a chance to move. You can tell they're missing it. They want to play ball."
Just as importantly, it will give kids an outlet after a year of distance learning and quarantine.
"Because I'm bored!" said Shelicya Richards, a seventh-grader at Gale, when asked why she wanted to join a soccer team. The comment drew laughs from nearby adults.
"It will be good for her to get some exercise," said Shelicya's mom, Tekila Richards. "She'll enjoy it."
To learn more about the fundraiser, click here.
Subscribe to Block Club Chicago. Every dime we make funds reporting from Chicago's neighborhoods.
Already subscribe? Click here to support Block Club with a tax-deductible donation.