LITTLE VILLAGE — Antonia Quinones remembers being awaken by a loud explosion on Easter weekend last year.
In bed with coronavirus, the longtime Little Village resident and her husband rushed to the kitchen window to see the old Crawford Coal plant smokestack come down. A cloud of dust engulfed the neighborhood within minutes, Quinones said.
"No one let us know that this was going to happen," she said.
After the implosion, Quinones' daughter called to make sure the windows and doors were closed to prevent dust from coming in. But to this day, Quinones still finds the dust in their furniture.
A year later, Quinones wonders why city officials allowed for the implosion to take place during the pandemic and why no one notified residents in advance to better protect themselves.
On the one-year anniversary of the Hilco smokestack implosion Sunday, dozens of activists and community members gathered to look back at the botched implosion and amplify the need for environmental justice against polluting industries inundating the South and West sides.
Kim Wasserman, executive director of the Little Village Environmental Justice Organization, called for more accountability and protections for Little Village, the Southeast Side and other communities inundated with industrial pollution.
"We just want to breathe," Wasserman said.
In spring 2020, city officials approved permits for developer's Hilco Redevelopment Partners to implode the smokestack at the old Crawford Coal Plant in Little Village. 
Activists urged the Mayor's Office to stop the demolition amid the coronavirus pandemic. Neighbors received little to no notice before Hilco and its contractors imploded the smokestack, which blanketed homes and streets in dust and debris on April 11, 2020.
For two years, the Little Village Environmental Justice Organization had urged the city and state to provide more oversight during the demolition of the old Crawford Coal plant. As activists called for more regulations and air monitors the summer before the implosion, city officials told residents to close their windows and doors during demolition days, Wasserman said.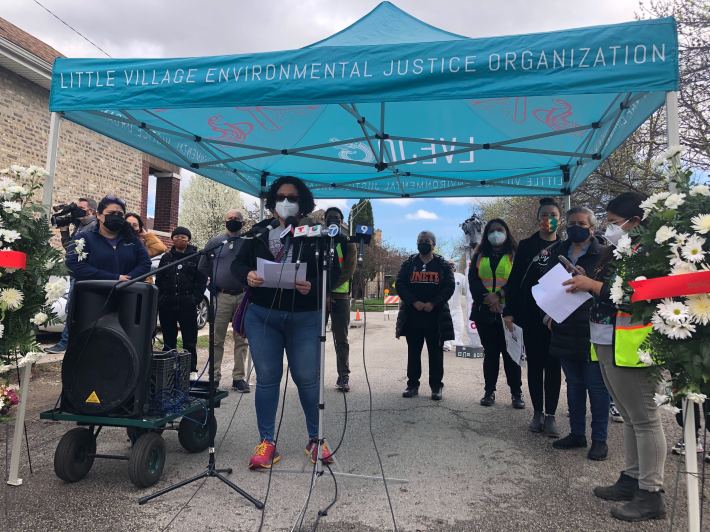 Following the incident, Mayor Lori Lightfoot issued a stop-work order and a six-month moratorium on implosions across the city, calling the implosion an utter failure. The city fined the developer $68,000.
In November, Illinois Attorney General Kwame Raoul settled a lawsuit with Hilco agreeing to pay $370,000 to ACCESS' Little Village Community Health and Wellness Program.
Following public outcry, the city approved increased fines for environmental polluters. It also passed a law to revoke tax incentives given to industries that betray the public's trust. A new air ordinance passed — with zero support from environmental groups, which said it was watered down.
The city is also in the process of bolstering implosion regulations which would include notifications to residents ahead of a planned implosion.
Residents and activists alike are upset it took a botched implosion before the city took action, as they voiced their concerns beforehand.
Edith Tovar, of the Little Village Environmental Justice Organization, on Sunday demanded a change in the city's policies for approving industry in Black and Brown neighborhoods.
"For far too long, we have been the dumping ground for dirty polluters," Tovar said.
Hilco is nearing completion of a 1.3 million-square-foot logistics facility for Target despite objections from residents and activists who called for the developer to vacate the property. 
During Sunday's rally, activists called for Target to break its contract with Hilco and for the building to be donated to the city of Chicago to make way for indoor farming, a market, commercial  kitchen and a workforce training site. "That's what the community wants," Tovar said.
Should Target decide to keep its lease, the group demanded full-time union jobs with full benefits at $20 per hour, with a commitment  to hire more than 50 percent of employees from the neighborhood, Tovar said.
Following a rally, activists marched through Little Village streets accompanied by an all-woman mariachi as they called for the end of environmental racism. The rally came as Southeast Siders are fighting to stop the scrapper formerly known as General Iron from opening in their community.
Rafael Cervantes, of El Foro del Pubelo, said the community did what it could to demand justice and "meaningful investment in our community and our youth."
"The city only gave us lukewarm answers and lies," Cervantes said. "What is the message they are transmitting to our youth? …Their answer has been, 'You are worth nothing. Your father, your mother is worth nothing, and  your grandparents are worth nothing … We are here to counter those lies … and continue to fight."
Read all of Block Club's coverage of the former Crawford Coal plant and its impact on the community here.
Subscribe to Block Club Chicago. Every dime we make funds reporting from Chicago's neighborhoods.
Already subscribe? Click here to support Block Club with a tax-deductible donation.