ALBANY PARK — A developer hoping to build condos on a commercial stretch of Montrose Avenue in Albany Park is facing some pushback from neighbors, but others hope the project will bring badly-needed foot traffic to local businesses.
Developer Platinum Homes wants to build two condo buildings at 3010 W. Montrose Ave. and 3014 W. Montrose Ave. Each building would be three stories tall and have two duplex units with four bedrooms and four bathrooms as well as four units with three bedrooms and two bathrooms. 
In total, the buildings would add 12 condos to the area and would also feature private terraces and decks. 
The properties are currently vacant lots and in order to build the proposed design — which includes detached garages to fit six cars each — Platinum needs special permission from the city's Zoning Board of Appeals.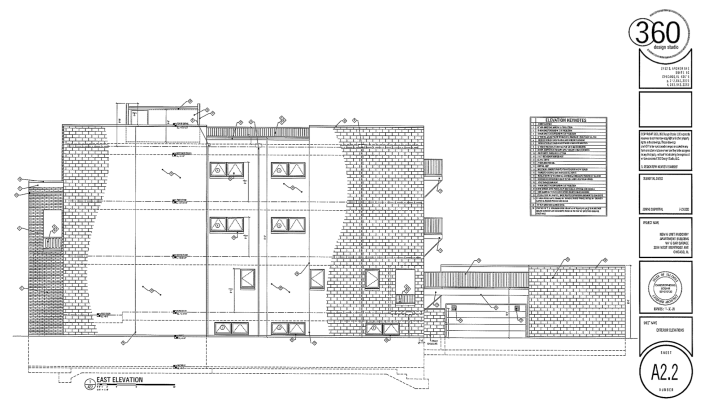 The proposal was originally set to go before the zoning board March 19. But after Ald. Rossana Rodriguez (33rd) and neighbors asked for more time to to gather feedback on it, Platinum's proposal was kicked back to the board's April 16 agenda. 
"This is not a project that I have the power to stop or to give permission to. The important thing is that when this project goes to the Zoning Board of Appeals this project should have comment from the community," said Rodriguez, during a virtual community meeting her office hosted with the developers Thursday. 
During the meeting, some neighbors said they would prefer commercial retail on the first floor. Others said they would like to see some affordable units.
"We need more people in the community to patronize local businesses … and you're under what the maximum height [is for this zoning]," said Colin Pearsall, a neighbor at the meeting. "Why not go to four stories or exceed what the current zoning is and exceed the [city's affordability rules] requirement for providing affordable units. Why stop at just 12 units?"
Others argued the proposal would further gentrify the area and lead to displacement of people who live nearby due to increases in property taxes and rents if Platinum's proposal is approved. But developers said making the project bigger and adding low cost units would be tough at the moment.
"The economic feasibility of the project is based, unfortunately, on the banks right now which are not excited to work with anybody on anything," said Sara Barnes, an attorney for Platinum. "It's been a real obstacle to even find investors and a bank that would help to fund this project."
The decision to forego any commercial space in the plans is due to developers seeing 24 vacant storefronts near the building site, combined with the potential difficulty of securing a commercial tenant during a pandemic. 
The current plans would not trigger the city's affordable housing rules because, other than the special permission being sought for the garages and lack of retail, the developer isn't seeking a zoning change.
Barnes said the 12 condos would allow locals who can't afford a single family home the opportunity to become home owners. However, the cost of the proposed condos was not shared.
Platinum Homes' portfolio includes luxury condos at 2759 W. Lawrence Ave. and 2763 W. Lawrence Ave. in Lincoln Square; 4304 N. Western Ave. in North Center; and 2761 N. Kenmore Ave. in Lincoln Park.
"We are going to go back and and see if there's a way to work with the banks, to work with the city, on bringing more affordability," Barnes said. "It's just a really difficult burden to take on."
Neighbors can share feedback with Rodriguez's office regarding Platinum's proposal by clicking here.
In addition to the two proposed buildings at 3010 W. Montrose Ave. and 3014 W. Montrose Ave., Platinum also wants to build a 51 unit apartment building at 3030 W. Lawrence Ave.
The Lawrence proposal would feature at least five affordable units, according to plans the developer shared with 33rd ward neighbors. That proposal is still undergoing a community review process and is expected to go before the Zoning Board of Appeals April 16.
Subscribe to Block Club Chicago. Every dime we make funds reporting from Chicago's neighborhoods.
Already subscribe? Click here to support Block Club with a tax-deductible donation.