LAKEVIEW — A Lakeview school community is "falling apart," parents say, after the recent controversy of a Black mom being reported for neglect blew the lid off persistent problems, infighting and alleged mismanagement at the school.
Block Club reported last month that JaNay Dodson, a Chicago Public Schools teacher in Hyde Park, was reported to the state's Department of Children and Family Services because her 10-year-old son was picked up from Inter-American Magnet School seven minutes past district deadline. The move outraged other parents, who accused the school's principal of abusing her authority.
That was part of a long pattern of questionable decision making from the principal, some say. Other IAMS parents have since accused school leaders of doing nothing when their own children were abused, neglected or bullied at the dual-language, Pre-K and K-8 magnet school.
While some lay blame on principal Daniela Bylaitis, some teachers have lambasted the local school council, which is plagued by infighting and indecision, they said.
Dodson and parent advocacy group Raise Your Hand Illinois held a town hall Thursday on the ongoing problems at Inter-American Magnet School, 851 W. Waveland Ave.
"We want to make parents aware of exactly what's happening at the school," Dodson told Block Club Chicago. "There's been so much turmoil in the Local School Council meetings and there's a huge division among parents and staff. Things are really ugly, and we're hoping to address these issues."
The district is holding its own town hall, aimed only at Inter-American parents, at 5 p.m. Monday. Participants can register online.
'A pattern of poor judgment.'
Since coming forward with her experience of being reported to DCFS, Dodson has been joined by a handful of other parents in calling for Bylaitis to be removed from IAMS. The group of parents put out a petition during the town hall requesting that Mayor Lori Lightfoot and CPS leadership remove Bylaitis immediately.
Dodson has spoken to several other parents at the school who have all been late picking up their children, particularly as the the district has struggled to finalize busing schedules when in-person learning resumed last month. But none said they'd ever been reported to DCFS or police, Dodson said. She believes she was targeted by Bylaitis because of her race.
"I think it's discriminatory because it's only been me reported to DCFS," Dodson said. "And Dr. Bylaitis needs to be removed from the school system because I don't want this to happen to anybody ever again. It's bigger than just my child now."
Bylaitis has not returned requests for comment.
Carollina Barrera Tobón, a parent representative on the school's LSC, said Bylaitis' use of the policy — which is meant for students left stranded after school and not late pickups — was only the latest in a "pattern of poor judgment that is not respectful to our community," as evidenced by other parents now coming forward with allegations of mishandled instances of neglect at the school.
"These mothers' courage speaking out has led to other parents coming forward with similarly alarming stories," Barrera Tobón said. "What is common across all these scenarios is our principal's poor judgment and lack of uniform policy application."
One mother, Beatriz Gomez, alleges a school staffer acted inappropriately toward her daughter in January of last year — and the district did nothing.
Gomez was picking her daughter up from school one day, she said, when a teacher pulled her aside to let her know there had been an incident between her daughter and one of the school's staffers. Allegedly, the school staffer was seen with both of his hands placed on Gomez's daughter's hands, with one of them on his cheek and the other stroking his beard.
School leadership never followed up with her about the incident, even though Bylaitis sent a letter, obtained by Block Club Chicago, to the school community stating that a Title IX investigation was being conducted by the district's Office of Inspector General.
The only reason she learned about the alleged misconduct, Gomez said, is because that teacher pulled her aside.
"We parents leave our children in school trusting they are in good hands, trusting that everyone is going to do their job they were hired to do and protect our children," Gomez said.
Gomez said Bylaitis never spoke to her about it and the district never followed up to share the outcome of its investigation, even after making public statements about the issue at the Board of Education's March 24 meeting and speaking to board members afterward.
Gomez said the school community "is falling apart" and needs new leadership, along with school-wide Title IX training.
"I haven't received a letter, email or phone call about the investigation, and the last I heard from CPS' OIG was June 2020," Gomez said. "I've been trying to call them so many times. I've left voice messages, but they don't get back to me."
Representatives for Chicago Public Schools said investigations into both Dodson's and Gomez's cases were ongoing.
Another parent, Lindsey Woods, said she was "gaslit" by the school principal after her son — then 4 years old and in preschool at IAMS — was left stranded outside after recess.
"They told me that after recess, he was messing around and hid behind a giant pillar when they went in and nobody did a headcount or noticed he was missing until lunch," Woods said.
Her son tried to get back inside the school, but panicked when he found its doors were locked, Woods said. Instead her son walked to the 19th District police station, located next door to IAMS, to ask for help. Woods said it took several days for Bylaitis to reach out to her and discuss the incident.
When Woods asked the principal why there was no headcount to make sure nobody was missing, she said Bylaitis implied it was her child's fault by saying he shouldn't have been hiding.
"What really got me about wanting to come forward with this story is the hypocrisy," Woods said. "Seeing that [Principal Bylaitis] had the nerve to call on a Black mother seven minutes after the late pickup time to say it was neglect after neglecting my child on that playground two years ago."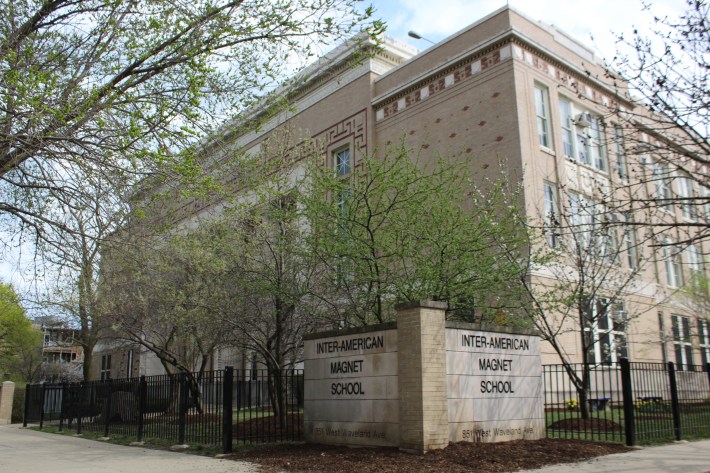 'This is not what our children should be experiencing'
At the town hall, several parents spoke up to express their support for Dodson, Gomez and Woods for coming forward with their childrens' experiences.
"This is not what our children should be experiencing in a school setting," said Maria Ugarte, a fourth-grade parent who has been involved in the school community for the past decade.
Other parents said they were inspired by the mothers' courage to come forward with stories of their own children being bullied at the school and feeling like they were ignored when they raised concerns to Bylaitis.
Parent Lisa Bredenkamp said her daughter, now in third grade, was being bullied in aftercare two years ago at the school. After learning from her daughter that another student was pushing her off the slide and physically bullying her, Bredenkamp reported it to Bylaitis.
"So I went to the principal to talk about it, and I was 100 percent brushed off," Bredenkamp said. "It was, 'Kids are kids, what do you expect? I'm sure they'll work it out.'"
One day soon after, Bredenkamp went to pick her daughter up from aftercare and learned the same student had just pulled her daughter's chair out from underneath her, causing her first-grader to hit her head on the table.
"So I demanded to see Dr. Bylaitis. I was upset because I told her this was going to happen," Bredenkamp said. "She was on her way out the door and told me without any further discussion, 'If you think this is a problem, you can do one of two things: you can pull your child out of aftercare or file an official bullying complaint."
Another parent, Nicole Gibson-Donohoe, detailed a time in which her Black, multiracial son got in an argument with two other boys in the classroom that got physical. All three of them were sent to the principal's office, but it was only her son and one other child, who also happened to be Black, who were disciplined.
"My son told me he was intimidated by her and I hadn't really identified why until I started digging deeper into what the real story was there," Gibson-Donohoe said.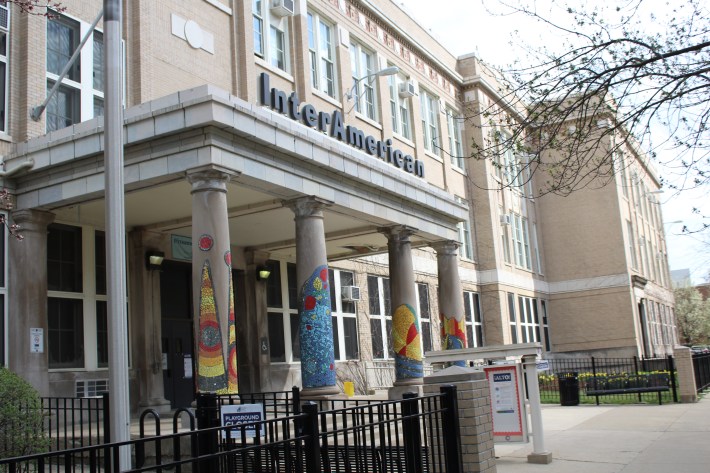 Separate Calls For District Intervention
Community members at Inter-American have called for varying degrees of district intervention to address the ongoing issues at the school.
Barrera Tobón wants CPS to remove Bylaitis and appoint an administrator in charge — a retired school principal brought in to oversee a school for a fixed period of time — while the community searches for a new leader.
"I think her lack of leadership and her presence is polluting the whole process," Barrera Tobón said.
Bylaitis has been principal for the last four years. Her contract with the school is set to expire at the end of June after the previous LSC voted in January — just before its members ended their terms — not to renew its agreement with her.
However, Barrera Tobón said she's worried Bylaitis will be reinstated by the new LSC's principal search committee. She noted that after new members of the LSC were seated in January, one inquired about whether they could offer Bylaitis a new contract.
"So there's no doubt in my mind that she wants to reapply and they have the votes to reinstate her," Barrera Tobón said.
Teachers at Inter-American have not commented on Bylaitis' leadership, but they did write a letter, read during the LSC's March 26 special meeting, blaming some of the school's issues on a disorderly council. 
It was addressed to CPS Network Chief William Klee and other district leaders, and referenced a combative and emotional LSC meeting March 16 that ended in shouting and tears after Gomez attempted to speak about her daughter's case, leading to a disagreement with her daughter's former teacher.
"The lack of order and blatant disrespect for the new LSC leadership that led to the chaotic ending of this meeting is alarming and detrimental to the success of our students and school community," 7th and 8th grade teacher Joseph Grissom said, reading the letter to the council. "This statement is a plea to not only have this inappropriate conduct addressed by LSC Relations or our network chief at the next LSC meeting, but to try and restore order to the Inter-American Magnet School Local School Council."
The letter implied disagreements between the LSC's returning members and its new leadership were getting in the way of productive discussion during its meetings.
"We sincerely hope that the time has finally come to give the new LSC leadership the opportunity to change problematic practices, heal our climate and create positive change that can strengthen the success of our students, partnerships and school community," the letter states.
Grissom declined to comment for this story.
Barrera Tobón refuted the letter's claims and urged concerned community members to watch the meeting's recording and read its chat of its transcript to make their own conclusions.
Barrera Tobón described the state of the school as "chaotic, toxic and divisive, but we should all be on the same side because our priority should be the children."
Jake Wittich is a Report for America corps member covering Lakeview, Lincoln Park and LGBTQ communities across the city for Block Club Chicago.
Subscribe to Block Club Chicago. Every dime we make funds reporting from Chicago's neighborhoods.
Already subscribe? Click here to support Block Club with a tax-deductible donation.