LITTLE VILLAGE — The attorneys for Adam Toledo's family said Thursday there is no timeline for when relatives will be able to review footage of Chicago Police fatally shooting the 13-year-old almost two weeks ago, refuting a report that videos could be released publicly as soon as Friday.
In a statement, attorneys Adeena Weiss Ortiz and Joel Hirschhorn said Toledo's family was continuing to work with the Civilian Office of Police Accountability "to view body camera video materials related to the March 29 shooting" but the family has not seen the footage yet.
The statement came amid a report city officials planned to release the footage publicly Friday, citing an internal Chicago Police Department email.
The attorneys said "no one with CPD or COPA has informed us of any such plans. And in fact, we are assured that the video will not be released publicly until the family has the opportunity to watch it."
A spokesperson for COPA did not return a request for comment.
In the statement, Weiss Ortiz and Hirschhorn said the Toledo family is preparing for the seventh-grader's funeral this week.
The family appreciates the "outpouring of community support and are especially grateful that the gatherings, vigils and protests have been peaceful," the attorneys said. "It is their fervent prayer that gatherings remain calm and respectful."
"Peaceful gatherings in this time of pain and suffering testify to the strength and essential goodness of the people of Little Village and the Latino community who recognize that this is a time for grieving and healing, and not for violence or destructive behavior that would only serve to diminish Adam's death and compound the family's pain," the statement read.
More than a week since the shooting, details remain sparse.
Officers were responding to a ShotSpotter alert of eight shots fired in the 2300 block of South Sawyer Avenue around 2:30 a.m. March 29 when they saw two "males" in an alley, and one of them had a gun, Brown said. The officers chased, "which resulted in an armed confrontation," Brown said.
An officer shot once, fatally striking Toledo in his chest.
At a press conference Monday, Police Supt. David Brown refused to answer questions about which of the "males" had a gun. Mayor Lori Lightfoot, however, repeatedly said Toledo had a gun earlier this week.
Lightfoot the city will use all its resources to track down the origins of the gun and prosecute whoever was responsible for it getting to a child.
"We must take this tragedy as a seminal moment and target all of the factors that allowed it to happen in the first place," Lightfoot said. "Let's be clear: An adult put a gun in a child's hand. A young, impressionable child, and one who should not have been provided with lethal force, a weapon that could — and did — irrevocably change the course of his life. … It's way past time for us to say, 'No more.'"
Brown said detectives were stymied in notifying Toledo's family because he was not carrying any identification and the other person arrested at the scene gave officers the wrong name.
It wasn't until two days after Toledo was killed that police contacted his mother, Elizabeth Toledo, and told her the description of her son matched that of an unidentified person in the morgue, Brown said.
The shooting is being investigated by COPA. The officers involved have been placed on administrative duty for 30 days.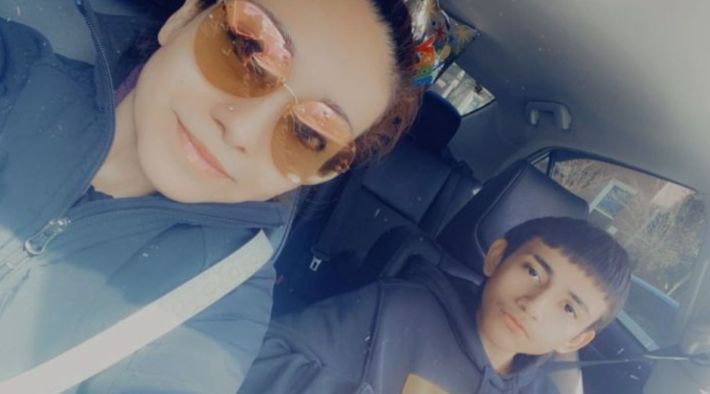 After initially refusing to release video because of Toledo's age, the COPA changed course Friday and said it would publicize all the footage within 60 days.
Both COPA officials and city leaders said they want Toledo's mother to be able to view the footage first, but it's not clear when that will occur. 
During a vigil earlier this week, organizers from Enlace Chicago and New Life Centers called for police accountability.
"A young life was lost, and while this vigil is in the remembrance of Adam Toledo, we know this is not an isolated incident," said Jaqueline Herrera, Violence Prevention Director of Enlace. "There have been too many Black and Brown lives taken at the mercy of the Chicago Police Department — and we need this to stop now. We are tired of this continuing to happen."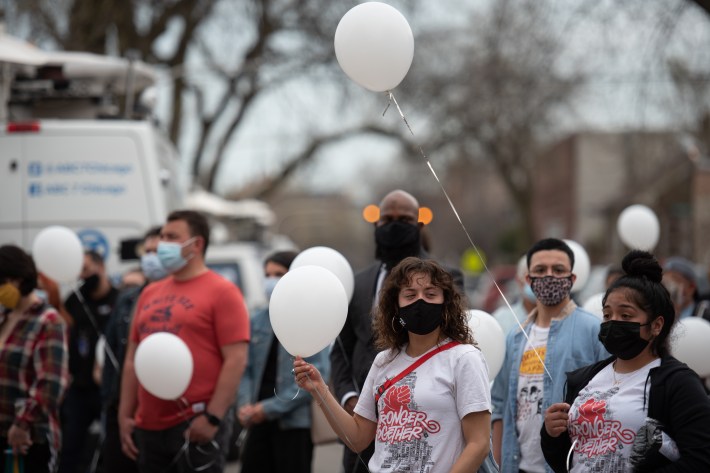 RELATED:
After Chicago Police Kill 13-Year-Old Adam Toledo, Little Village Neighbors Demand Answers At Vigil: 'We Want To See Justice'
Why Did Police Shoot Adam Toledo? Week After 13-Year-Old Slain, Few Details Revealed
Police Foot Chase Policy Should Be Changed, Lightfoot Says After 13-Year-Old Boy Killed By Officer
Marchers Take To Logan Square Streets To Demand Justice For 13-Year-Old Adam Toledo
Video Of Chicago Police Killing 13-Year-Old Adam Toledo Will Be Released, Agency Says After Public Pressure
13-Year-Old Adam Toledo's Mom Thought Her Son Was Missing — Until Cops Came Knocking 2 Days After Killing Him
Chicago Police Killed A 13-Year-Old Boy In Little Village Monday
Subscribe to Block Club Chicago. Every dime we make funds reporting from Chicago's neighborhoods.
Already subscribe? Click here to support Block Club with a tax-deductible donation.