LOGAN SQUARE — When Alexa Baute was shot and killed outside a Logan Square 7-Eleven last year, it sent shock waves through her circle of family and friends. No one saw or even heard the fatal gunshot, not even her close friend who was with her and saw the 27-year-old suddenly fall to the ground.
One year later, Baute's loved ones are still searching for answers, as police are no closer to finding her killer.
More than a dozen of Baute's family members and friends gathered Wednesday — the one-year anniversary of her death — to honor her life and call for justice, adding more flowers and photos to an already-vibrant street light memorial.
"Last year … I was in shock. I didn't know what was going on around me," her father Jeffrey Baute said. "Now I've had time to process that she's gone and I'll never see my daughter again or get to have a beer or dinner with her ever again and she's gone, and I'm angry, I'm mad. It does make me look at a larger picture."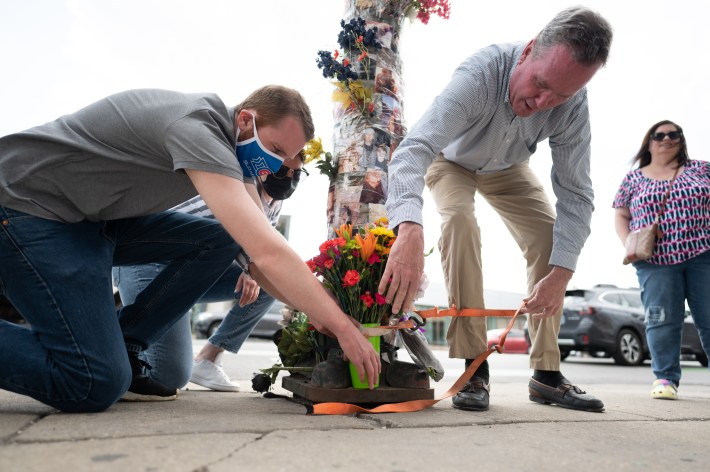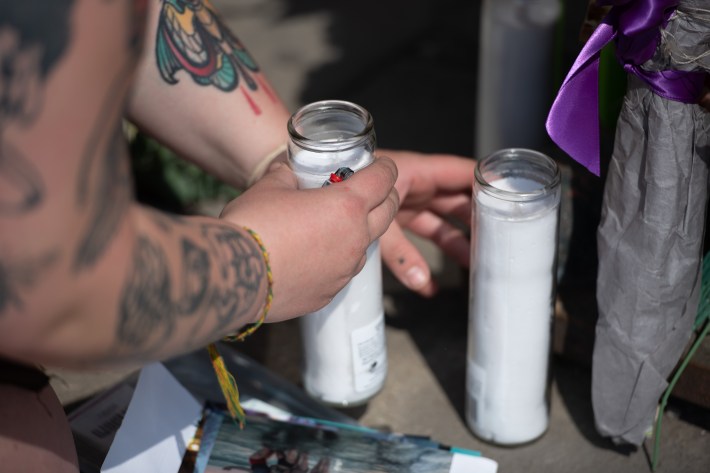 The fatal shooting happened around 8 p.m. April 7, 2020.
Because of coronavirus restrictions, Baute was outside with her friend waiting to be allowed inside the 7-Eleven at 2401. N. Milwaukee Ave. when a silent gunshot pierced her chest.
RELATED: Living In Her Slain Daughter's Logan Square Apartment, Mom Begs For Answers: 'Somebody Has To Know' Who Did This
Police have not made any arrests, a spokesman confirmed Wednesday. There's been no progress in the case for months, Jeffrey Baute said.
Jeffrey Baute called the lack of progress "disturbing." He questioned why police invest in technology to ticket people for traffic violations, but not in cameras that could help solve murders. 7-Eleven's surveillance camera didn't capture the fatal shooting because it was pointed at the store, Baute's family has said.
After a year of no progress, Jeffrey Baute said he doesn't expect detectives to ever solve the case. Even so, the family is pleading for anyone with information about what happened to come forward. The reward is up to $15,000.
Baute was a "happy soul" and a "strong spirit" who always had friends around her and liked to play music and go to shows with friends, her family and friends said. She worked as a bartender and server at the Bucktown bar Jack & Gingers, and she had dreams of opening her own bar or restaurant someday.
While she wants to see her daughter's killer brought to justice, Patricia Baute said resolving the case won't bring her back.
RELATED: A Silent Bullet Left A 27-Year-Old Woman Dead In Logan Square. Now, Her Friends And Family Are Demanding Justice
"Some people expect you to get past things, but what they don't understand is everyday I wake up, it's like reliving it all over again," Patricia Baute said. "I wake up and the first thing that comes to [mind] is, She's not here. I relive it every single day. Everyone goes on with their lives — they should, of course — but mine doesn't. That day was the day everything changed."
The tragedy has had the same effect on Tate Schauer, one of Alexa Baute's best friends.
"Alexa was my ultimate No. 1, my ride or die, the person I would've literally walked to the edge of the earth for. It's really weird existing without her," Schauer said. "A lot of people go their whole life looking for a soulmate or somebody to be in love with, and we had that in each other's friendship. I'm eternally grateful for that."
Like Baute's parents, Schauer has watched the police investigation unfold with a mix of sadness and resignation.
Schauer said she's focused instead on honoring her friend's life by "playing her favorite tunes, having attitude, being really strong and proud of the decisions I'm making for myself."
"Alexa always wanted people to love her the most, and to experience love … and I did with her, and I think now she would want me to still find happiness in these places. And I try really hard to do that for her."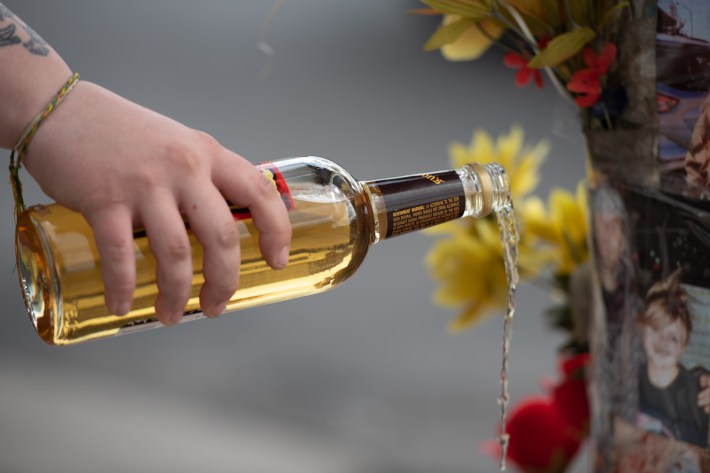 Subscribe to Block Club Chicago. Every dime we make funds reporting from Chicago's neighborhoods.
Already subscribe? Click here to support Block Club with a tax-deductible donation.