BRONZEVILLE — Plans to transform the historic Lu and Jorja Palmer mansion into a Black media repository are stoking concern grassroots political groups founded by Lu Palmer may be pushed off the property they've called home for decades.
The Obsidian Collection, founded in 2017, archives media to make Black history publicly accessible. The organization plans to create a "cultural heritage space" called Obsidian House in the Palmers' former Bronzeville mansion, 3654 S. King Drive, which has been vacant for nearly 20 years.
Lu Palmer founded Chicago Black United Communities and the Black Independent Political Organization in the early '80s.
The groups played a crucial role in organizing the grassroots movement that swept Harold Washington into office as Chicago's first Black mayor in 1983. They continue to operate out of their headquarters in a coach house behind the mansion, which is also home to other organizations who run the Garvey Center on site.
But it's unclear whether Obsidian House, CBUC and BIPO headquarters, and the Garvey Center will operate side by side.
Angela Ford, Obsidian Collection executive director, said the issue is "presumptuous" because the purchase of the mansion isn't finalized. Ongoing zoning issues have thrown her own visions for the project into question, as well.
"I haven't picked out drapes for this place," Ford said. "I don't have elaborate plans for [the other] organizations, because we've got a lot of goings-on with this whole zoning issue. We're not able to commit to anything at this point. … When I own a property is when I start managing it."
While Chicago Black United Communities and the Black Independent Political Organization's main concern is continuing their work from the Garvey Center, some members also say they're not totally on board with Ford's plans.
Eddie Read, a student of Lu Palmer's who has chaired the organizations since 2002, said a better use could be renovating the space into legal offices, health clinics and other resources needed to "improve the quality of life for Black people — especially impoverished grassroots Black people."
Such a community center would better honor the wide reach of the Palmers' legacy, Read said.
"How do you wipe out the essence of someone in the very place where they lived?" Read said. "We're not talking about where this man came to work six to eight hours a day; we're talking about where this man lived 24/7. … That house is not about people telling the story, it's about people being the story."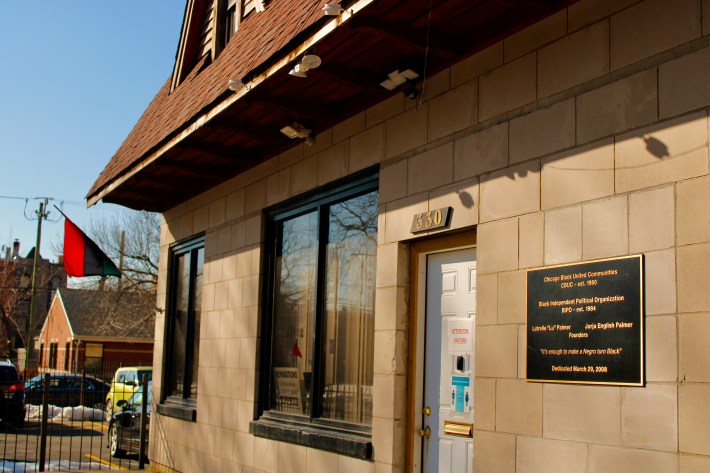 'This Work Has To Be Allowed To Go On'
Lu Palmer recognized the power of mass media to advance the Black liberation movement. His newspaper columns and radio shows spoke to — and for — Black Chicago, and he encouraged other Black journalists to prioritize their identity ahead of professional advancement.
"The messages, images and symbols that we transmit go into people's minds and help determine the way they think," Palmer said in a 1992 interview. "Whenever I talk to an aspiring young Black journalist, I make it clear to them that they're moving into an arena of extraordinary power, because they deal with the minds of people."
But Palmer's relationship with the press, mainstream and Black, was fraught. He criticized his former employer the Chicago Defender — from which he said he quit three times — and resigned from the Chicago Daily News in 1973 over editorial disputes, vowing to never again let a white person publish his work.
Palmer founded the weekly Black X-Press, but the struggling paper pushed him into debt and folded a year after he left the Daily News, according to the Tribune.
But Palmer "was way, way more than a Black journalist," Read said, and the property represents more than just Black media or any "one element of the Black movement."
Read would prefer the Obsidian Collection buy a building with "no history and no culture, and make [that building] about the Black journalists — let it become known for them and their work," he said.
The Palmers never tried to make their residence "a repository of the work — they continued the work until they no longer breathed," Read said. To honor their legacy, the Obsidian Collection must allow their organizations to continue operating out of the coach house undisturbed, he said.
On March 28, activists and friends of the Palmers gathered at the Garvey Center to honor Lu on the what would have been his 99th birthday, while recognizing the ways his and Jorja's work continues behind their former home.
In addition to the two groups founded by Palmer, the center hosts the Moorish Science Temple of America and Division 401 of the Universal Negro Improvement Association, an organization founded by Marcus Garvey.
Division 401 president Maruwa Ferrell's father was a regular photographer and videographer for Lu Palmer's speeches and events, Ferrell said. As a teen in the 1980s, Ferrell enrolled in Chicago Black United Communities and the Black Independent Political Organization's political education courses, and he has been affiliated with them since.
If Ford bought the long-vacant home, it's up to her to decide how to repurpose it, Ferrell said. But the long history of Black political activism on the property — which continues with neighborhood patrols, education and community services offered out of the coach house — must "be allowed to go on," he said.
"I hope [the Obsidian House] is successful," Ferrell said. "We're not knocking it, not at all. We just want to make sure that [the Palmers'] integrity and their mission and their life's work is honored — that's it."
Others at the celebration, including Chicago Black United Communities founding member Eunice Wigfall, said they have faith Garvey Center organizations can coexist with the Obsidian House.
In fact, it's a must that Black activists and media work together to achieve liberation, Wigfall said.
"In this city, it takes all kinds of organizations to join together," she said. "You have an idea, I may have an idea, but we come together and we can move forward."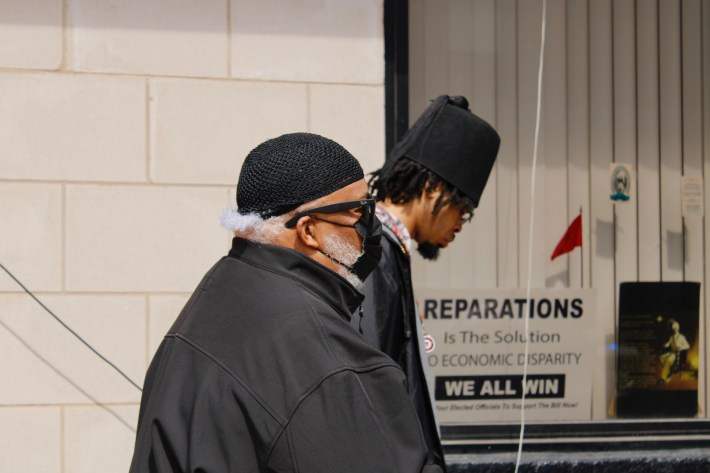 'Reducing Our Ambitious Goals'
Ford said she could not speak to whether the Obsidian House would consider branching out beyond its focus on Black media. Striking a deal to buy the home and figuring out what cultural programs can be hosted there are the Obsidian Collection's priorities right now, she said.
"I don't have a response because I don't know what the organizations [in the Garvey Center] do," Ford said. "I don't know if they'll fit into the zoning, and I don't know if that will complement or conflict" with her current plans for the mansion.
Last month, a controversial proposal to require aldermanic or city approval for "house museums" jeopardized the entire project, Ford said.
That measure, introduced by Ald. Sophia King (4th), has been withdrawn. But Ford said she's wary of future similar attempts to force property owners to seek zoning changes before developing cultural spaces.
Ford and her attorneys are also trying to figure out if a coworking and community space for Black media makers — central to the Obsidian House plans announced last month — is allowed in the mansion's residential zone. She said she suspects it would require a sign-off from King, which might be tricky given King's push to restrict cultural centers in residential areas.
"Right now, we're reducing our ambitious goals to fit inside of the current zoning," Ford said. "Our overarching missions and themes haven't been compromised. We're still [planning] a digital library and a cultural heritage space."
Ford is "optimistic that we can close this month" on the mansion, she said. Her group's mission with the home is not to "continue the plans of Lu and Jorja Palmer," as that would require input from their estate, she said.
"What we hope to do is keep alive the name and legacy of Lu Palmer by reactivating the home, but it is not a Lu Palmer museum," Ford said.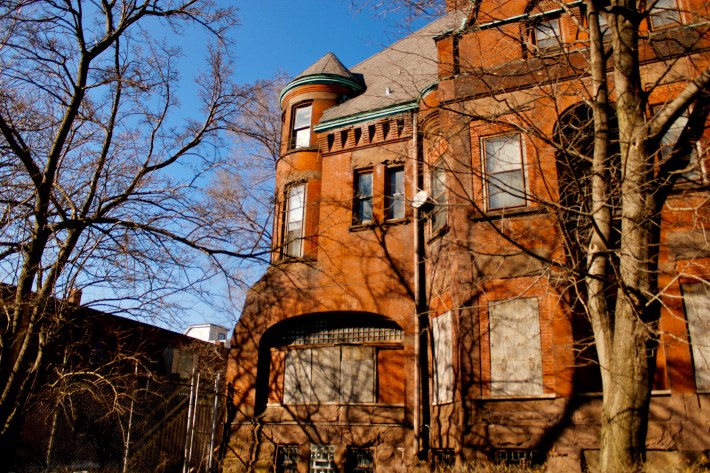 Subscribe to Block Club Chicago. Every dime we make funds reporting from Chicago's neighborhoods.
Already subscribe? Click here to support Block Club with a tax-deductible donation.