AUSTIN — A Saturday afternoon donation drive for new parents at an Austin church had to be canceled after most of the items were taken by a group of people who entered the church and took diapers, formulas and wipes Friday without permission.
The "Baby Bank" donation drive was planned for two months, according to Pastor Michael Wright of the Christ Tabernacle Missionary Baptist Church of Austin, 854 N. Central Ave. But it had to be scrapped after 12-15 people took advantage of an employee working alone on Friday and took all the items set aside for community members in need.
On Saturday, Wright had to explain to people showing up that the event was called off. He said there will be future events and said anyone who wants to donate items can drop items off during the week at the church from 9 a.m. to 3 p.m. and can call him at 708-420-2398.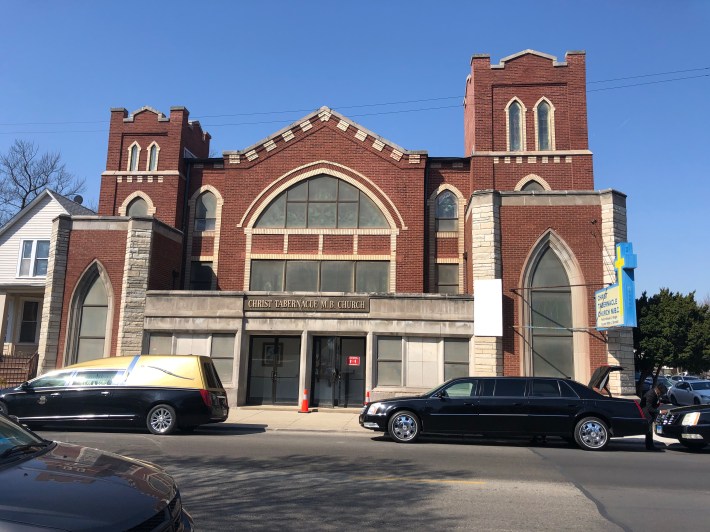 Wright described how the items were taken Friday.
"Two ladies came to the door and asked if the Baby Bank was going on. He said 'no, but there's some stuff downstairs,'" he said. "Those two ladies came in and got some stuff and then when they left, they propped the door with a cone and then others started coming."
Wright said he believes the two women had a bad motive and spread the word to between 12-15 people with similar motivations. The side door that they accessed has a sign on it reading "Smile, you're on camera" and Wright said he has about 15 videos showing people coming and going with items.
In all, the church, which has been in Austin for nearly 57 years, had about 10 folding tables in its basement stacked with items like diapers, baby wipes and baby formula that were taken, Wright said. He said the church's previous giveaway brought people from all over and stretched halfway around the block. He expected 500 to 600 people Saturday.
Asked if the people who took the items may have needed them, Wright said it was pretty clear that they took advantage of the situation.
"We wouldn't have gave them as much as they took. It was a group of about 12-15 people. People were walking out with 700 diapers apiece. Some were selling them, some are giving them away to their family. But, by the time they use all the diapers their baby will be potty trained."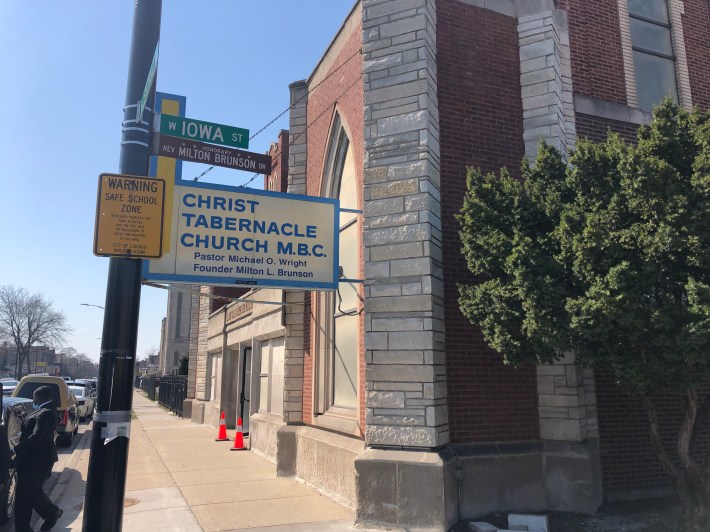 Pointing to one woman in a video carrying out a box a diapers, Wright said "that box is 180 diapers. She had three of those boxes in her hands." He added that they usually open the boxes and give portions of what's inside to those in need, along with baby wipes and formula.
Wright said most of the items were donated by Church of the Resurrection in Wheaton, an Anglican Church that Christ Tabernacle partners with. He said despite the fact that the church's cameras were sending alerts starting at 2 p.m. all the way to past 5 p.m., the church's administrator was home and did not access her computer until around 5 p.m. Once she saw what was happening, they notified the Chicago Police and called Wright.
"This happened in broad daylight. It started around 2 in the afternoon until 5 p.m. Our security cameras were going off but our administrator didn't see her computer until around 5 p.m. People were just coming in and out, taking stuff and laughing. They didn't care," Wright said.
Wright said he drove to the church from his Westchester home Friday evening and was "devastated" to see most of the items were gone. 
"This was going to be right before Easter. And we don't just give the stuff and they go. We pray with them, we invite them to church, we ask them if they have any other needs and then we mark the ones we think are real serious needs and our church reaches out to them individually. This community has real needs," Wright said.
He added, "We aren't a wealthy church. We're not in the suburbs. We're on the West Side."
The Chicago Police responded around 6 p.m. and made a report, but did not consider it a criminal event, according to CPD spokesman Anthony Spicuzza.
"The detectives on the scene deemed it non-criminal because the person who opened the door works for the church and is partaking in the event tomorrow. So, I wouldn't say they stole it because he let them in," Spicuzza said Friday night.
Wright said while it may not be criminal, he definitely thinks the people who took items took advantage of the situation and knew better.
"No one was down here, no lights were on. He left the door open by accident. They propped the door open and people just came in taking a whole bunch.They were just coming down grabbing stuff."
Asked if he'd like to see those who took items pursued by the police, Wright said, "I don't know. I don't know about that. It's just a situation that happened and it's a bad situation."
Subscribe to Block Club Chicago. Every dime we make funds reporting from Chicago's neighborhoods.
Already subscribe? Click here to support Block Club with a tax-deductible donation.