HUMBOLDT PARK — Frank Robb, known to most Chicagoans as Alligator Robb, is counting his blessings after undergoing life-threatening heart surgery and can't wait to get back to helping people and animals.
Florida alligator trapper, who became a Chicago legend when he caught Chance the Snapper in the Humboldt Park lagoon in 2019, found out late last year he needed heart valve surgery. He didn't have medical insurance, struggled to find a surgeon who would perform the risky procedure and sought help paying for it.
Friends, family and well-wishers stepped up, raising almost $50,000. He had successful surgery last month, is on the mend and plans to visit the city again once he's recovered.
He said he still needs help paying the mounting medical bills but he said he's enormously grateful to all the Chicagoans who supported him. 
"You guys and the city have blessed me so many times that I'll be spending my life to pay it back, without a doubt," Robb said. "People I never met [took] time out of their busy days, used their hard-earned money to put it towards someone they have never met yet they care about…. I don't even know how to put it into words." 
The 41-year-old has dedicated his life to saving and studying alligators, so he's grown accustomed to life on the move. He's been forced to take a step back to focus on the arduous, months-long healing. But the harrowing experience has reminded him to be grateful. 
"The things you took for granted before, I'm having to build them all back again, almost learning how to walk again," he said. "It's a little tough but it's all part of it. I'm happy that the Lord decided to keep me here for a while longer, cause it could have very easily went the other direction."
Robb underwent a seven-hour operation March 10 at the University of Florida in Gainesville to replace his mitral heart valve. The complicated procedure was needed to fix a problem exacerbated by a childhood surgery on his sternum, and required him to be place on a bypass machine while two surgeons operated.
Praying with doctors beforehand made him feel calmer but there were some rough moments where he didn't think he'd make it. He said he wrote letters to his loved ones before the surgery, in case he didn't survive. 
"I didn't want anything to be unsaid so I made sure to tell them how much I love them, how much I cared about them — everything I could possibly say, I said it," Robb said.
Then while in the intensive care unit, he suffered from cardiac arrhythmia and the doctors needed to restart his heart a few times with an electrical shock, he said. After 10 days, he got the all-clear to return home. 
He's recovering in Cocoa, Florida, gingerly rebuilding his strength with short daily walks. He lost his voice and all of his upper body strength during the surgery but started cardiac rehab this week. 
Despite the grueling months, Robb said he's been able to stay positive because of the tremendous level of support he's received from his fans and friends in Chicago and Florida. He regularly receives messages from people who share how he's impacted their lives for the better. 
When news broke last year about him needing surgery, friends launched an online fundraiser to help cover his medical bills. In addition to the initial $50,000 to make the surgery possible, the fundraiser has raised another $7,000.
Robb said it's likely his medical bills will outpace what was raised, and the GoFundMe has been left open for anyone who wants to donate. The bill for an initial heart catheter exam was about $30,000 and a 30-minute Telehealth appointment was $600. Robb said he has not yet received the final hospital bill but expects it to be "astronomic."
As soon as he's able to travel again and get his COVID vaccine, Robb plans to visit Chicago and personally thank everyone who donated to the fundraiser and sent him well wishes. 
He's made lasting friends from his experience catching Chance and the attention he received for uniting the city so much so that Chicago and he are forever "attached to the hip," he said.
One of those supporters was a Chicago woman who has had the same chest and heart surgeries, and reached out to share her experience with Robb after reading about him at Block Club. Since then, he's developed a close friendship with her and her husband, who have shared advice and helped him feel at ease as he recovers. 
"It's nice knowing that somebody you know and talked to went through the exact same thing and they have completely recovered and are doing 100 times better," he said.
He also plans to go to North Carolina to work with a university and go help his friend in Belize capture some "problem crocodiles" before the end of the year. 
But at the very top of his visitation list is his best pal Chance, who lives at the St. Augustine Alligator Farm and Zoological Park in St. Augustine, Florida. Robb said Chance is doing great in his enclosure he shares with 30 other alligators and they all know who he is. 
"The other critters don't even mess with him," he said. "They know who he is by reputation; that's the way alligators work. They have a spot they will be at and he has a spot that he sits at, like a pedestal and watches everything. He is a powerhouse… he is royalty."
He said Chance has developed from a chunky alligator to an athletic one that eats two to three times a week. He's now 5 years old and is just under six feet long — but he's nowhere near done growing yet. 
"We will be talking about him in 10 or so years and he will be an 8- or 9-foot alligator at that point," Robb said. "I won't be able to pick him up as easily anymore." 
In addition to seeing his favorite creatures like Chance, the Florida gator trapper said he's greatly missed meeting new people, working and spreading his signature positivity and encouragement to folks far and near. He hopes to share the blessings he's been given and wants to remind people they are never alone. 
"[The surgery] just made me realize every single blessing, from every breath to every word you speak — everything you do, every person you come across — it all matters," he said. "People are always watching you and looking out for you."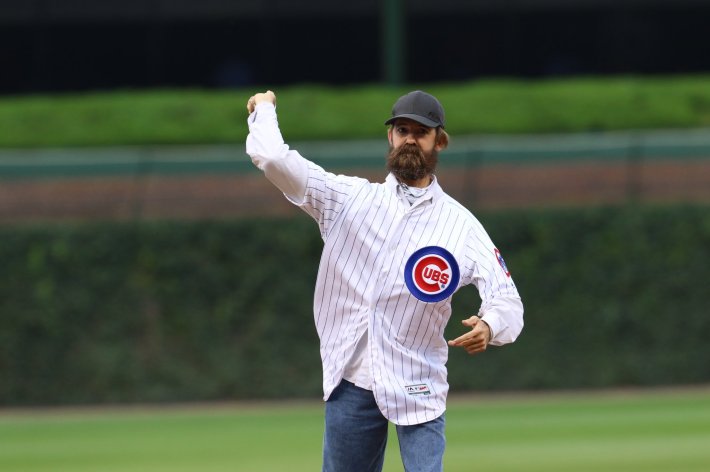 Subscribe to Block Club Chicago. Every dime we make funds reporting from Chicago's neighborhoods.
Already subscribe? Click here to support Block Club with a tax-deductible donation.