UPTOWN — For business owners and neighbors of Uptown's Asia on Argyle district, the past year has thrown them two major hardships: business slowdowns caused by the pandemic and racist reactions to coronavirus.
Those obstacles have continued — and even intensified — in recent months. Chicago is struggling to fully reopen because of another upturn in coronavirus infections, and anti-Asian harassment and violence is rising throughout the country. The latter even has reached Uptown, where a 60-year-old Vietnamese immigrant was attacked while walking near Argyle in March.
A new campaign called Celebrate Argyle is aimed at supporting the business district by highlighting the stories of Argyle's shops and residents, hosting events and providing grants to struggling businesses.
Celebrate Argyle is an effort from five Southeast Asian American community organizers with ties to Uptown. The campaign launched Wednesday, rolling out social media accounts and a website to promote local businesses and events.
"There's been an increase in anti-Asian hate during this pandemic, and we've felt the impact of this hate," said Hoan Huynh, one of Celebrate Argyle's founders. "We want to get people to come out and experience Argyle. We want people to chose hope and love over fear and hate."
As if the pandemic itself wasn't challenging enough for local businesses, Asian commercial districts like Uptown's have had to contend with xenophobic fears associated with coronavirus, striking another blow to their bottom lines.
Since the pandemic began, nine businesses in the Asia on Argyle district have closed, Huynh said. Of businesses closed nationwide during the first three months of pandemic, 26 percent of them were owned by Asian Americans, according to a study by Stanford University.
The founders of Celebrate Argyle saw this trend playing out locally and decided to do something to help. For co-founder Jennifer Pham, the goal is to preserve a proud Asian business district that was started in part by her parents.
RELATED: Vietnamese Man Attacked Near Uptown's Asia On Argyle, Family Says: 'My Dad, He Was Scared For His Life'
Pham's parents arrived in the United States from Vietnam in 1975 and opened Mini Thuong Xa, a pharmacy Pham runs at 1069 W. Argyle St. Since then, Asia on Argyle has grown to be one of the country's most prominent Southeast Asian communities.
"It's one of my missions to continue the legacy my parents created," Pham said. "We want to be able to tell the story of our people."
To promote the district, the Celebrate Argyle campaign is producing videos that feature five local restaurants: Pho Loan, DaNang Kitchen, Cafe Hoang, Nha Hang Vietnam and New Orleans Seafood.
Each business is partially woman-owned or lead by a woman chef. The organizers wanted to start with those businesses because women of Asian descent have reported twice as many incidents of racist violence as men, according to a national coalition focusing on anti-Asian discrimination.
The videos will introduce to the public the business owners and tell the story of the business and the unique products it offers.
The businesses featured in the video have received $7,500 in grant money from Celebrate Argyle partner DishRoulette Kitchen, a Latino-run nonprofit giving out grants to minority-owned restaurants and food vendors left behind in economic relief programs amid the pandemic. An additional round of grants will provide another $7,500 for local businesses, Huynh said.
Celebrate Argyle is not the only effort seeking to boost a business district left reeling from the pandemic.
Last month, state officials announced the Chinese Mutual Aid Association, 1016 W. Argyle St., would become one of seven Small Business Development Centers in the state. The small business center will seek to grow the district and provide resources and aid to existing businesses, officials said.
In the wake of recent violence against Asian Americans, the Uptown group Asian Americans Advancing Justice is hosting bystander training sessions throughout April. For more information on attending an even, click here.
It is the hope of community organizers that these efforts will cause Chicagoans to ensure Asia on Argyle is able to thrive during and after the pandemic.
"People here have gone through a lot of trauma," Huynh said. "The community has a lot of hope and a lot of resiliency."
To learn more about Celebrate Argyle, visit its website and Instagram page.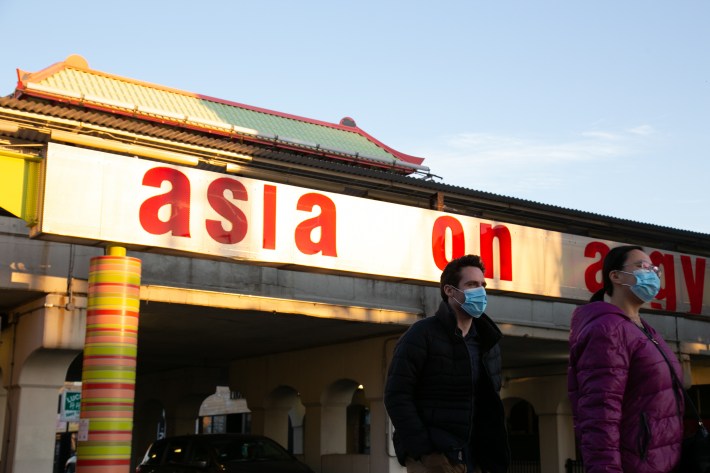 Subscribe to Block Club Chicago, an independent, 501(c)(3), journalist-run newsroom. Every dime we make funds reporting from Chicago's neighborhoods.
Already subscribe? Click here to support Block Club with a tax-deductible donation.