FULTON MARKET — The former home of La Luce Italian restaurant, which was nearly torn down late last year, once again has been granted a reprieve from demolition.
The Commission on Chicago Landmarks voted unanimously Thursday to grant temporary landmark status for 1393-1399 W. Lake St. following impassioned pleas from preservationists and dozens of citizens. Commissioners also rejected the owner's permit application seeking to tear down the building 19th century, Queen Anne Victorian building.
The commission's approval of initial landmark status triggered an expedited process for permanently protecting the 130-year-old Fulton Market building. Under the city code, the commission must schedule a public hearing and notify City Council of its recommendation within 90 days.
The dueling applications were part of an ongoing battle over the building, which dates back to 1891 and was the home of La Luce for 27 years before the restaurant closed in 2016. Most Schlitz tied houses of this size and stature have been torn down, Department of Planning and Development staffer Kandalyn Hahn said.
RELATED: After Being Spared From The Wrecking Ball, Victorian Building Formerly Home To La Luce Could Get Landmark Status
Commissioner Maurice Cox said the developers were sitting on a "vintage" and "pretty rare asset" in Chicago architectural history. The city doesn't lose structures like this as part of a mass demolition, he added.
"You lose them one building at a time, until you are hanging on to one or two exemplars," he said. I would encourage the development team for this particular site to embrace those assets that will in fact enrich [development.]"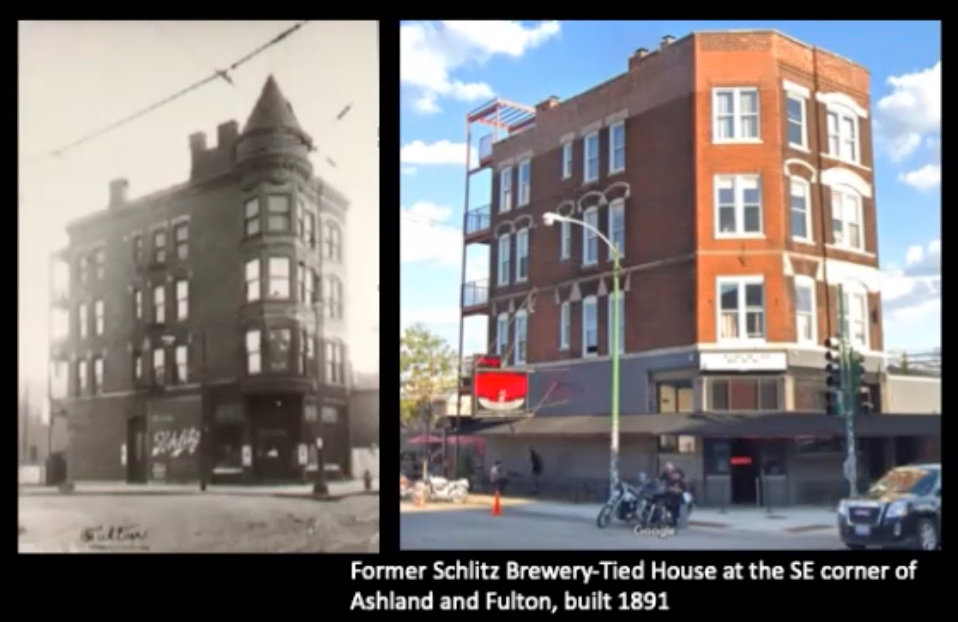 The city approved a demolition permit for the former Schlitz-branded saloon and tied house in December, then quickly revoked it, saying there was an error with the address.
Because the building is rated "orange" in the city's historic buildings survey, the demolition permit request should have triggered a 90-day hold, which is designed to allow local leaders and preservationists an opportunity to come up with ways to protect historic buildings.
After being rebuffed for the demolition permit, building owner Veritas immediately submitted a new application Dec. 2, records show. The hold on that expired in early March. Preservation Chicago then launched an online petition to save the building, garnering more than 8,000 signatures.
The city's Department of Planning and Development said the building met three criteria for landmark status, Hahn said, which would protect all exterior elevations and rooflines of the building. A one-story frame structure at the rear of the property is not included.
Property owner Anthony Giannini of Agent Equity Partners also wants to demolish the single-story building next door at 1385 W. Lake St., recently vacated by Midwest Performance Car. 
Giannini bought the building with attorney and investor Steven DeGraff with the intention of razing it, zoning attorney Sara Barnes said Thursday. He invested "hundreds of thousands of dollars" into gutting the building, Barnes said.
It was not until after the city "erroneously" issued a demolition permit did Giannini learn the city may consider landmarking the building, Barnes said.
"As such the applicant has had to promptly about face," Barnes said.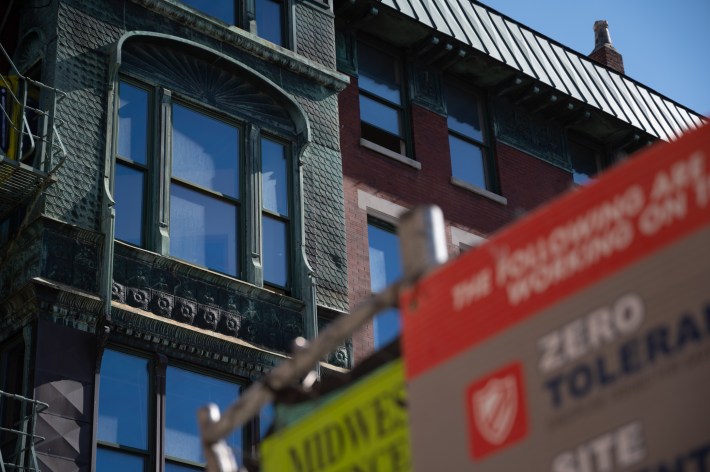 DeGraff said he and Giannini researched the vacant building before buying the property. During a meeting with Ald. Walter Burnett Jr. (27th) in summer 2019, there was no opposition to the group's plans to demolish both parcels and build new construction.
"If there was [opposition] at the time … we would have looked at this a lot differently," DeGraff said.
Jason Jarrett of Okrent Kisiel Associates, a consultant who spoke to the commission in support of Giannini, said he did not believe the building met criteria for landmark designation.
While the building may have sold Schlitz products, Jarrett argued there were no architectural features or details that prove it operated as a tied house, he said. He noted that it lacks the iconic Schlitz globe, and most of the building's originally copper work have been replaced and lack the original detail and craftsmanship.
Hahn countered that city officials found evidence of a "ghost sign" on the side of the building showing the Schlitz cursive signage faded from the brick. Additionally, the globe logo was not used until the 1893 World's Columbian Exposition — two years after this building was constructed.
"You don't see it here because it wasn't the logo yet," she said.
Preservation Chicago Executive Director Ward Miller said the building's red brick limestone, ornamental bays and copper features are "nothing less than outstanding," he said. The building was constructed in anticipation of the 1893 World's Fair and is still visible for blocks, he added.
Miller said the outpouring of support to try to save the building is the greatest public response the organization has ever seen.
Petitioners also provided 24 pages' comments opposing demolition. Lauren Zawilenski wrote, "More of Chicago's history needs to be preserved. Buildings like this are getting knocked down and overdeveloped left and right!"
Gregory Stepanek wrote, "I pass this building on a daily basis, and always marvel at its uniqueness. We have lost far too much of our history. Let us NOT lose this gem. Let's stop erasing our history."
You can see signatures and comments here.
Diane Gonzalez, an Old Town resident and member of the Preservation Chicago board, said Fulton Market is one of the "fastest changing neighborhoods" in Chicago as old factories and warehouses are converted into bars and restaurants.
"In the midst of newcomers sits the venerable 1393 West Lake," she said. "Now is the chance … to save this storefront."
Her great-grandfather Antonio Gonzalez was a Spanish cigar seller who frequented the Fulton Market district's numerous tied houses. This history must be protected, Gonzalez said.
"It is a treasure," she said.
Eight historic tied houses were included in a landmark district designated by the city in 2011. The Lake Street property was not included in the designation due to objections from its owners at the time, according to Preservation Chicago. 
In June, the city granted landmark status to a 113-year-old former Schlitz tied house at 9401 S. Ewing Ave. on Chicago's East Side. 
Most Schlitz brewery tied houses were designed the Queen Anne style, with high-end materials aimed at garnering "respectability" among the public, Hahn said.
Beyond their noteworthy architectural elements, Chicago's remaining tied houses represent the city's history, Hahn said. Known as the "poor man's" club, tied houses often offered services in an immigrant's native language.
Subscribe to Block Club Chicago. Every dime we make funds reporting from Chicago's neighborhoods.
Already subscribe? Click here to support Block Club with a tax-deductible donation.