LINCOLN SQUARE — Improvements are coming to Lincoln Avenue's north commercial corridor, bringing a boost to an overlooked stretch of restaurants and retail — and long-vacant storefronts — in Lincoln Square.
The $15 million plan would reinvigorate a stretch being dubbed Lincoln Avenue North, stretching from Western to Catalpa Avenue, Ald. Andre Vasquez (40th) said at a community meeting this week. Under the plan, sidewalks will be widened, crosswalks improved, green space added and an arts district created.
The improvements will be paid for using TIF funds secured by Vasquez with support from the city's departments of planning and development and transportation.
The Lincoln Avenue North effort — kicked off last year with the Ainslie Arts Plaza — is part of more than $30 million in public projects coming to the ward in 2021, Vasquez said.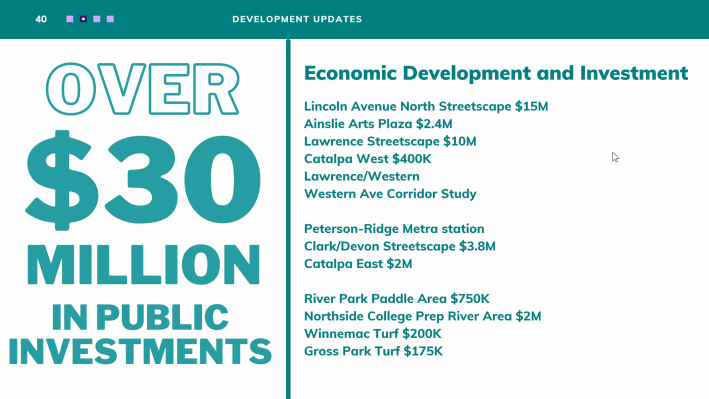 For decades, the stretch of Lincoln Avenue north of Lawrence Avenue has been a fairly sleepy area in comparison to the bustling, cobblestone neighborhood center just southeast. 
Vasquez long has envisioned an arts district for the north side of Lincoln Avenue, with murals and housing for artists so the area will be more vibrant — which would hopefully drum up commercial and community interest. 
"That is something I'm very passionate about," Vasquez said. 
The alderman's had conversations with building owners about creating affordable live and work spaces for artists. He said these are just as important to the area's future as keeping homes affordable for longtime neighbors.
"Being someone who grew up in Wicker Park before it got gentrified … I was priced out through that," Vasquez said. "When we're working on developing an area, a big concern of mine is the displacement that occurs sometimes when property values rise."
Part of that effort includes reaching out to the motels just north of Foster Avenue, Vasquez said.
The motels are a vestige from when Lincoln Avenue was a main thoroughfare between Chicago and Wisconsin. Their heyday was the late '40s and early '50s, according to the Chicago Tribune.
Once the Edens and Kennedy expressways opened, the budget motels attracted fewer families on road trips and developed a reputation for prostitution and drug deals that led former Ald. Pat O'Connor to try and get them torn down, according to WBEZ.
City funds for the demolitions ran out during O'Connor's push, and nine of the 14 motels survived.
"That's how we got spaces like the Budlong Woods Branch Library, which used to be a hotel or motel," Vasquez said.
Previous attempts at improving the northern part of the commercial corridor included the city attempting to seize motel properties using eminent domain, Vasquez said. The alderman said he has reached out to the motel owners to try a different approach to address their reputations.
"I want to have the conversation with them first to see how they can change and maybe add to what we have there," Vasquez said. "And if we're not able to find ways to work together, we want to look at what other carrot-and-stick approaches there could be."
Part of that includes offering the motels support via Small Business Improvement Funds, which Vasquez said could be a more cost-effective way to address the businesses' reputations than trying to get the city to take over the properties via eminent domain.
"I told them if you add some fresh paint and change the way you present your business, you can have a different level of clientele," Vasquez said.
The Ainslie Arts Plaza opened last year at the triangle-shaped block that sits just east of the McDonald's at 4844 N. Lincoln Ave. It currently has seating and a mural painted by artist Andrea Jablonski. 
That plaza will be developed even further so it can function as a southern anchor for Lincoln Avenue North, Vasquez said. Another $2.4 million is earmarked to help the plaza host markets and other events where the community can come together for years into the future, similar to Giddings Plaza further to the south, he said. 
Vasquez also said he's been speaking with Maurice Cox, Department of Planning and Development commissioner, about bringing a mural fest showcasing street art to the area in 2022.
With funding secured, Vasquez said the next steps will be getting community input to fine-tune the improvements. City officials will be involved to talk to neighbors about what types of projects will be feasible for the area.
"It's kind of like how we do the people's participatory budget process where neighbors add their input to shape what the city provides," Vasquez said.
CDOT typically sets up a survey to gather community input, and Vasquez said that is probably a few months down the road. Until then, neighbors interested in sharing their thoughts on the public developments can email info@40thward.org.
Neighbors interested in getting updates about the improvements from the 40th Ward can sign up at this link and view the announcement video here.
Subscribe to Block Club Chicago. Every dime we make funds reporting from Chicago's neighborhoods.
Already subscribe? Click here to support Block Club with a tax-deductible donation.