ANDERSONVILLE — A tree at the corner of Paulina and Winona streets has provided a glimmering bright spot — literally — during the darkest days of the pandemic over the past year.
The Disco Tree is the creation of Rich McMurray, who has turned the tree and front yard of his home at 1655 W. Winona Ave. into a themed, brightly lit attraction on his residential block in Andersonville.
McMurray has decorated his home and tree for about the past six years, which he started as an offshoot from his days decorating floats for the Pride Parade. But last year, McMurray lost his bartending job when coronavirus swept into town.
With the pandemic changing lives virtually overnight, McMurray decided to use his extra free time to make his home a source of pride and joy in the neighborhood. He debuted the Disco Tree, known for its decorative lights, tree ornaments and lawn displays.
"With the pandemic, I said, 'Well, we could use a bit more fun,'" McMurray said. "The whole point was to go really over the top with it and put smiles on people's faces."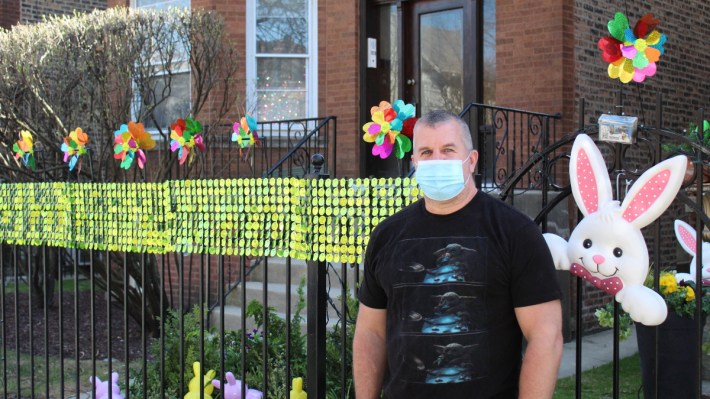 March marks the one-year anniversary of the Disco Tree, and the second time it has been decorated in Easter and spring colors.
To make this spring's display, McMurray tied plastic Easter eggs to fishing line and strung more than 400 eggs from the tree. Noticing how well the eggs reflected sunlight, McMurray added disco balls, rotating spotlights and dozens of strands of LED lights.
Pinwheels and boards of sequins line the home's iron fence, with a Baby Yoda inflatable and a light-up rainbow made up of foam pool noodles arranged on the lawn.
Over the year, the Disco Tree has been redecorated for Easter, in honor of the canceled Pride Parade, Fourth of July, Halloween, Christmas, New Year's, Valentine's Day and St. Patrick's Day.
The one constant through the themes has been lots of bright colors and lights, hence the name Disco Tree.
"It was a creative outlet," McMurray said. "If I counted how many hours I put into it, I probably wouldn't have done it."
The Disco Tree has been been a hit with passersby and neighbors.
The tree is a popular detour for families walking home from the Waldorf School at Foster and Ashland Avenues, with scores of kids walking and biking past Monday afternoon. Neighbors stopped by to ask McMurray how he strung all the Easter eggs. One dog walker pulled out her phone and asked if she could take photos before later saying "sorry" for stopping to gawk at the tree.
"That's what it's there for," McMurray said.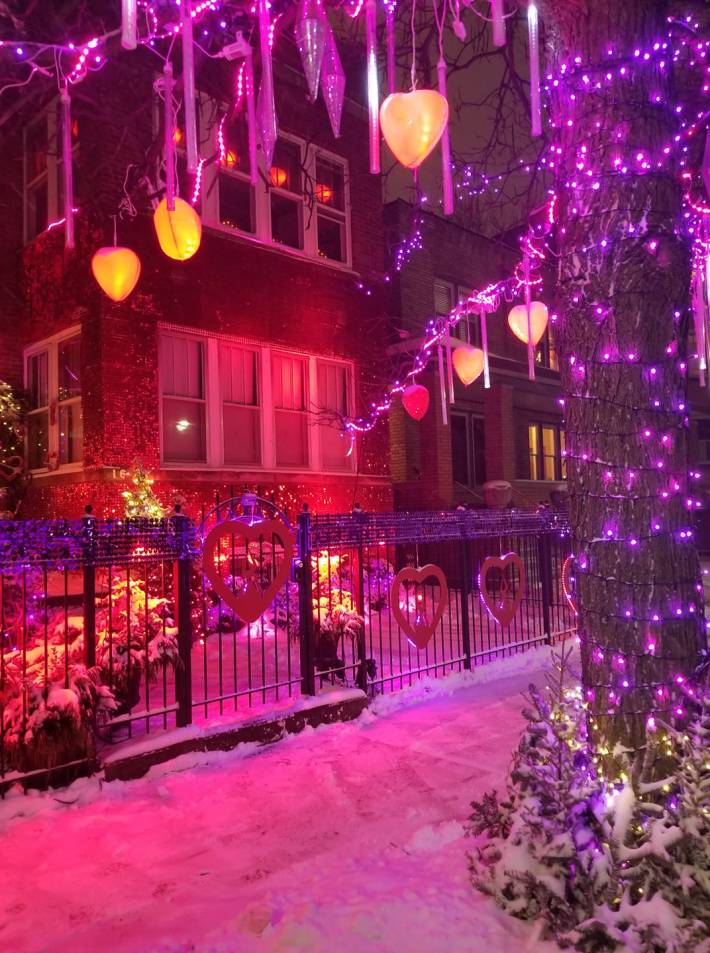 The added foot traffic and vibrant lights don't seem to bother too many neighbors.
"It has been a total bright light during the pandemic," said Graeme Zielinski, who lives on the same Winona block. "It's something to look forward to in a year where there hasn't been a lot to look forward to."
Design and decoration aren't new to McMurray, nor are they strictly hobbies.
McMurray owns the company Boxtanical Designs, which sells homemade planters and floral boxes. He has done decor work for bars and nightclubs, on top of decorating parade floats.
When McMurray moved to Andersonville 11 years ago, he wasn't sure how his neighbors would feel about him decorating large parade floats parked on the street. But it turned out neighbors loved the pop of color and joy the floats brought.
So when he stopped decorating floats, McMurray decided to bring that joy in the form of home decorations.
The pandemic has shown just how valuable it is to have opportunities for unexpected happiness, McMurray said.
"I was kind of surprised by how much people enjoyed it," he said. "I'm happy to see people enjoy it so much."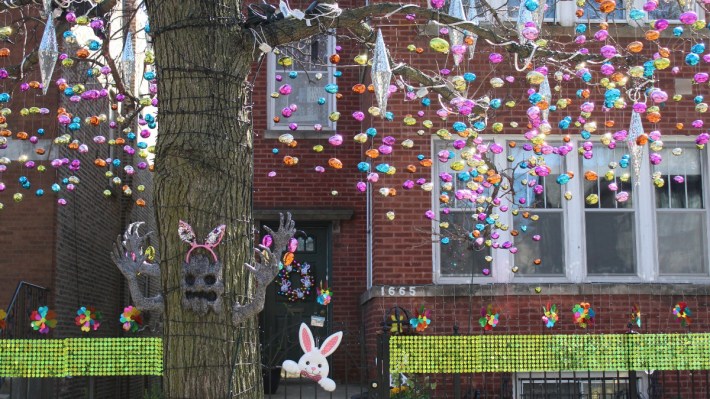 Subscribe to Block Club Chicago. Every dime we make funds reporting from Chicago's neighborhoods.
Already subscribe? Click here to support Block Club with a tax-deductible donation.