In March 2020, a stay at home order was enacted in Illinois — the first of our lifetime — amid the spread of coronavirus, a virus we were struggling to understand.
In the year since, Chicago's neighborhoods have faced unprecedented challenges. Folks got sick. Loved ones died. People lost jobs. Schools shuttered. Beloved mom-and-pop shops closed their doors — some for good.
Parents worked double duty. Routines were interrupted. We stayed distant from the ones we care about most. Grocery store shelves were emptied, and fear and paranoia set in. Crisis took hold.
By many accounts, government struggled to provide adequate solutions. The systems we were used to relying on failed.
We lost so much. Yet in the face of insurmountable trouble, we came together to save each other.
A year after the shutdown, we celebrate the neighbors and everyday heroes who made our lives a little more bearable.
This is Chicago. And these are 100 ways we helped.
We Fed Our Neighbors
1. In 18 neighborhoods across the South and West Sides, neighbors and activists like Ashley Godfrey banded together to bring fully stocked refrigerators — dubbed Love Fridges — to areas struggling with food insecurity.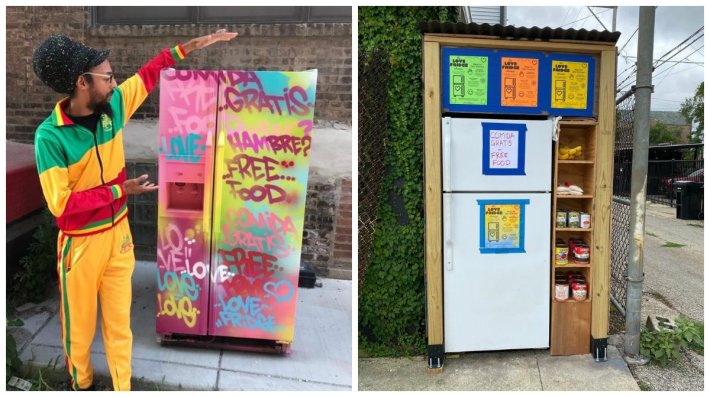 2. In Washington Park and at sites across the city, activist Nita Tennyson and others launched the Love Train to provide free baby supplies and food to those in need.
3. In Archer Heights, the Southwest Collective launched Food's Here to feed neighbors, employ laid-off restaurant workers and reduce food waste. They use extra food from meal subscription services and a closed restaurant to feed 250 people hit hard by the pandemic each week.
4. In West Garfield Park in the fall, Jermaine Jordan opened Healthy Hot Free Meals, a soul food restaurant that provides free food for people in need and those impacted by the coronavirus pandemic. Neighbors from across the city donated to keep the effort going.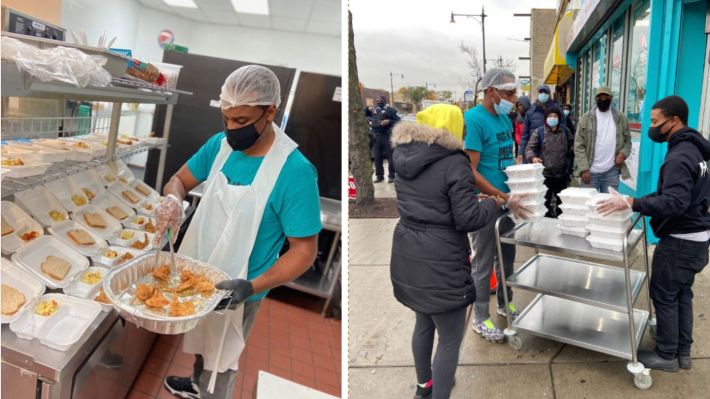 5. In Hyde Park, students organized UChicago Mutual Aid after they were forced to move off campus while being hit with lighter financial aid checks.
6. On the South and West sides, churches and groups like Black Girls Break Bread organized one-stop shops for supplies like food, masks, coronavirus testing and diapers.
7. In Woodlawn, organizers with The Experimental Station, Invisible Institute, Build Coffee, South Side Weekly and Star Farm Chicago launched Market Box program, which fed South Side families and supported small Midwestern farms through the summer. As of September, they'd made nearly 4,000 fresh food deliveries to South Side families.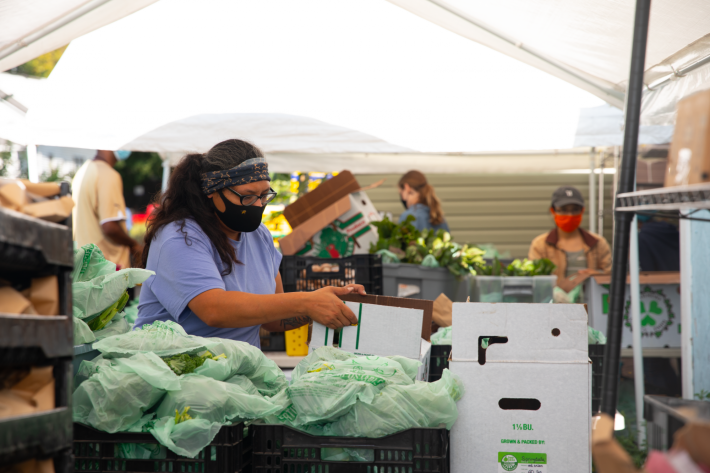 8. In Bridgeport, owner Ed Marzewski and chef Won Kim transformed Kimski into a Community Canteen, offering free or pay-what-you-can meals to go. They gave out as many as 2,000 meals each week.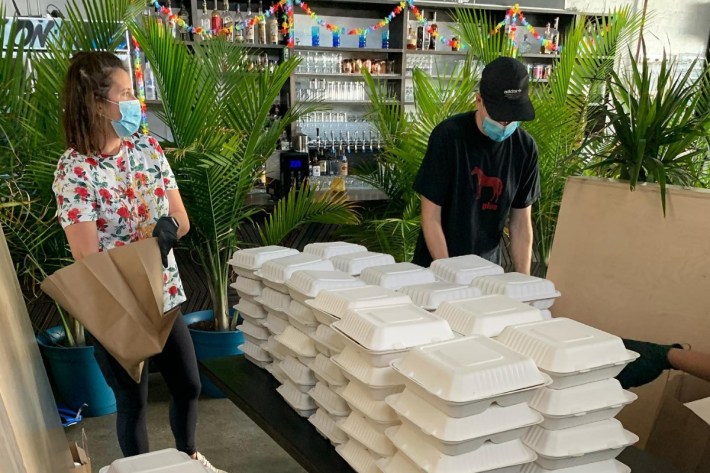 9. In Washington Park, the People's Grab-N-Go popped up every Monday at Burke Elementary School in response to the brief CPS food shutdown. The school was one of CPS' meal distribution sites. In the first two giveaways alone, organizers Matt Muse, Jihad Kheperu, Dominique James, Trina Reynolds-Tyler and others fed 800 families.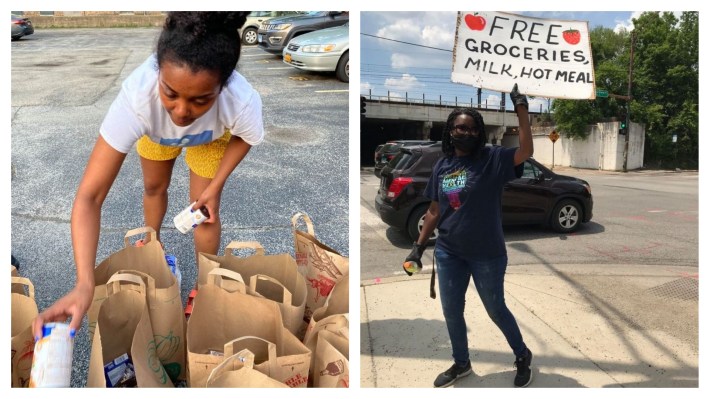 10. In Back of the Yards, Increase the Peace and other groups launched a free Black and Brown Unity Food Pantry, acting as a bridge in the wake of isolated incidents of violence dividing the two communities.
11. In Logan Square, Diana Dávila, chef and owner of Mi Tocaya Antojería, fed hundreds of homestyle Mexican meals to families in need while keeping her workers employed.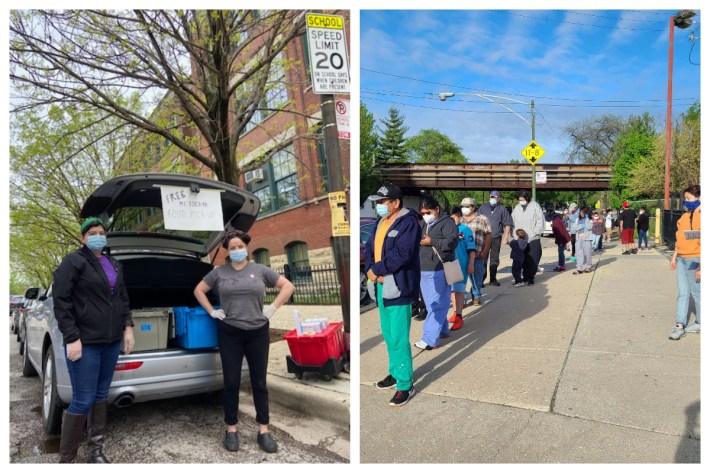 12. In North Lawndale, Rev. Reshorna Fitzpatrick and volunteers launched Soup for the Soul at Stone Temple Missionary Baptist Church, providing free soup to 200 West Siders in need every Monday.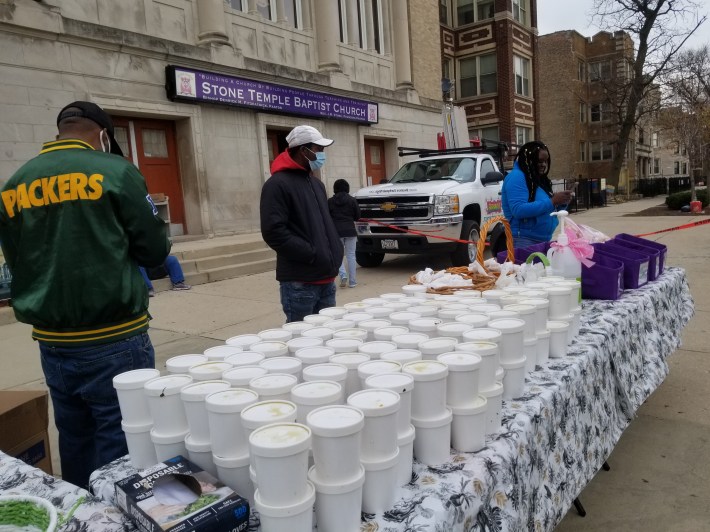 13. The pandemic inspired South Side chef Michael Airhart to take his Taste for the Homeless effort on the road, using his van to traverse the city to give free meals and clothes to people experiencing homelessness. Airhart estimates he feeds about 1,200 people per day.