In March 2020, a stay at home order was enacted in Illinois — the first of our lifetime — amid the spread of coronavirus, a virus we were struggling to understand.
In the year since, Chicago's neighborhoods have faced unprecedented challenges. Folks got sick. Loved ones died. People lost jobs. Schools shuttered. Beloved mom-and-pop shops closed their doors — some for good.
Parents worked double duty. Routines were interrupted. We stayed distant from the ones we care about most. Grocery store shelves were emptied, and fear and paranoia set in. Crisis took hold.
By many accounts, government struggled to provide adequate solutions. The systems we were used to relying on failed.
We lost so much. Yet in the face of insurmountable trouble, we came together to save each other.
A year after the shutdown, we celebrate the neighbors and everyday heroes who made our lives a little more bearable.
This is Chicago. And these are 100 ways we helped.
We Fed Our Neighbors
1. In 18 neighborhoods across the South and West Sides, neighbors and activists like Ashley Godfrey banded together to bring fully stocked refrigerators — dubbed Love Fridges — to areas struggling with food insecurity.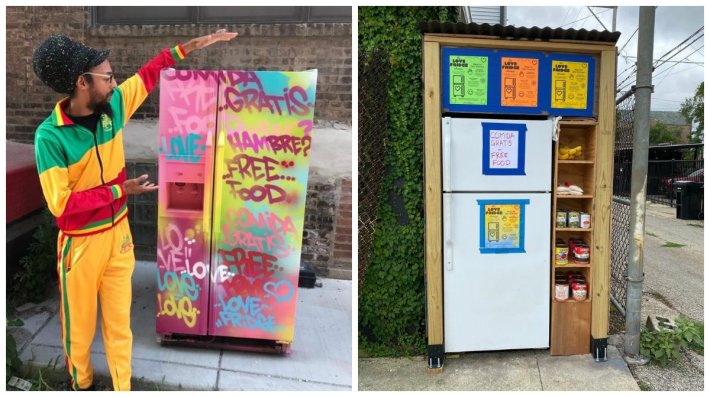 2. In Washington Park and at sites across the city, activist Nita Tennyson and others launched the Love Train to provide free baby supplies and food to those in need.
3. In Archer Heights, the Southwest Collective launched Food's Here to feed neighbors, employ laid-off restaurant workers and reduce food waste. They use extra food from meal subscription services and a closed restaurant to feed 250 people hit hard by the pandemic each week.
4. In West Garfield Park in the fall, Jermaine Jordan opened Healthy Hot Free Meals, a soul food restaurant that provides free food for people in need and those impacted by the coronavirus pandemic. Neighbors from across the city donated to keep the effort going.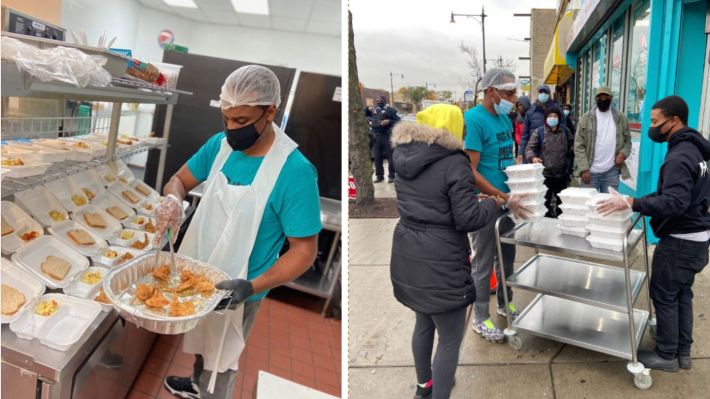 5. In Hyde Park, students organized UChicago Mutual Aid after they were forced to move off campus while being hit with lighter financial aid checks.
6. On the South and West sides, churches and groups like Black Girls Break Bread organized one-stop shops for supplies like food, masks, coronavirus testing and diapers.
7. In Woodlawn, organizers with The Experimental Station, Invisible Institute, Build Coffee, South Side Weekly and Star Farm Chicago launched Market Box program, which fed South Side families and supported small Midwestern farms through the summer. As of September, they'd made nearly 4,000 fresh food deliveries to South Side families.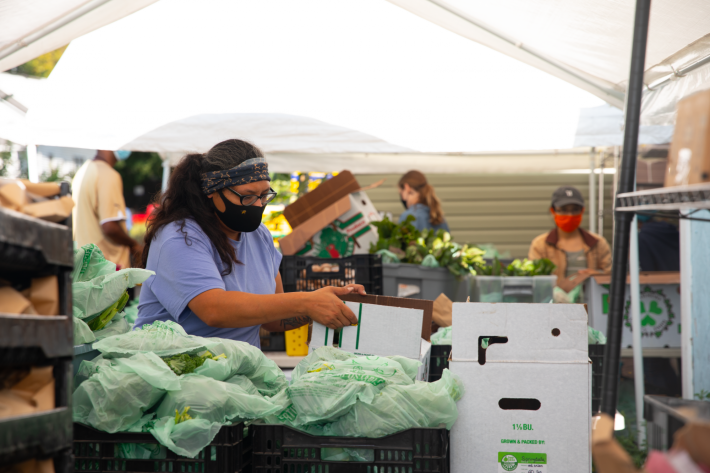 8. In Bridgeport, owner Ed Marzewski and chef Won Kim transformed Kimski into a Community Canteen, offering free or pay-what-you-can meals to go. They gave out as many as 2,000 meals each week.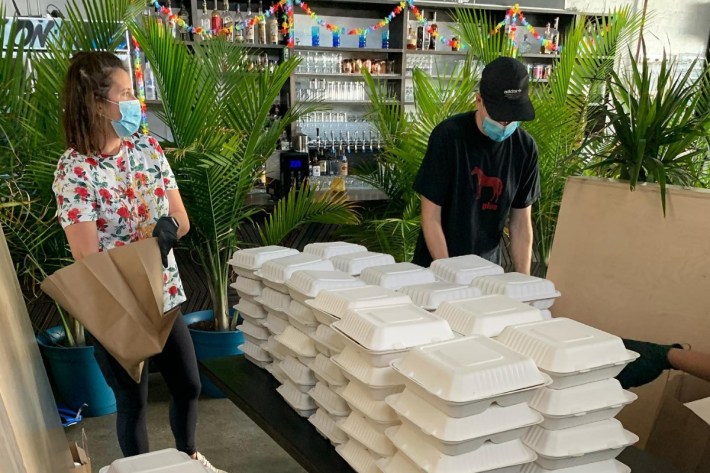 9. In Washington Park, the People's Grab-N-Go popped up every Monday at Burke Elementary School in response to the brief CPS food shutdown. The school was one of CPS' meal distribution sites. In the first two giveaways alone, organizers Matt Muse, Jihad Kheperu, Dominique James, Trina Reynolds-Tyler and others fed 800 families.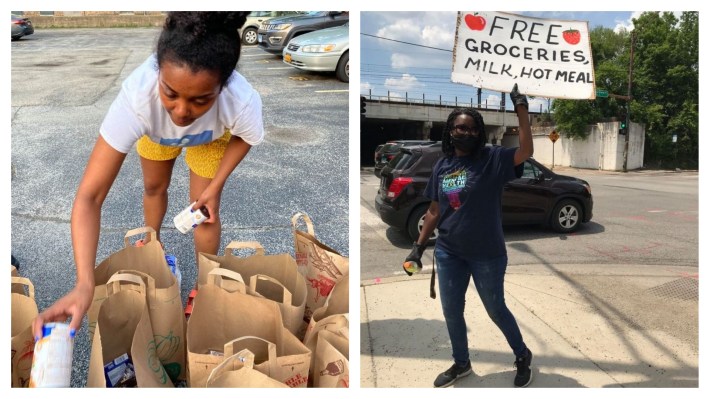 10. In Back of the Yards, Increase the Peace and other groups launched a free Black and Brown Unity Food Pantry, acting as a bridge in the wake of isolated incidents of violence dividing the two communities.
11. In Logan Square, Diana Dávila, chef and owner of Mi Tocaya Antojería, fed hundreds of homestyle Mexican meals to families in need while keeping her workers employed.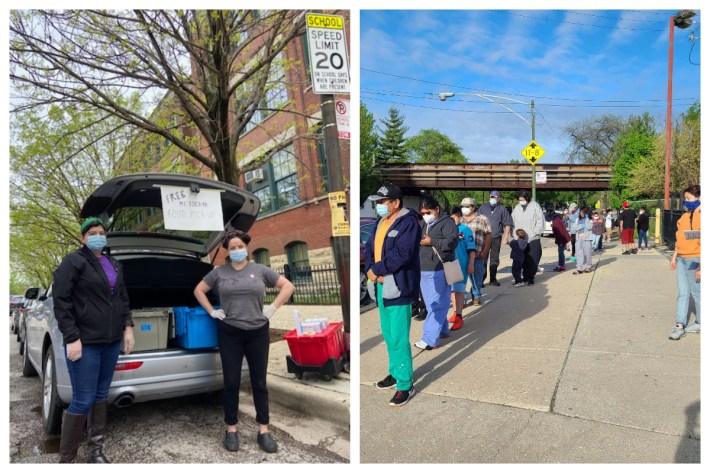 12. In North Lawndale, Rev. Reshorna Fitzpatrick and volunteers launched Soup for the Soul at Stone Temple Missionary Baptist Church, providing free soup to 200 West Siders in need every Monday.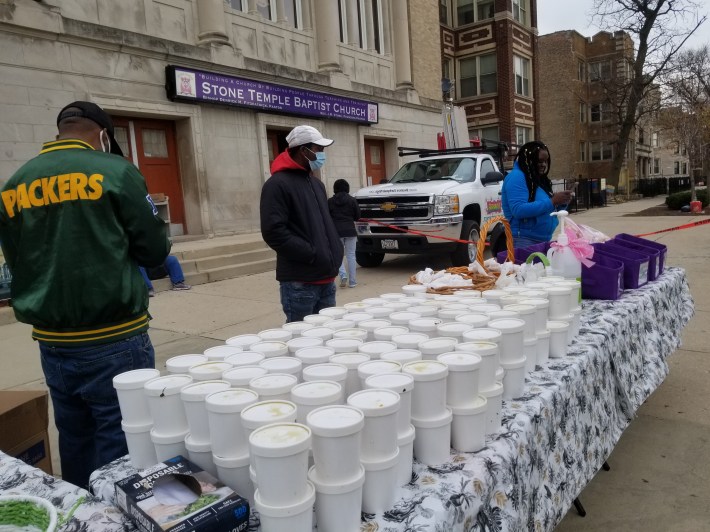 13. The pandemic inspired South Side chef Michael Airhart to take his Taste for the Homeless effort on the road, using his van to traverse the city to give free meals and clothes to people experiencing homelessness. Airhart estimates he feeds about 1,200 people per day.
14. Before the pandemic, New Life Centers' Pan de Vida food pantry in Little Village was helping about 100 families per week. But when COVID-19 hit, "need spiked like crazy," Executive Director Matt DeMateo said. In response, they partnered with the Greater Chicago Food Depository and scaled up distribution at seven sites across the South and West sides, feeding more than 700,000 people in six months.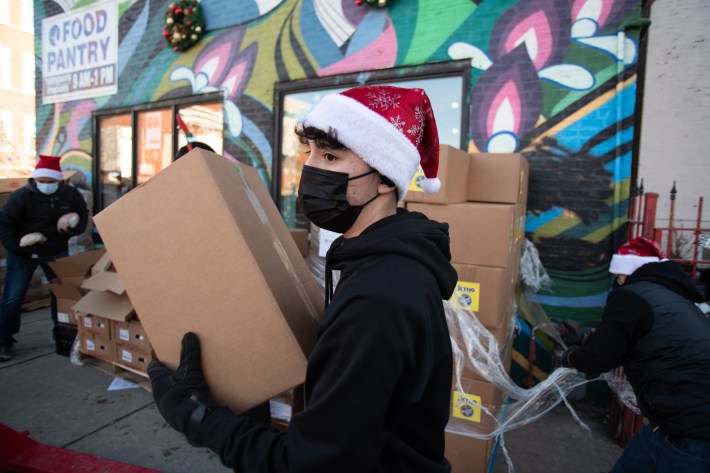 15. In Hyde Park, the Brave Space Alliance, Chicago's only Black- and transgender-led LGBTQ center, launched a crisis pantry for people in need.
16. In Austin, Alt_ co-founder Jon Veal and others transformed an abandoned building into a free grocery store where residents can get food. The market is stocked with food donated by neighbors and nonprofit, and it inspired other markets across the city.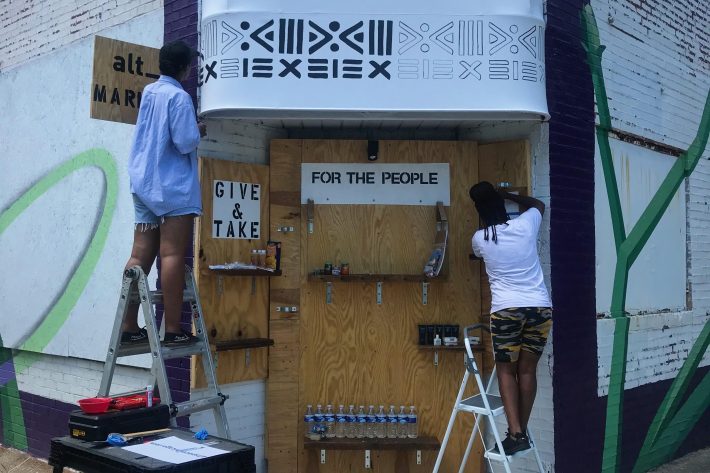 17. In Bronzeville and Kenwood, The Sacred Keepers Sustainability Lab created a food distribution hub after some South Side grocers temporarily closed after being looted. It's supported by the The Bronzeville/Kenwood Mutual Aid network.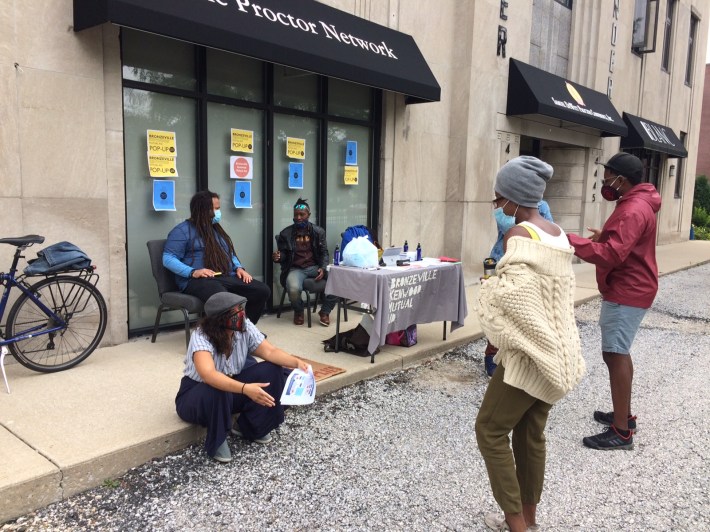 18. South Chicago-based master gardener Gregory Bratton is responsible for nearly 100 urban farms across Chicago, playing an instrumental role in bringing free fresh food to the South Side. Coronavirus didn't slow down his efforts.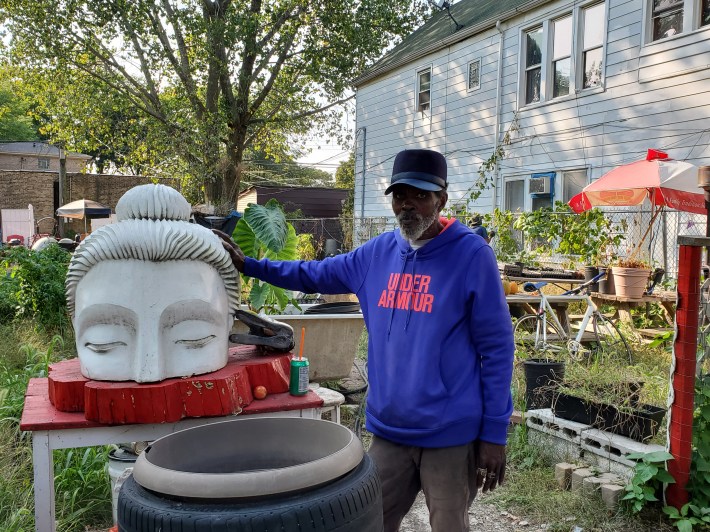 19. In Gage Park, the Gage Park Latinx Council gave away 3,000 pounds of food within 15 minutes of openings its mercadito. The market serves 75-100 families weekly.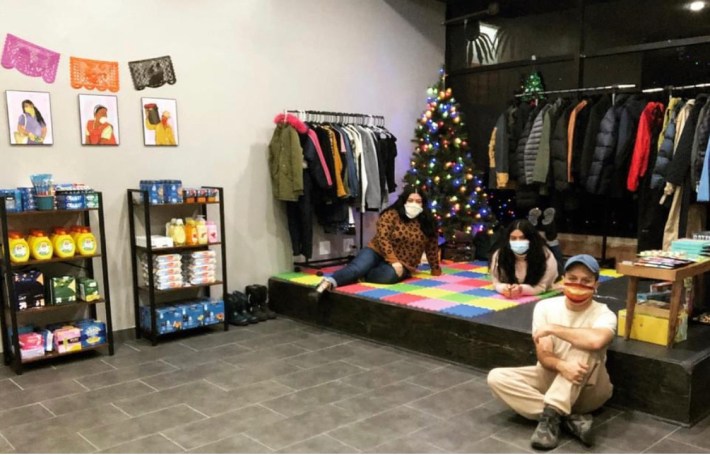 20. In Pullman, Brittanee Rolle and other organizers launched Feed the People, a pop-up distribution providing food, infant formula and feminine products Fridays. Over the duration, 1,000 people were helped.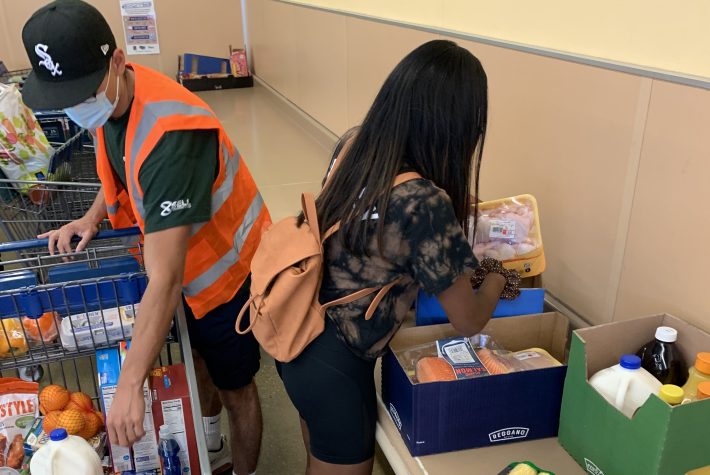 21. In Avondale, chefs Beverly Kim and Johnny Clark, the husband-and-wife team behind Wherewithall, shifted their model to become a community kitchen, offering 1-cent or pay-what-you-can meals.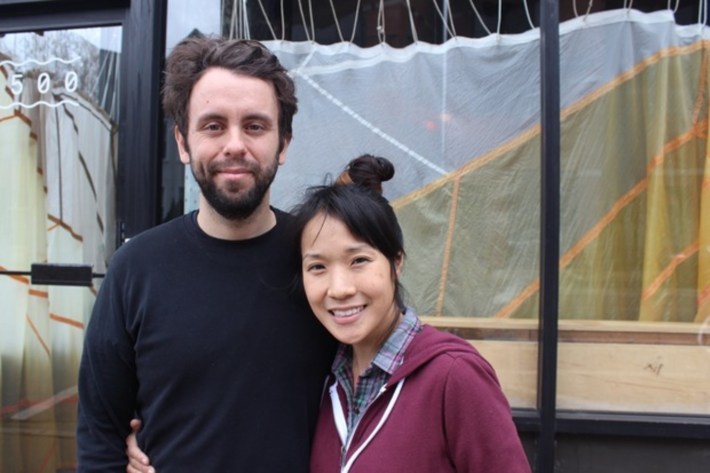 22. In October, 450 moms scattered across the city donated 1,700 lasagnas to out-of-work moms and others in need.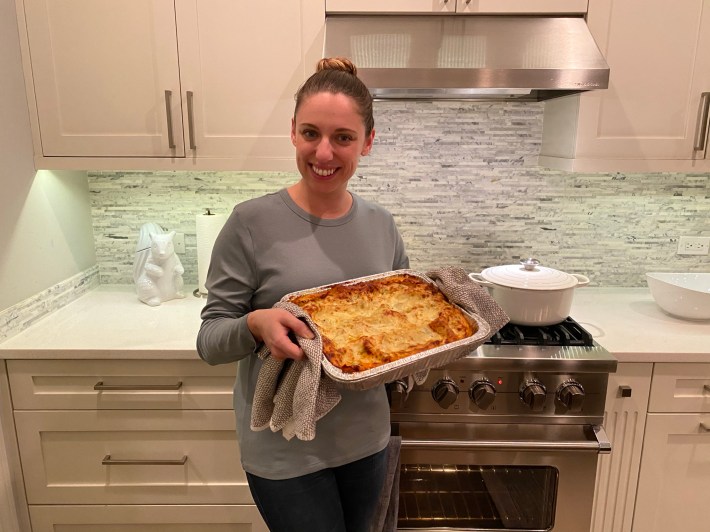 We Housed People
23. In Ravenswood, the Luceros, the family of nine behind the Cielito Lindo mariachi band, were facing eviction. COVID-19 canceled events and closed theaters, cutting the family's regular income by nearly half. But neighbors came to their rescue, raising $66,000 for the family, covering months of unpaid back rent and securing several months of future payments.
24. In Avondale, three homeless encampments were set on fire within three hours in July. Neighbors donated tents, bedding and other supplies to help residents get back on their feet.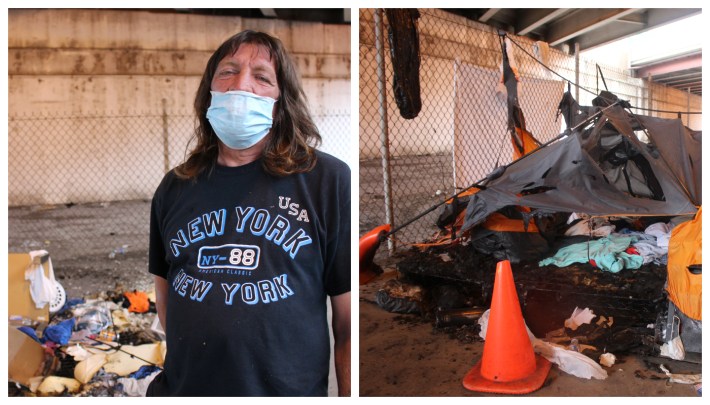 25. When West Garfield Park was hit with a bitter cold snap in February, restaurant owner Jermaine Jordan launched GoFundMe to get people experiencing homelessness off the streets and into hotel rooms. In the first few days of the effort, he rented 38 rooms to shelter those in need.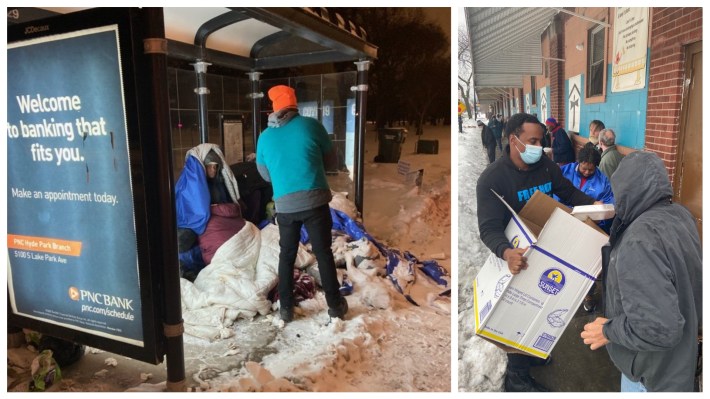 We Launched Hotlines And Checked On Neighbors
26. Spurred by Tanya Lozano, founder of Pilsen's Healthy Hood, activists across Chicago launched We Got Us to deliver masks, groceries and other critical supplies to the South and West sides. The group also launched a ZIP-code-specific hotline where volunteers connect callers to food pantries and testing centers.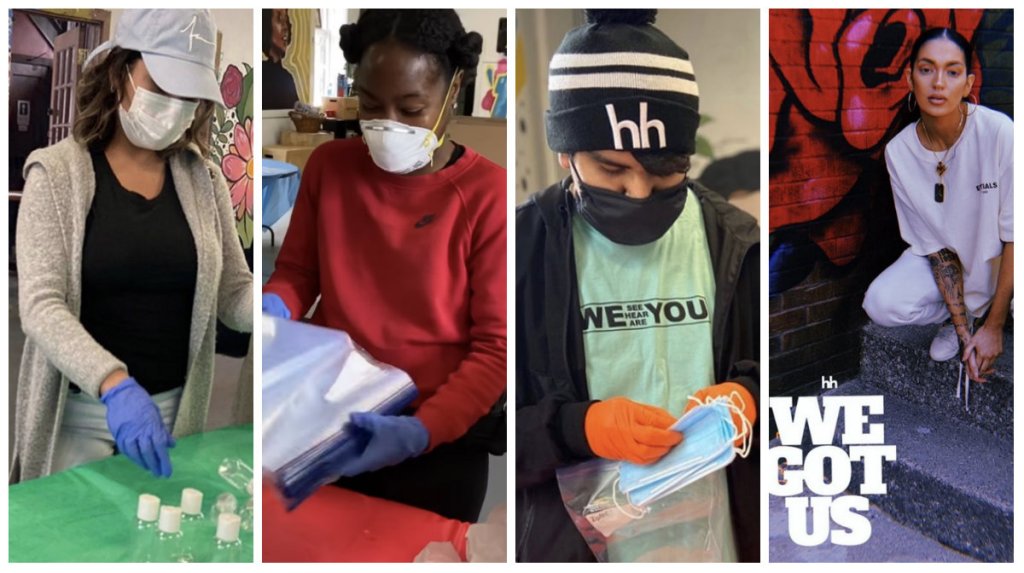 27. In Greater Grand Crossing in April, The Dovetail Project, a South Side nonprofit dedicated to helping young fathers, launched a 24-hour support line where dads could request essentials like diapers, formula and free food.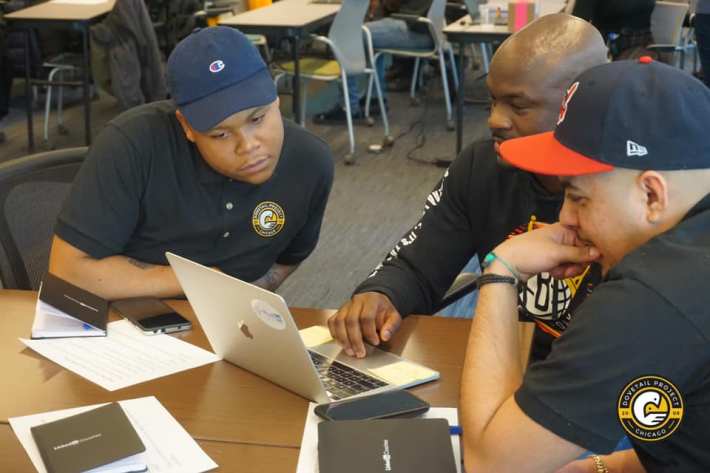 28. In North Lawndale in July, the North Lawndale Community Coordinating Council created a helpline where residents could find local resources to help them meet basic needs.
29. In March, My Block, My Hood, My City volunteers from across the city signed up to call isolated seniors for wellbeing checks.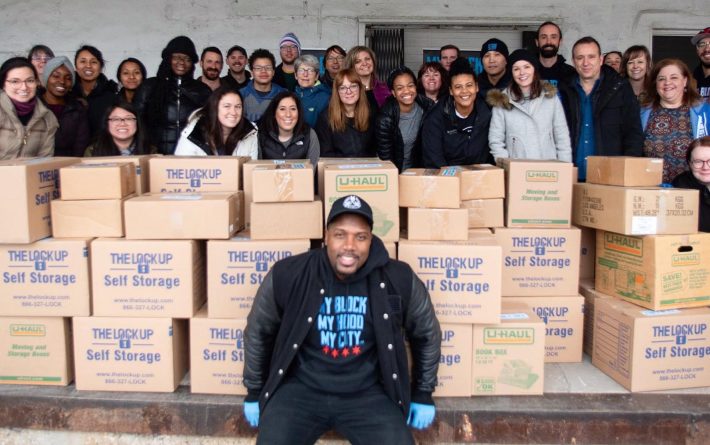 We Made Masks
30. In Hyde Park, former librarian Leslie Travis tapped her numerous connections — including a sailmaker and quilting guild — to create a massive operation producing thousands of masks.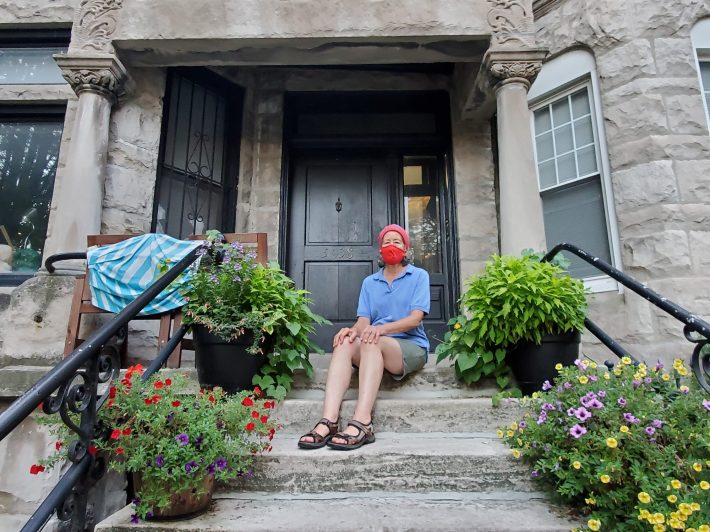 31. In Wicker Park, Lauren Nepomuceno and Monica Paprocki launched an ambitious citywide mission to make cloth face masks for Chicago's first responders and essential workers. In one month, Masks 4 Chicago's 654 group members produced about 3,000 masks — all of which were donated to workers.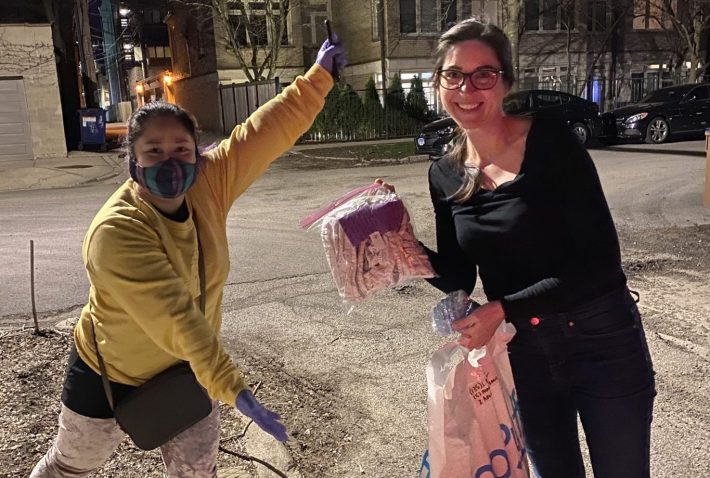 32. In Streeterville, 91-year-old great-grandmother Eszter Kutas made hundreds of masks and sold them, donating the proceeds to the COVID-19 Relief Fund at Northwestern Medicine. "I know it's not too much, but it's something."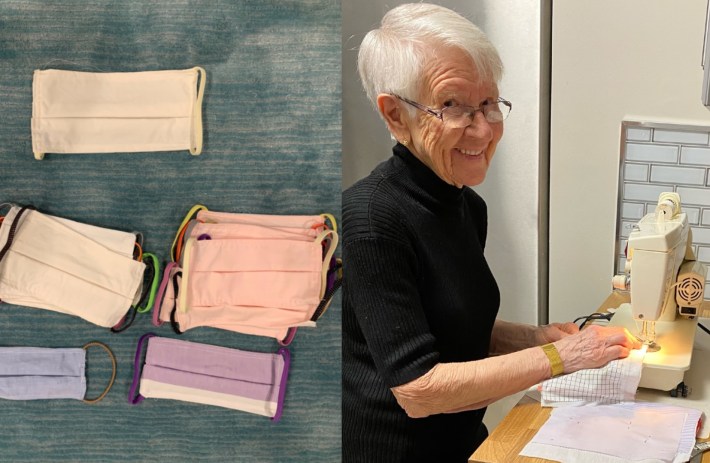 33. In Uptown, refugees who were learning to sew through RefugeeOne, like Sandra Muyumba, pivoted during the pandemic, making thousands of masks to donate to the community.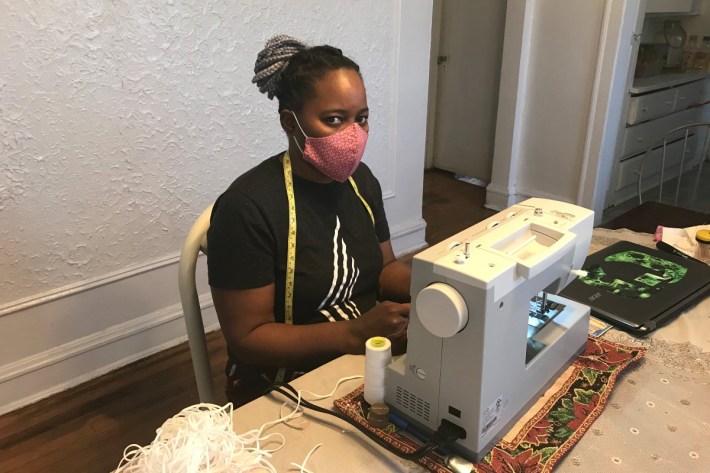 34. In West Town, Lauren Young sewed 8,000 masks to help neighbors. Over the holidays, she sewed 1,800 masks for seniors in West Town.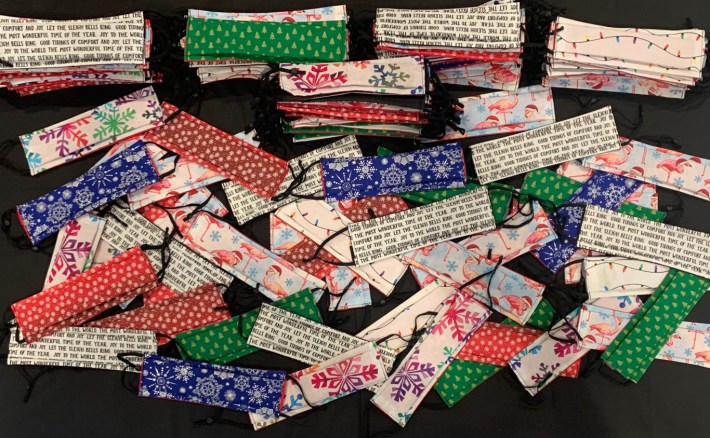 We Donated Supplies To Protect People
35. In Ravenswood, Koval distillery delivered 500 gallons of free hand sanitizer in April to Chicago nonprofits struggling to find supplies. The distillery, known for its whiskey and gin, switched to producing hand sanitizer in March to address the nationwide shortage. Its first batches of free hand sanitizer went to retirement homes, first responders and health care workers.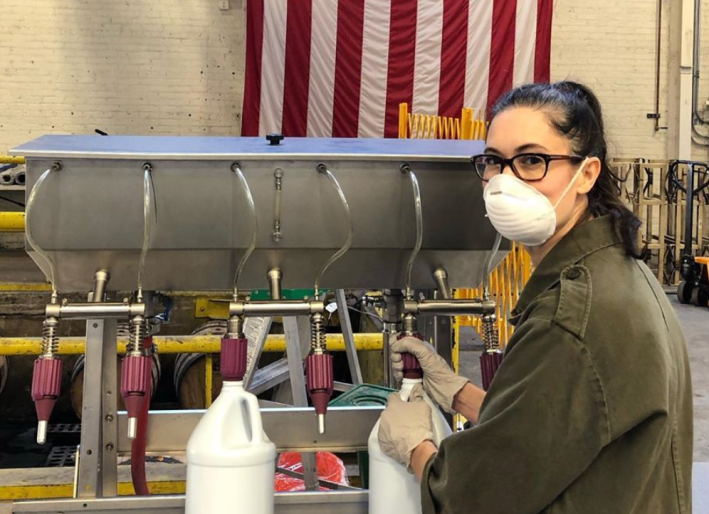 36. In Pilsen, food pantry the Pilsen Social Health Initiative, founded by physicians Evelyn Figueroa and Alex Wu, expanded its mission by opening a thrift store, building a medical supply closet and hosting a social worker to get families the help they need.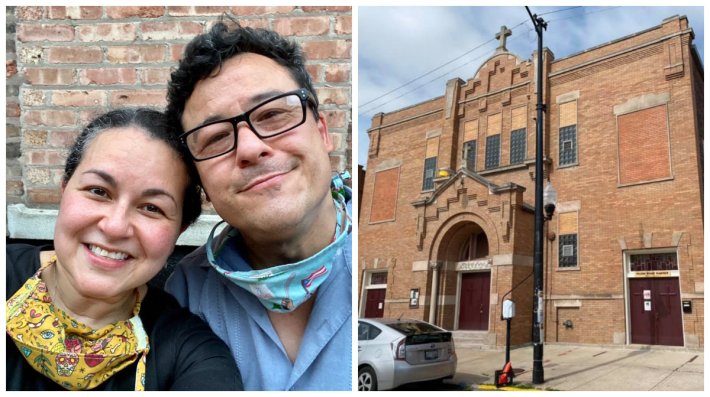 37. In Portage Park in March, back when toilet paper was scarce, neighbor Jaclyn Crawford started putting rolls of toilet paper and other household supplies in a container outside her home with a sign that read, "Take what you need." With help from My Block, My Hood, My City, she expanded her Treasure Box program this year.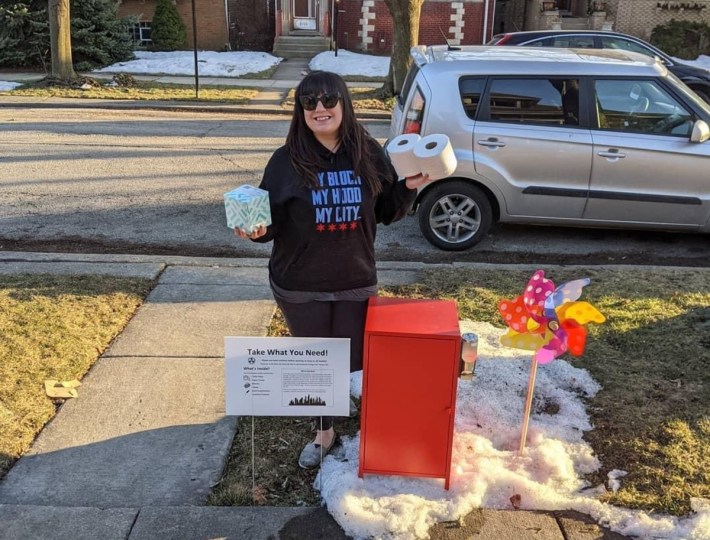 38. In March, Uptown Church members assembled emergency supply kits to pass out to neighbors in need. They also offered check-in calls to people who were isolated during the stay at home order.
39. In Roseland, United Pullman and other groups passed out masks, diapers, hand sanitizer, baby food and other essentials to people in need in June.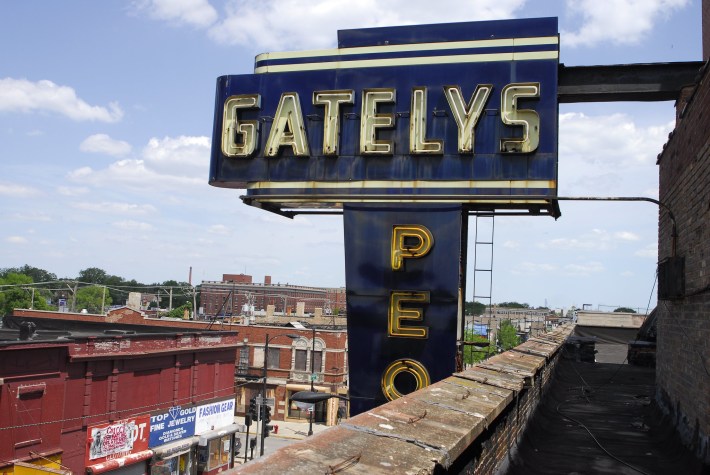 We Helped Out-Of-Work Restaurant Workers
40. Laid-off Hideout bartender Jessica Romanowski, a private chef by day, launched Care Kitchen Chicago in March, delivering care packages of meals to people impacted by the coronavirus shutdown.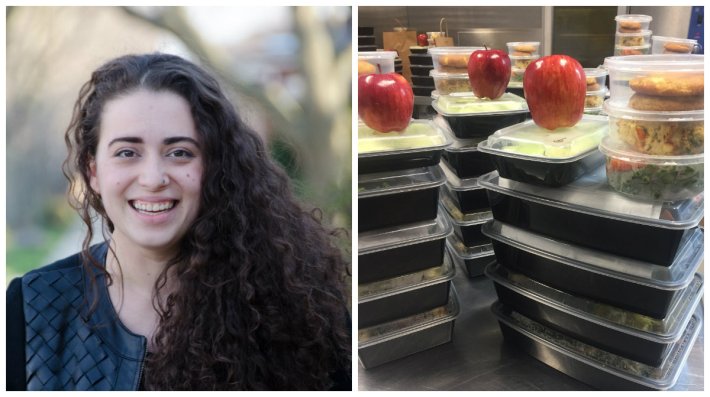 41. After HaiSous in Pilsen was forced to close dine-in services to slow the spread of coronavirus in March, owners Thai and Danielle Dang brought together their staff to make free meals for vulnerable families and laid-off food and beverage workers.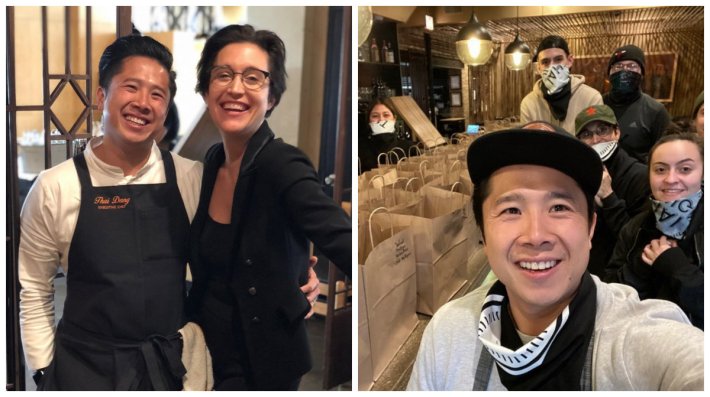 42. TaKorea Cocina owner Robert Magiet's nonprofit West Town Feeds, mental health industry group Darkest Before Dawn and community building collective A City United partnered to provide free meals to hospitality workers on St. Patrick's Day. "We were supposed to be out of work for two weeks," one said. "It's been a year."
We Rebuilt Looted Businesses
43. During a weekend of unrest in June, looters breached the Local Market roof and damaged the grocery store — one South Shore residents fought six years to bring to the community. Dozens of neighbors came out to clean up the grocery store as part of a "community policing" effort.
44. After Jamaal Burris' gym in Englewood was looted and vandalized, activists Jurema Gorham and Joseph Williams raised money to help Black businesses and offered Burris a grant to help him rebuild. "People like [Joseph] — and everyone else who reached out to help us clean up — made me realize that I owe it to them to stay here," Burris said.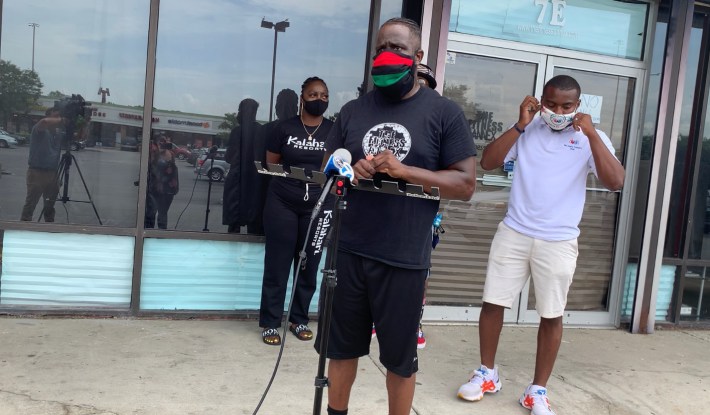 45. In West Humboldt Park, siblings Charles Pickett and Mercedes Pickett raised more than $40,000 to help West Side businesses rebuild.
46. Nonprofit My Block, My Hood, My City raised $1 million in two days to help looted businesses, giving 218 businesses grants up to $7,500 to rebuild.
47. When Gus Safi's beauty supply store in Auburn Gresham was looted, it was the second time a store he owned had been affected by unrest. Six years earlier, his beauty supply store in Ferguson, Missouri, was destroyed in the aftermath of protests after police killed Michael Brown. This time around, South Side community members came, brooms and dustpans in hand, to help him clean up. That show of support meant the world, Safi said.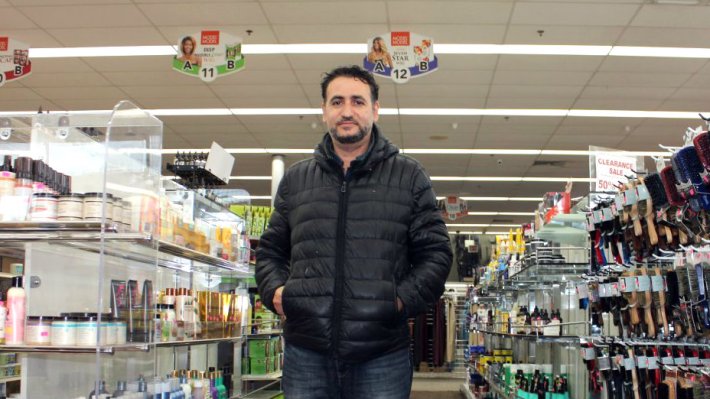 48. In Wicker Park, dozens of neighbors came out to help family-owned businesses clean up after 40 area businesses were looted.
49. In Auburn Gresham, MBM Dance Company was destroyed in a May fire. Neighbors rallied to raise thousands to help owner Barbie Jones rebuild.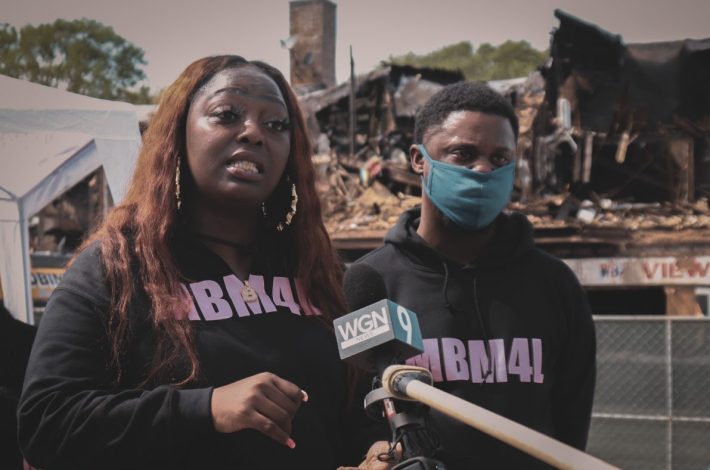 We Saved Struggling Mom-And-Pop Shops And Street Vendors
50. In the South Loop this summer, Manny's Cafeteria & Delicatessen was in trouble. Without a steady stream of customers because most offices were closed Downtown, owners worried they'd have to close the cafe, in business since 1942. The next day, Manny's fans showed up in droves, with a long line stretching around the block. Owners wept: "We are crying with joy — Chicago, you came through."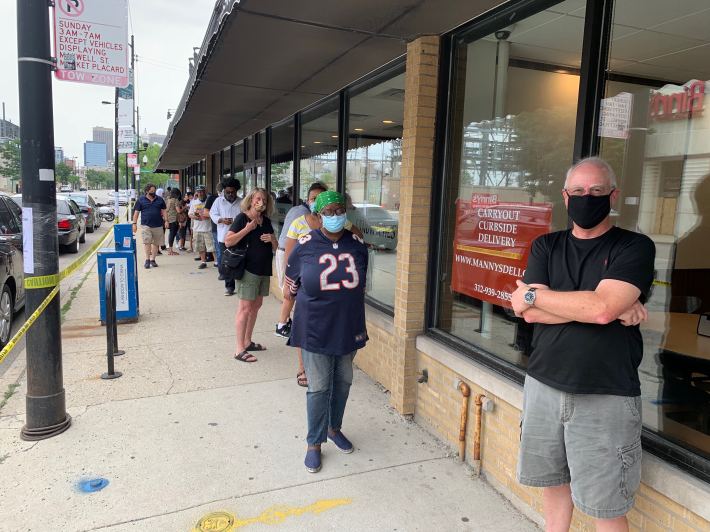 51. In East Side, the Gonzalez-Dominguez family bought out all of the paletas from 70-year-old paletero's Don Rosario cart so he could take the rest of the day for himself. What followed was a viral sensation, with video of the kind act being watched more than 5 million times and a GoFundMe to help Don Rosario retire racking up nearly $40,000 in one day.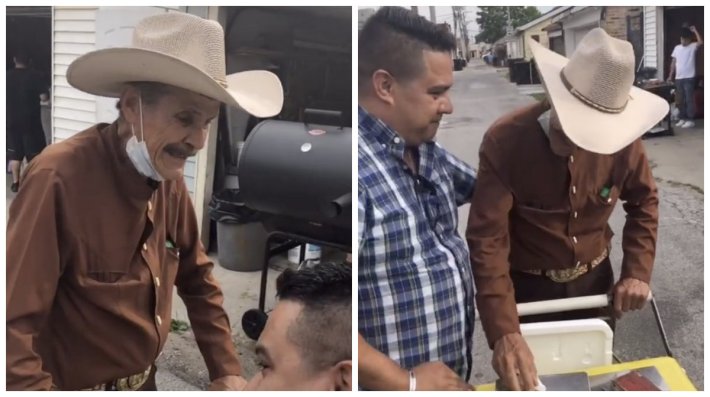 52. Like other workers who rely on Chicago's restaurant and bar scene to earn a living, beloved "tamale guy" Claudio Velez was hit hard by the coronavirus shutdown. In Lakeview and the West Loop, enterprising neighborhood groups stepped up to help him in April by crowdsourcing big orders of his delicious tamales. Neighbors bought $2,600 in tamales in two orders alone.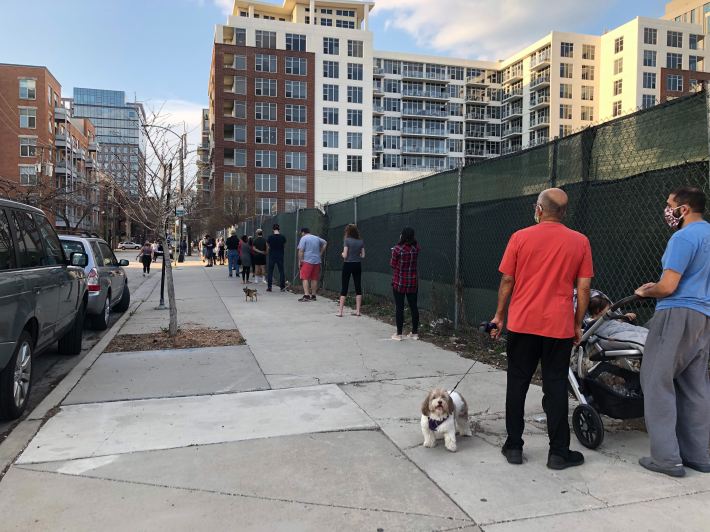 53. In Bucktown, neighbors raised more than $10,000 in October to help beloved ice cream man Wilfredo Cintron, 80, buy a generator for his ice cream truck.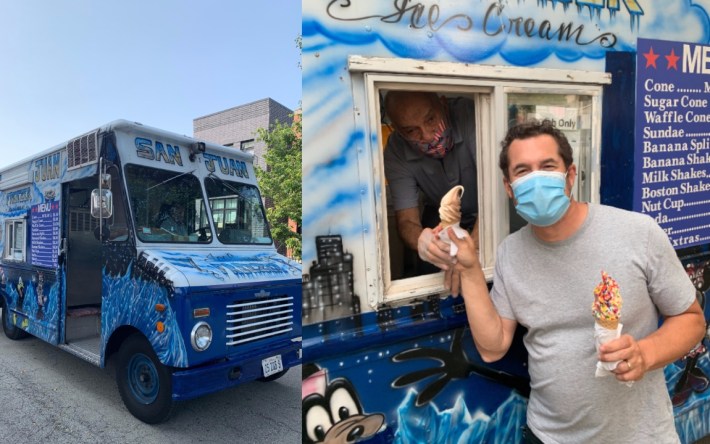 54. In Humboldt Park and neighborhoods across the city, restaurateur Robert Magiet bought out tamale vendors and delivered the food to people experiencing homelessness at encampments and shelters. Buy-outs averaged $350 for 20-25 dozen tamales, he said in January.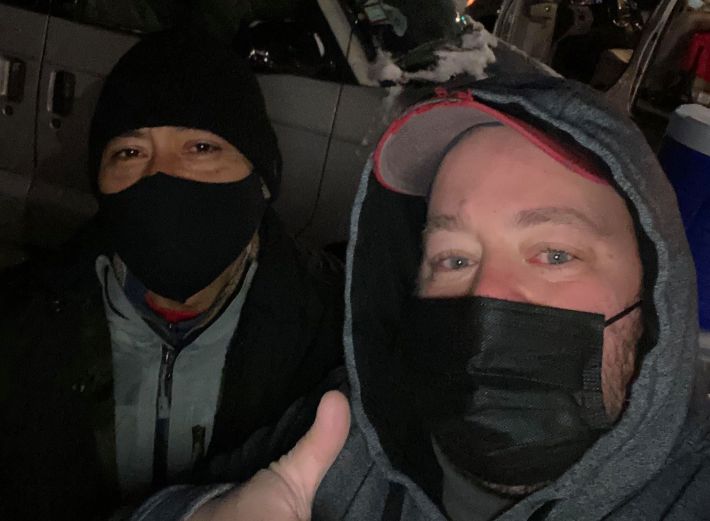 We Raised Money For Neighbors In Need
55. In Gage Park, the Gage Park Latinx Council launched a GoFundMe to help undocumented families who lost their jobs because of the coronavirus shutdown. The campaign, launched in March, raised more than $64,000.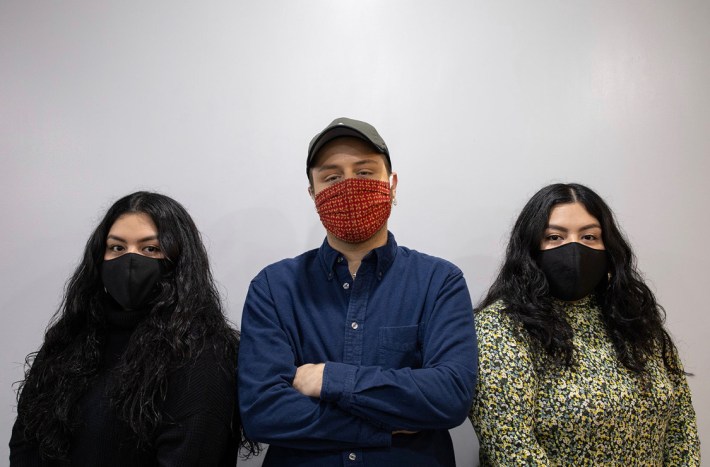 56. In North Lawndale in March, Stone Temple Missionary Baptist Rev. Reshorna Fitzpatrick and Pidgeon Pagonis, two organizers of the Soup for the Soul mutual aid program, gave away $100 gift cards to 50 families who come to Soup for the Soul for a free meal and warm clothing.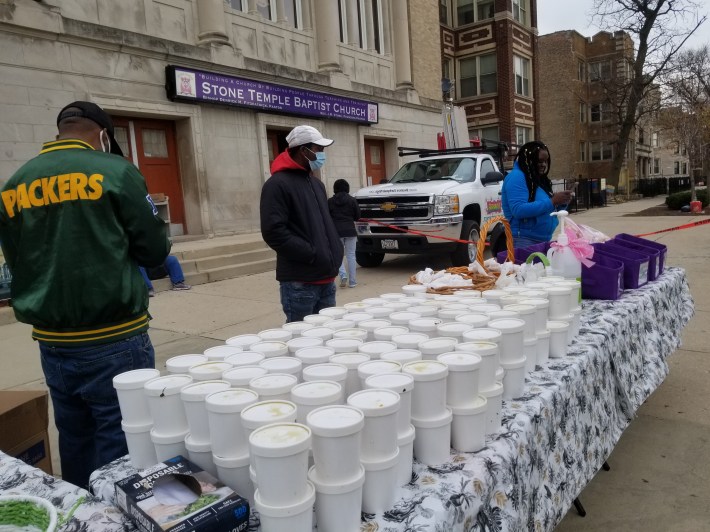 57. In Edgewater, neighbors raised $27,000 for a community response fund benefitting Care For Real, a local charity that runs a food pantry and other services for residents in need.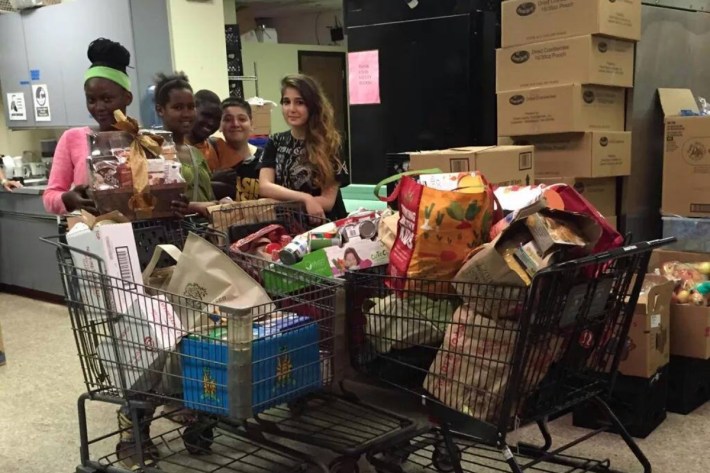 58. After he was laid off because of the pandemic, Edgewater resident Danny Beers launched a food drive for LGBTQ seniors, raising thousands of dollars for Center on Halsted.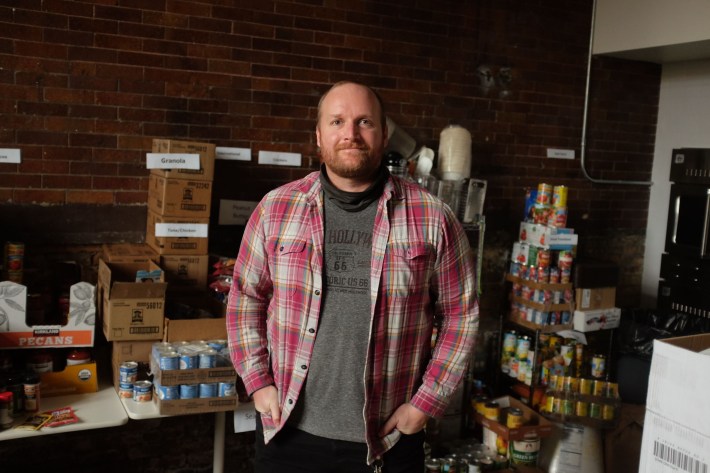 We Helped Kids Learn
59. After learning someone stole tablets and other school supplies for Mothers Against Senseless Killings' Englewood back-to-school giveaway in September, people from all over the city pitched in to help. Within hours, Chicagoans had purchased all 60 tablets on the group's Amazon wishlist. "Today could've been a terrible day, but all of our friends, supporters and even strangers stepped up and made sure it wasn't," founder Tamar Manasseh said.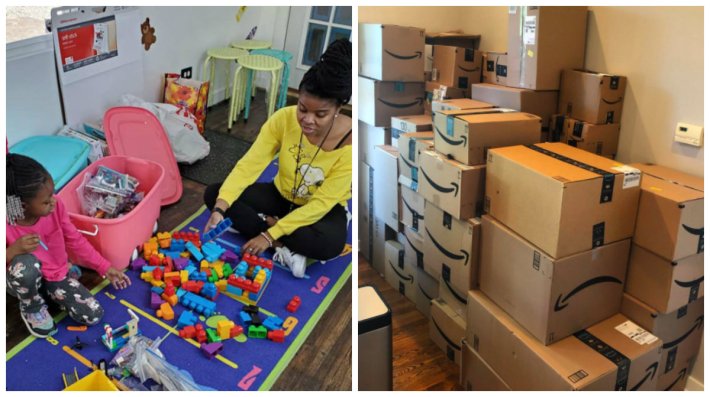 60. When CPS shifted to e-learning to slow the spread of coronavirus, it presented a problem for West Side essential workers who couldn't work from home. In North Lawndale and Garfield Park, Young Men's Educational Network, Breakthrough Urban Ministries and Marillac St. Vincent Family Services gave students a safe space to e-learn under the supervision of adults.
61. In South Shore in April, Quarry Event Center organizers stocked its Little Free Library with care packages with books and activities to keep neighbors of all ages occupied during the pandemic.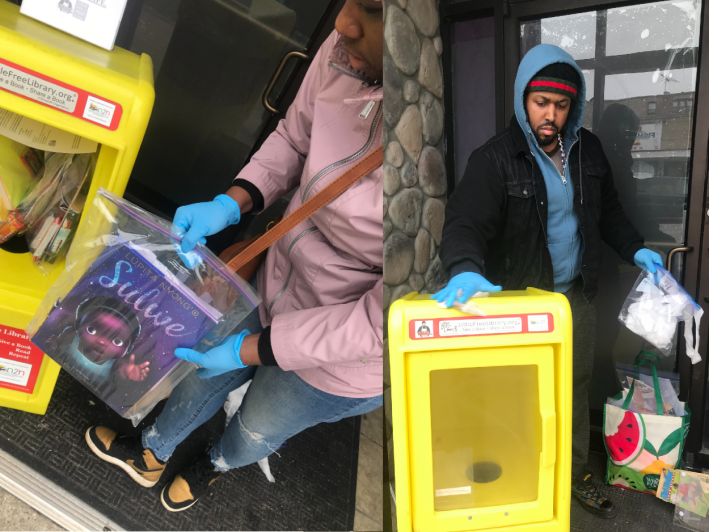 62. In Woodlawn in April, the Brilliant Brown Boys book club moved its programs to Zoom, boosting the boys' confidence in reading during a critical time.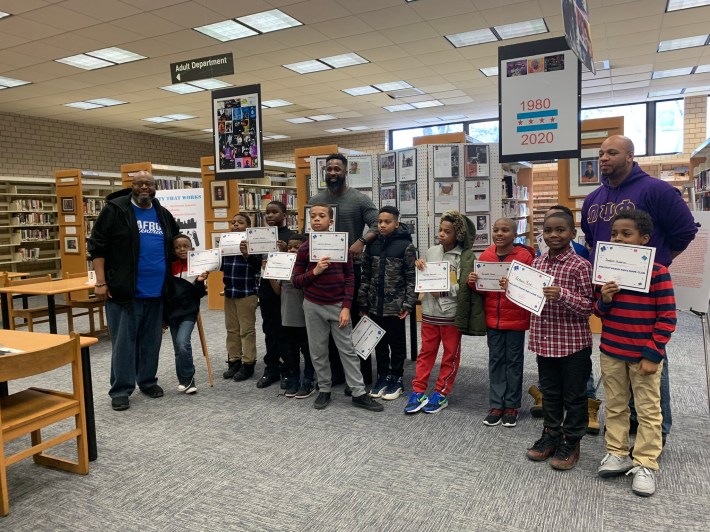 We Saved Animals
63. In Englewood in April, PAWS volunteers delivered more than a month's worth of pet food and supplies to 28 homebound families, helping at least 100 pets in the area.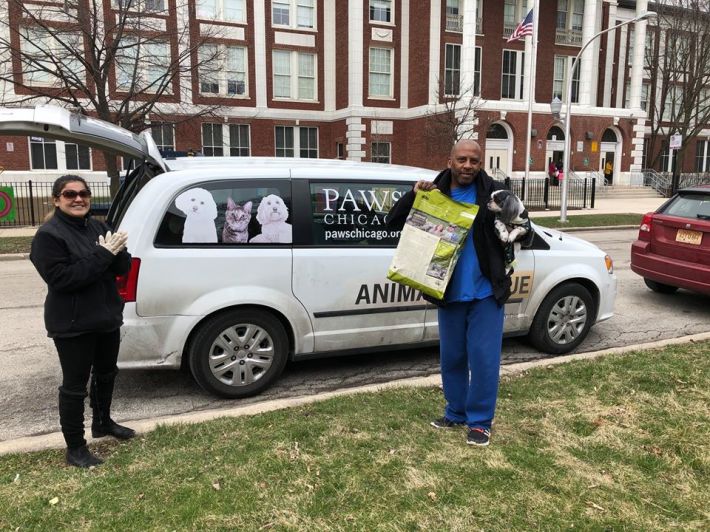 64. In Galewood in October, neighbors worked over five days to save Lullaby, a cat stuck in a 50-foot tree. In the end, Humborto Fernandez, owner of Fernandez Tree Service, and a team of Chicago arborists came to its rescue.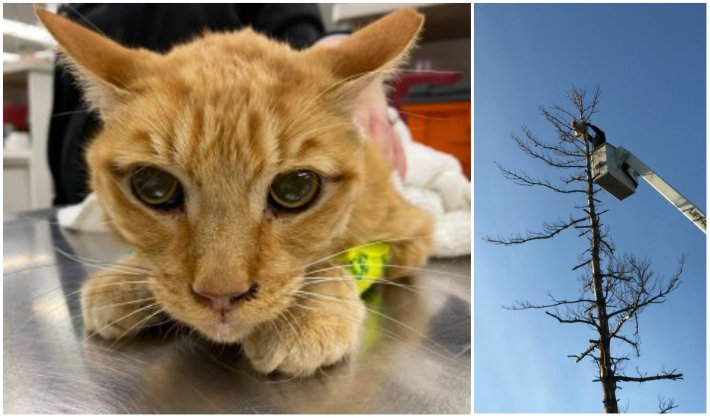 65. In February, neighbors from across the city rallied around an Albany Park family to help them search for their lost dog, Toby. He was eventually spotted in Humboldt Park, setting off a successful rescue mission.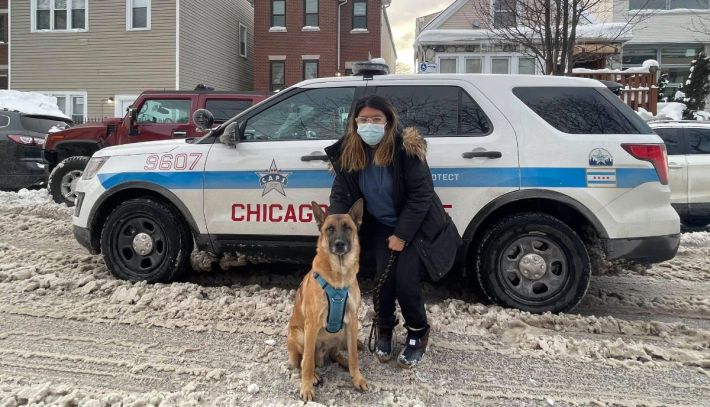 66. In East Ukrainian Village in December, strangers came together to save a feral kitten trapped in a car's engine.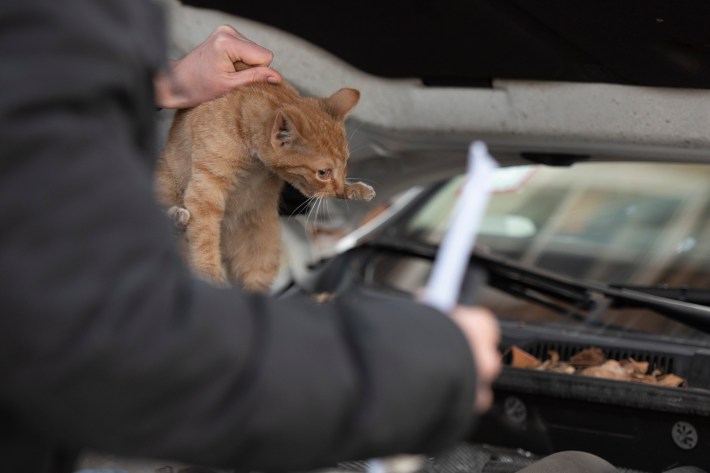 We Lent A Hand
67. In August, a brutal storm knocked out power for 170,000 Chicagoans. In Beverly and Logan Square, Chicagoans stepped up to help neighbors without power by setting up makeshift charging stations on sidewalks and in parkways.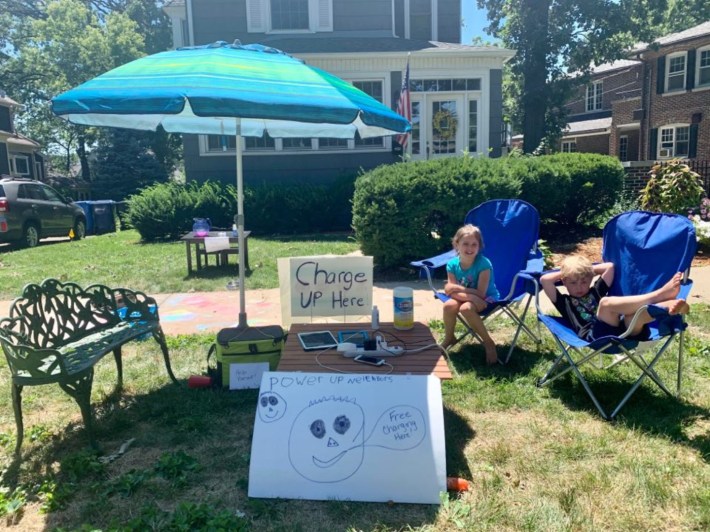 68. In Pilsen in March, residents like Sofia Armengol helped make grocery and pharmacy store runs for vulnerable people and older folks.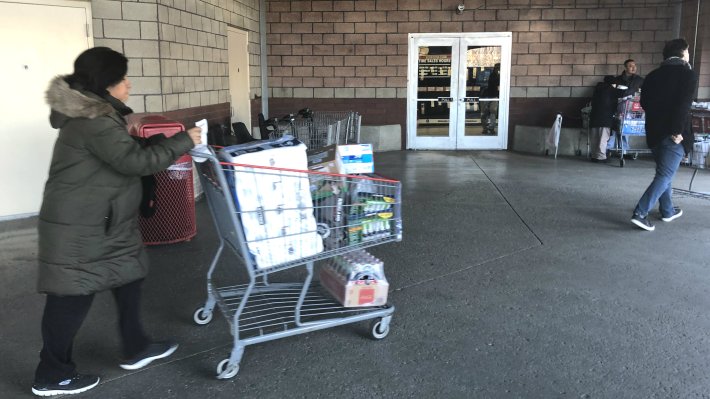 69. When Chicago was hit with a historic winter storm in February, the Neighborhood Network Alliance launched the South Shore Blizzard Dig-Out hotline to send out volunteers to shovel snow.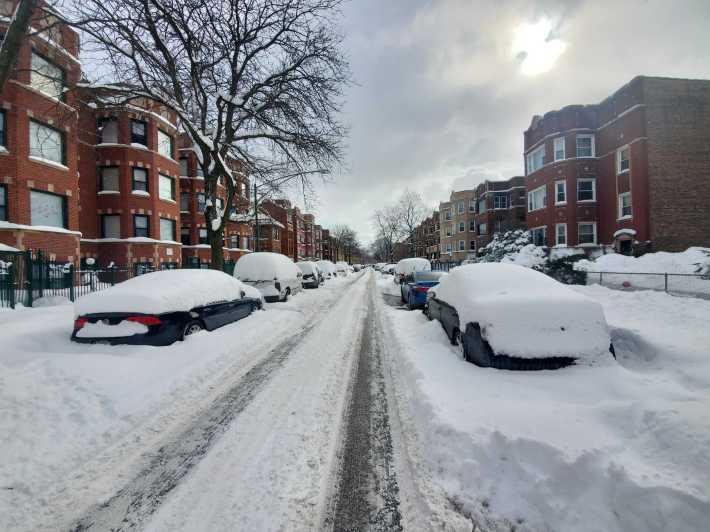 70. During that historic winter storm in February, residents found out Chicago no longer has a program to help residents who are older or who have disabilities clear snow. Neighborhood groups like the organizers of the Lawndale Cares Helpline stepped up, offering shoveling help to those who needed it.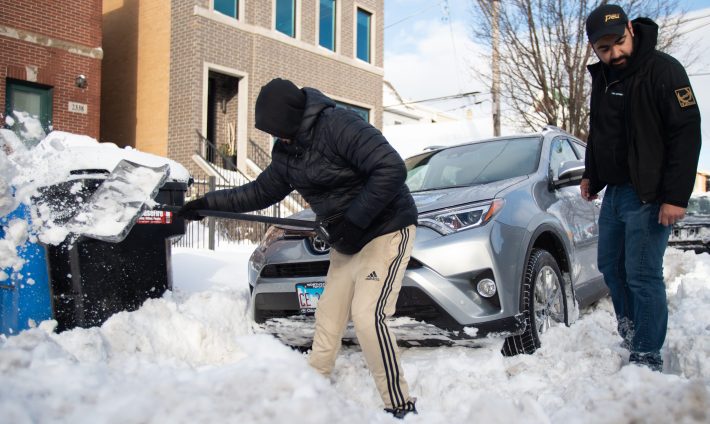 71. In Hyde Park and Woodlawn, two University of Chicago students, Ailsa Lipscombe and Britt Dorton, organized a disability care network to deliver medicine and groceries to neighbors in need.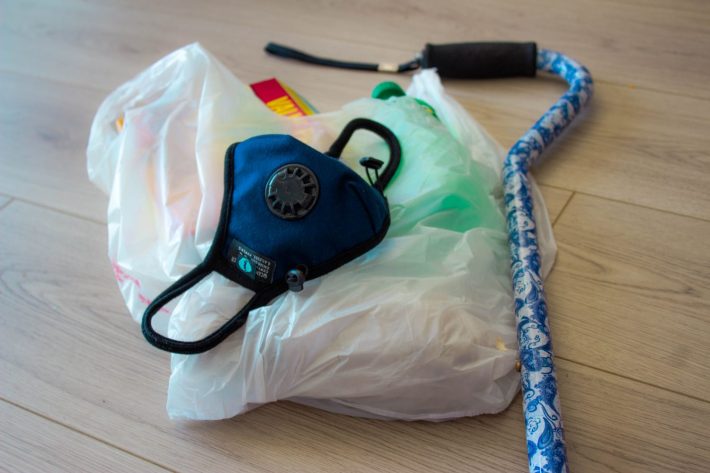 We Paid It Forward
72. In Lakeview last summer, chiropractor Ria Tjiong put down $100 at a local small business every Friday, encouraging her neighbors to order a treat on "Dr. Ria's Tab."
73. In Hyde Park in October, Julie Vassilatos and Kate Agarwal's South Side Pie Challenge went virtual, raising funds to address food insecurity by encouraging neighbors to bake pies for each other.
74. In Lincoln Square, food pantry Common Pantry's I Am Your Neighbor program allowed people ordering takeout or delivery from local restaurants to pick up the tab for neighbors struggling financially.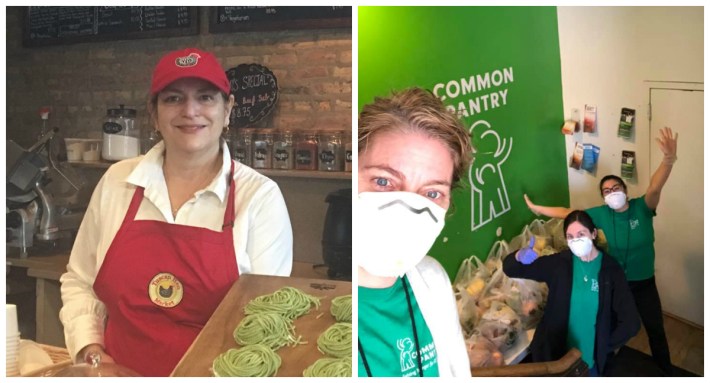 We Lifted Spirits
75. In Kenwood, Jean-Paul Coffy and Yakini Ajanaku brought music and joy to their Lake Park Avenue block for 105 straight days — from March's "coat weather" to the sun and sweat of July. They celebrated the anniversary of their first performance this weekend.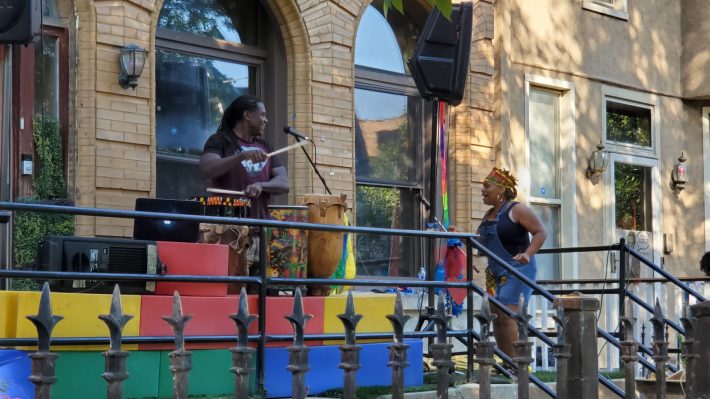 76. Inspired by Italians singing from their balconies in solidarity against coronavirus, Rogers Park residents also stuck inside started a singalong, first belting out Jon Bon Jovi's "Livin' On A Prayer" together online and in person.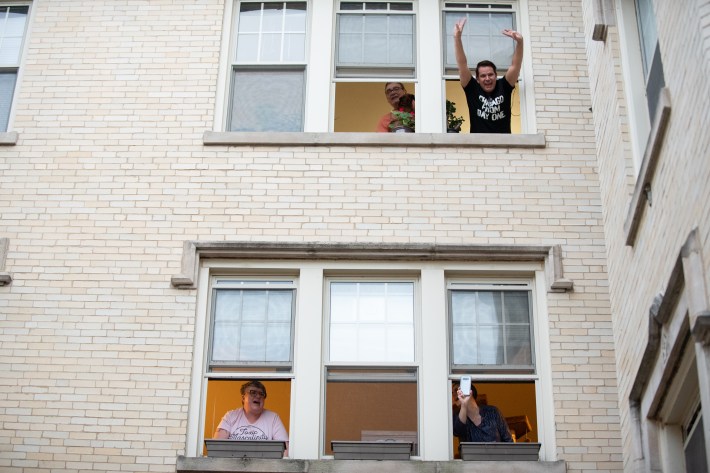 77. South Loopers were quick to follow suit, posting up on balconies and in high-rise windows for nightly singalongs and light shows.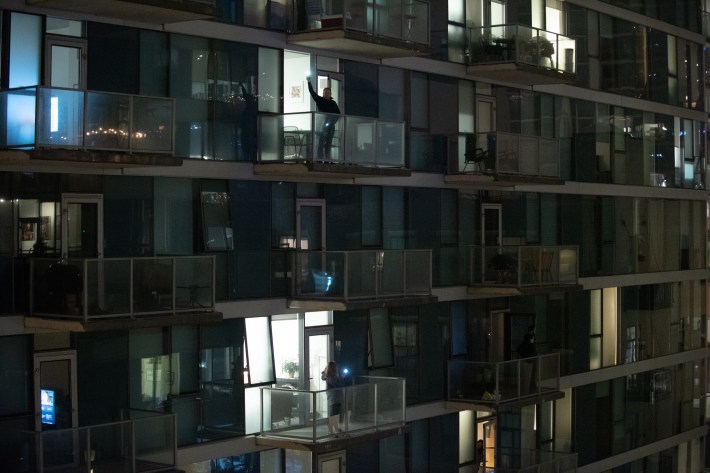 78. In Jackson Park Highlands in March, neighbors came up with a game to keep antsy children entertained as we social distanced: a bear walk.
79. When his circus school was shut down and all his gigs were canceled, circus performer Joe Lobeck took his act to Logan Boulevard to cheer up neighbors.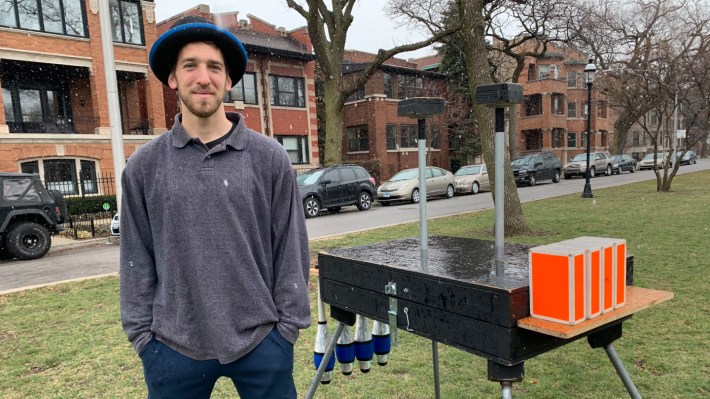 80. In Wicker Park, mom Elizabeth Mavros made a window-based scavenger hunt for neighborhood kids.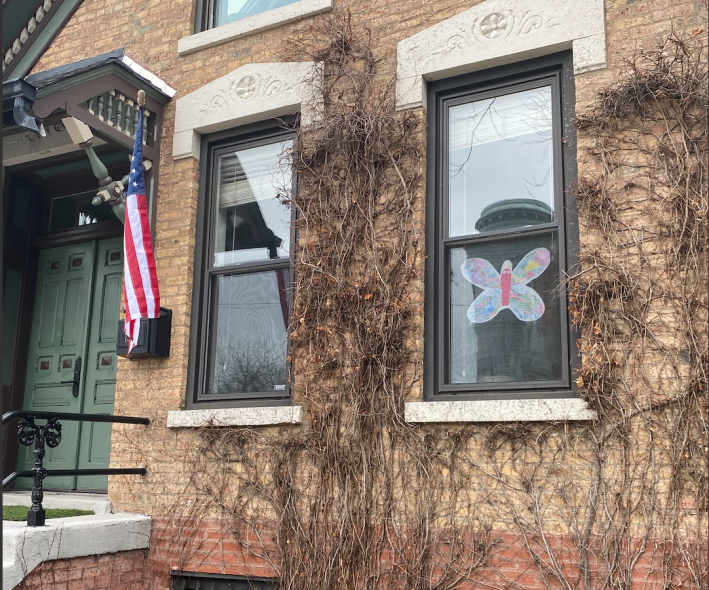 81. In Logan Square, Maggie Pagan and her husband, Edwin, organized a series of social distancing activities like Christmas in April and porch wine night to keep their neighbors in the 2300 block of North Lawndale Avenue entertained.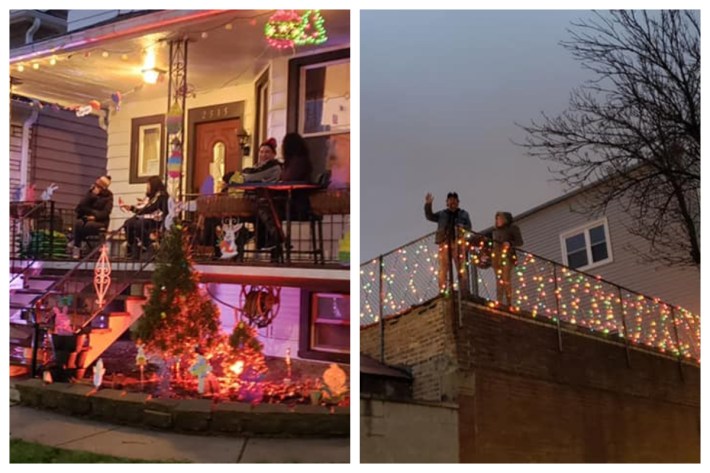 82. In Ukrainian Village, neighbor Zak played nightly DJ sets to cheer up others feeling the brunt of self-isolation.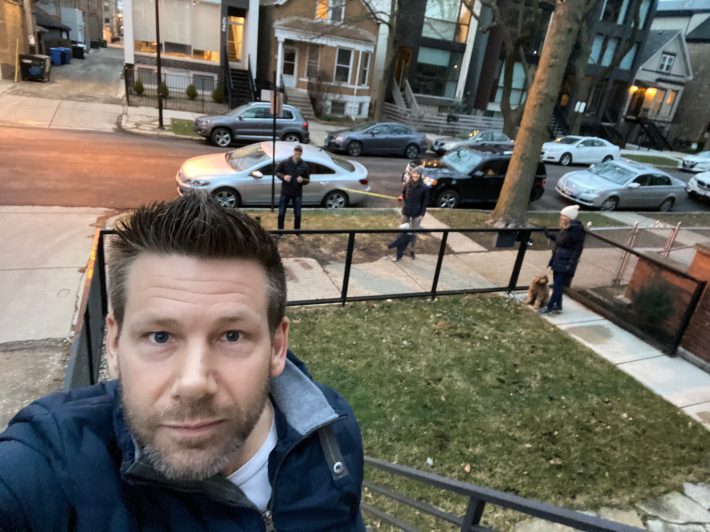 83. In North Lawndale, volunteers lit up hundreds of holiday trees along a mile-long stretch in the heart of neighborhood to let the community know "they were cared about."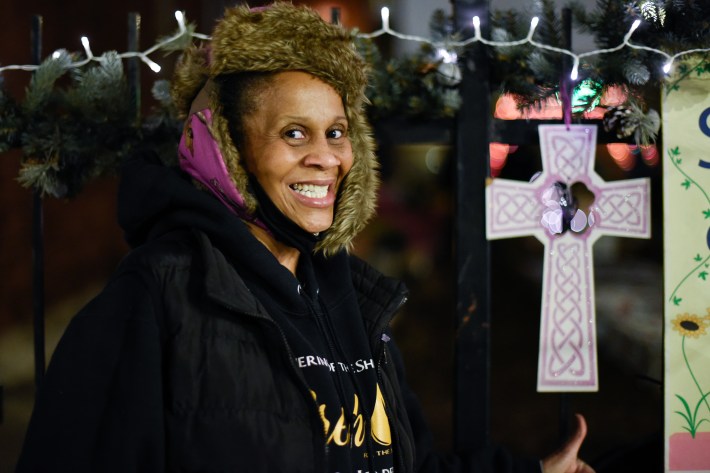 84. On King Drive, hundreds of volunteers from across the city joined My Block, My Hood, My City to light up miles of the South Side for Christmas.
85. In Englewood, a group of women — mostly educators who are 40 and older — came together to launch Black Girls Carol, bringing good tidings and cheer to South Side neighborhoods during the holidays.
86. In Pilsen, artist Shelby Rodeffer painted a mural to lift spirits. It depicts two distant homes communicating through a tin-can telephone with the message: "We will figure it out. Aqui juntos." "We wanted to let our neighbors know we are thinking about them," she said.
87. In Uptown, neighbors of the condo building at 908 W. Agatite Ave. created their Land of Make Believe, decking out their courtyard with a field of inflatable unicorns to battle the coronavirus blues.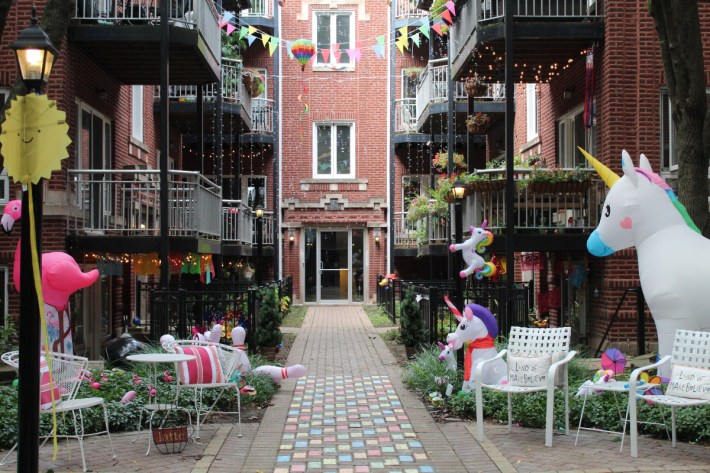 88. In Edgewater, photographer Michelle Lytle brought a mural to Broadway that says "Everything Will Be OK" and a coinciding lawn sign campaign to raise money for Edgewater charity Care For Real.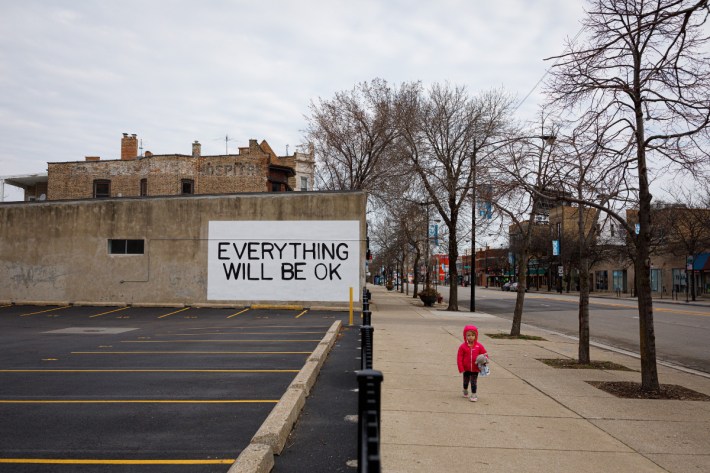 We Celebrated Each Other
89. In South Shore, 33-year-old Spanish teacher and mom Kourtney Lewis was battling cancer again amid the pandemic after beating the disease a decade ago. Her neighbors wanted to celebrated her fighting spirit, and dozens lined the streets and sidewalks to wish her a happy birthday from afar.
90. Coronavirus canceled many weddings and forced others to marry in more intimate settings. In Bucktown, Jeff Solin, an ordained minister, married a couple in socially distanced celebration from his porch and used a 3D printer to create a pair of silver rings for them to exchange.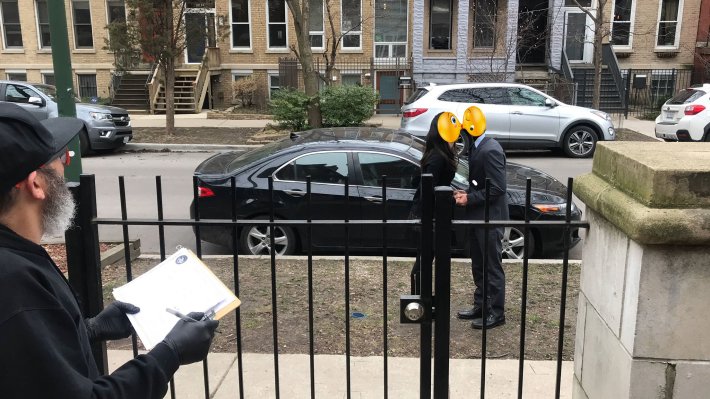 91. In Woodlawn in June, neighbors planned a surprise, socially distant birthday parade for 100-year-old Lucinda Rogers. Dozens of attendees made the celebration "out of this world," one attendee said.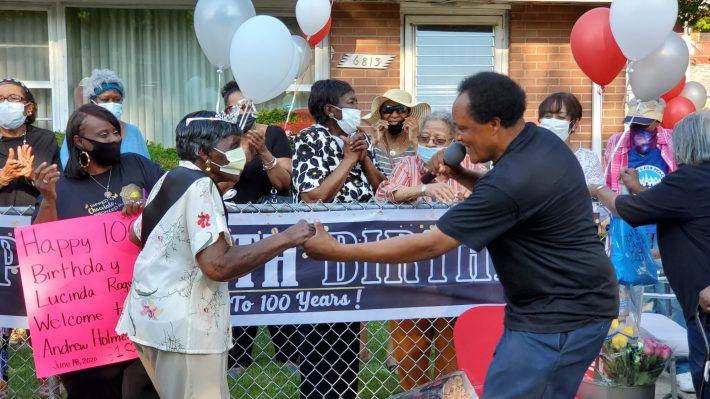 92. In Jefferson Park in March, Jasper Korotko's friends and their parents drove past his Jefferson Park house with signs and balloons, honking and blasting birthday songs in one of the first socially distant celebrations during the pandemic.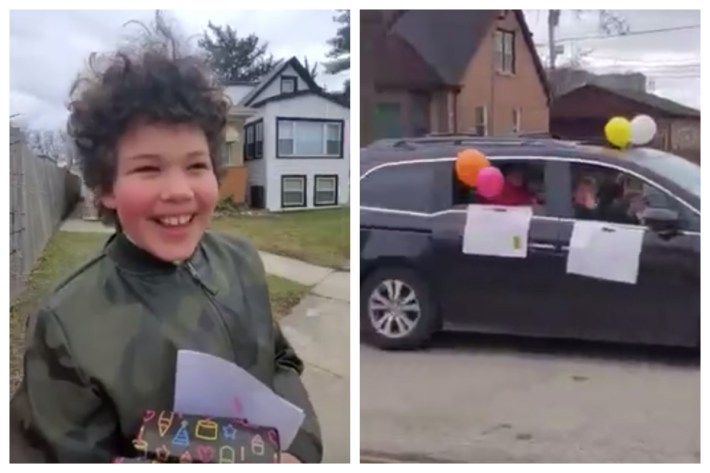 93. In West Town in March, Vanessa Torres' friends and family piled into cars — each household sequestered into one car, in observance of social distancing — and threw her a surprise Puerto Rican parade in honor of her birthday.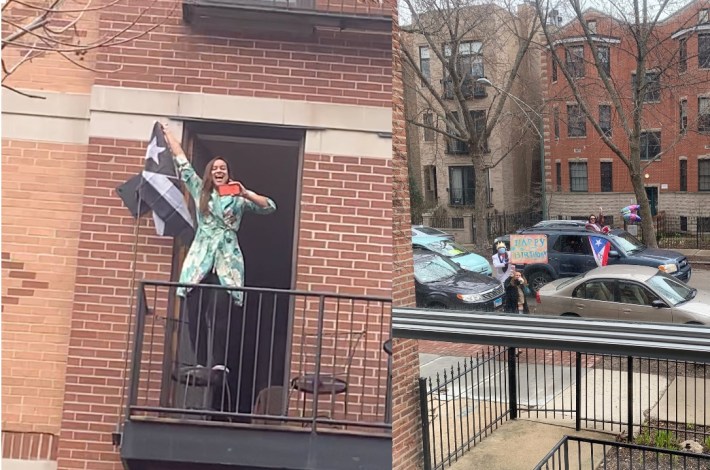 94. In Bronzeville in December, dozens of masked-up neighbors came out to celebrate historian and civil rights activist Timuel Black, who turned 102.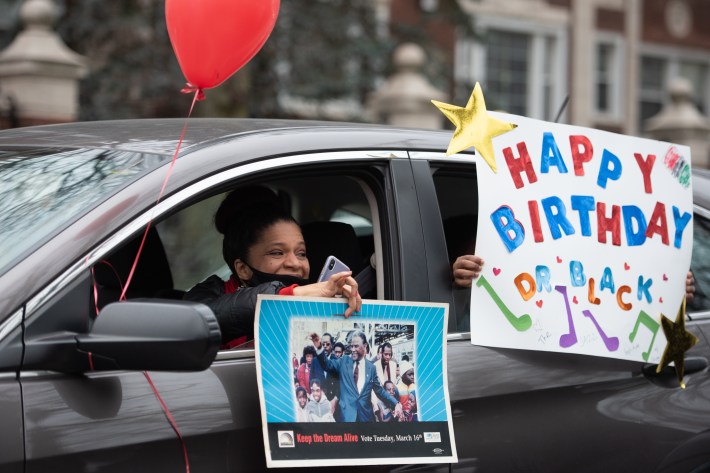 95. In Irving Park in March, neighbors saved 4-year-old Jack Cholis' birthday with a bingo scavenger hunt.
We Reached Across Borders
96. In Pilsen in January, the Figueroa Wu Family Foundation launched the free shuttle service from ABLA homes and Barbara Jean Wright Courts to help Near West Side families access its Pilsen food pantry.
97. Tommy Samuels and Helendora Samuels, owners of Helendora Samuels Picture Framing in Wicker Park, tapped their Wicker Park neighbors to help neighbors in Helendora's childhood home of Austin. Their efforts included a toy and boot drive and Easter basket and meal drive.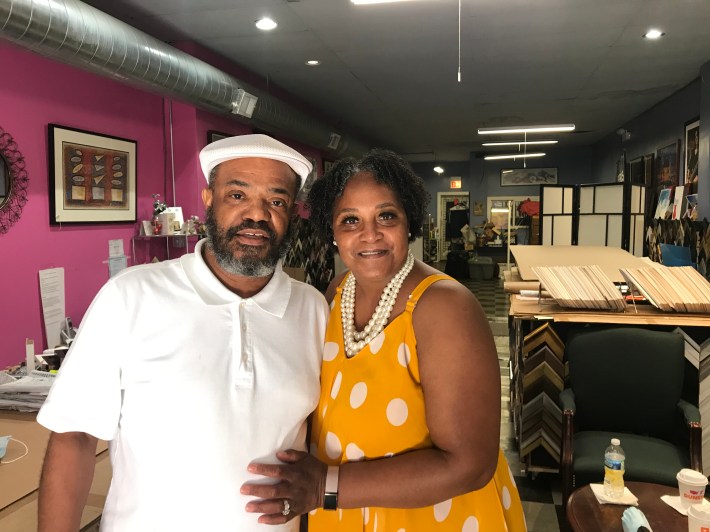 We Prayed And Helped Each Other Grieve
98. In Englewood, neighbors rallied to send love and pray for Ms. Gwen Johnson, a force who has helped those in need for more than 50 years, after she contracted coronavirus.
99. In May, Purpose Over Pain volunteers raised thousands to send Mother's Day flowers to 75 West and South side moms who lost their children to gun violence.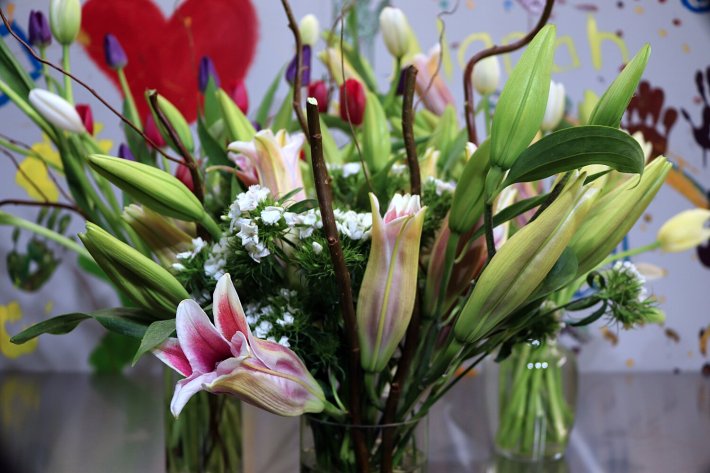 100. To honor the thousands of Chicagoans who died of COVID-19, Albany Park resident Luz María Vargas, who lost her own mother to the virus, built three temporary memorials for people to mourn loved ones lost to coronavirus as part of the Floral Heart Project.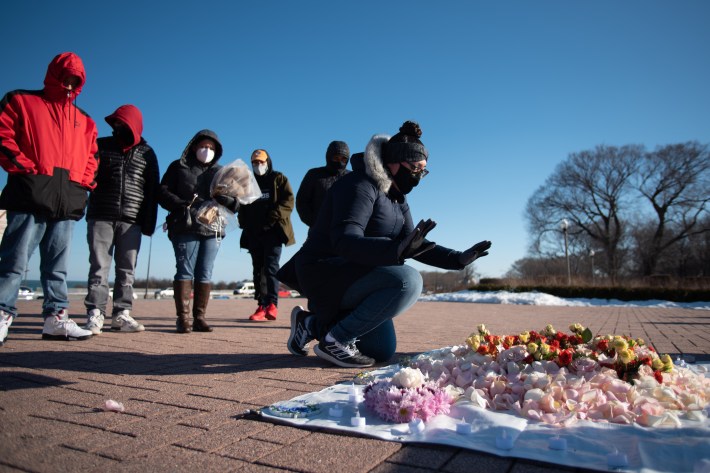 We Saved Lives
These are just a fraction of the ways neighbors helped — and a fraction of the stories Block Club covered. Did your neighbors do something extraordinary to help each other over the last year? We want to know about it. Email stephanie@blockclubchi.org.
Do stories like this matter to you? Subscribe to Block Club Chicago. Every dime we make funds reporting from Chicago's neighborhoods.
Already subscribe? Click here to support Block Club with a tax-deductible donation.