SOUTH SHORE — High school students in South Shore and Tulsa, Oklahoma, are working together to draw connections between the 1919 Chicago race riot, the 1921 Tulsa race massacre and modern racial tensions, taking a wide view of the tragedies that shaped their cities' Black communities.
Students at South Shore International College Preparatory High School, 1955 E. 75th St., and Booker T. Washington High School in Tulsa will share a virtual classroom six times by the end of the year. The Black history exchange is held in partnership with the Chicago Bulls and Oklahoma City Thunder.
Beyond learning what happened during the race riot and massacre, dozens of students will learn context around the tragedies — such as the Black-led efforts to rebuild after they occurred, and how leaders used them to justify and expand segregation.
"City elites wanted to segregate Black people, but didn't want to use violence," said Peter Cole, riot commemoration project co-director. "They realized [after the riot] you can use methods that are 'nonviolent' to achieve the same ends."
The 1919 Chicago race riot began with the killing of 17-year-old Eugene Williams, which sparked racist violence that left 38 people dead. Williams was killed when white people threw rocks at him for floating across an imaginary racial dividing line while swimming in Lake Michigan. A white police officer refused to arrest the white man witnesses said threw rocks at the teen.
The riot is "an origin story for segregation" in the city, said Franklin Cosey-Gay, co-director of the Chicago Race Riot of 1919 Commemoration Project. It stigmatized Black communities as violent and played a role in the housing divide that would define Chicago's 20th century and continues today, he said.
In Tulsa, the 1921 Black Wall Street massacre nearly destroyed the Greenwood District, the city's nationally renowned hub of Black businesses. Triggered by rumors of a Black man assaulting a white woman, white mobs — aided by government officials — attacked Black residents and raided the district over Memorial Day weekend.
Up to 300 people were killed, more than 800 were injured and 35 city blocks were incinerated during the 24 hours of violence, according to the Tulsa Historical Society and Museum.
It's important to educate youth on these pivotal moments in American history, especially with so few physical reminders of what happened during the Chicago riot, said Monique Thorpe, South Shore International College Prep history teacher.
There are stark differences between the ways Chicago and Tulsa recognize the racism and violence that shook their cities' Black economic centers, she said.
The planned Greenwood Rising history center in Tulsa will feature an interactive exhibit covering the massacre, its context and the history of Tulsa's Black community as a whole.
The exhibit will be designed by Local Projects, the firm that helped create the National September 11 Memorial and Museum in New York City and the Legacy Museum of African American History in Montgomery, Alabama. Construction is set for completion by the massacre's centennial this spring.
Meanwhile, a stone marker near the site of Williams' death, at the lakefront near 29th Street, is Chicago's only permanent recognition of the 1919 riot.
Tulsa will welcome "a state-of-the-art museum that chronicles the story of the event, from the beginning to the aftermath," Thorpe said. "In Chicago, there's a stoop that commemorates the Chicago race riot. … Definitely, Chicago could do better to commemorate it, to recognize that it happened [and suggest] what can people do to make amends for it."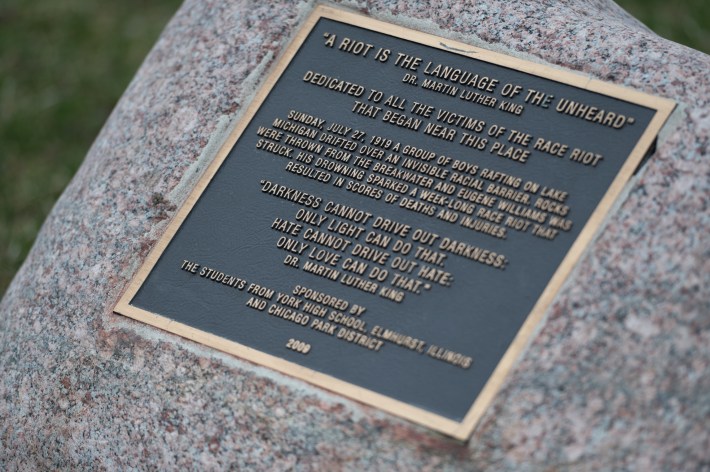 Last week, Cosey-Gay and Cole joined the two classes for the third of six sessions to be held through the exchange.
Students discussed how the Chicago and Tulsa riot and massacre related to last summer's racial unrest, which was sparked in part by police killing George Floyd and Breonna Taylor. They also read aloud Claude McKay's "If We Must Die," a Pullman porter's reflection on the Red Summer of 1919.
"The theme of that [poem] fit within the New Negro Movement," said Cosey-Gay, who is also the executive director of the Chicago Center for Youth Violence Prevention. "Unlike in the past where Blacks were attacked and lynched … we're not just going to stand idly by, being oppressed and terrorized."
Cole, a history professor at Western Illinois University, founded the riot project after visiting Germany and seeing stolpersteine — the 75,000 brass "stumbling stones" across the country that list the names and brief biographies of people killed by the Nazi regime.
"When you walk down the street, you come across one or multiple of these reminders that a Holocaust victim lived there," Cole said. "They're subtle yet powerful. … I was so inspired by it and so aware of the ignorance and denial of America, I said, 'I'm going to think about this more.'"
In that vein, the riot project aims to boost local recognition of the violence by installing artistic markers at each of the locations where the 38 citizens were killed. Much like the stolpersteine, residents will be able to stumble across the markers acknowledging riot victims as they walk, bike or hop on the "L."
That's important, as after numerous events marking the riot's centennial in 2019, many people "went back to not thinking and talking and learning from those events," Cole said.
To create markers for Chicago, Cosey-Gay and Cole are working with Firebird Community Arts, a Garfield Park-based studio that teaches glassblowing to youth healing from violence and trauma.
Navigating the city's bureaucracy has been a challenge, and no markers have yet been installed as the project nears the end of its second year, Cosey-Gay said. But he hopes to have the first marker completed by May; it will honor Paul Hardwick, who was killed near the intersection of Adams Street and Wabash Avenue.
"That is the start of Route 66. Route 66 takes you to Tulsa," Cosey-Gay said. "I would love to take Paul Hardwick's marker … down to Tulsa and talk to them about what we're doing here."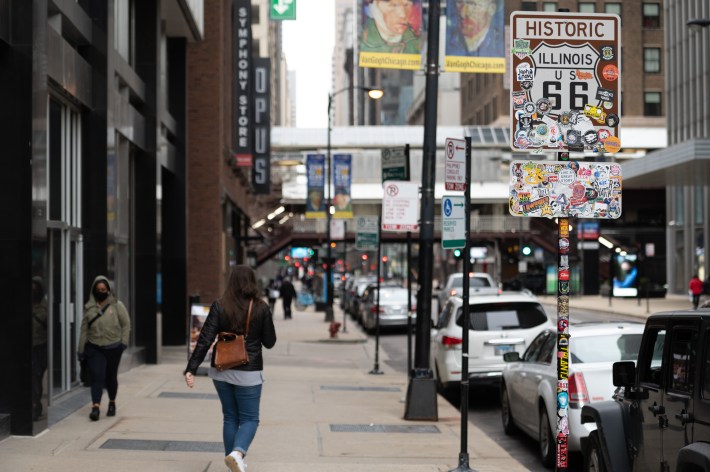 Cole and Cosey-Gay plan to continue their relationship with the two high schools after the educational exchange. The pair wants to take South Shore International students for a bicycle tour around the Black Belt, while using cameras to stream the ride to students in Tulsa. That trip is tentatively set for May.
Along the way, they'll visit locations like 35th Street between State Street and Wabash Avenue, where three or four Black men were killed by police during the riot. Police Department headquarters is just a block away.
They'll also stop at the demolished Robert Taylor Homes, the Dan Ryan Expressway and other places that explain why Black Chicago looks the way it does in 2021.
Similar history tours have been held periodically for the public since the riot's centennial, and last summer's ride drew more than 200 people, Cole said. As the bike tours continue, he'd like to see other South Side community members and youth gradually take the lead in offering them.
"Nothing is better than being in the places that you're talking about," Cole said. "It's much more relatable when you're directly experiencing it instead of just being told."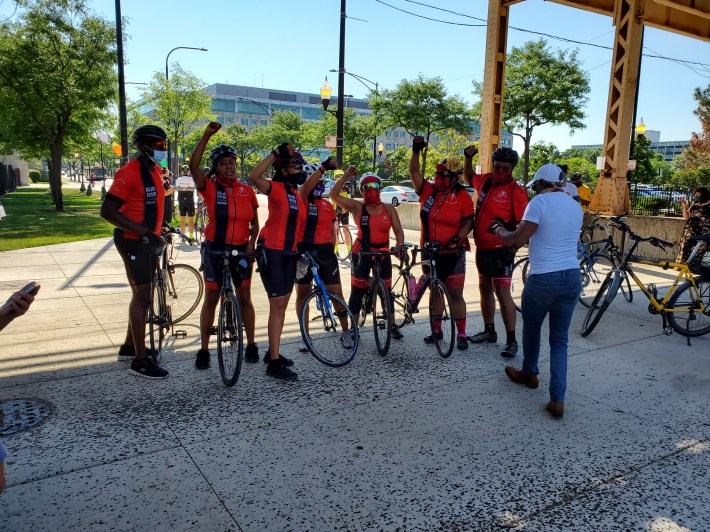 The students will build on the Black history exchange through the rest of the year — and, hopefully, for the rest of their lives, Thorpe said.
Three sessions remain in the exchange, including a roundtable discussion with NBA players on the Bulls and Thunder. Over the next few weeks, Thorpe will pick students' brains on how they can continue raising awareness about 1919 and 1921. They've already floated the idea of starting a social media campaign.
By highlighting the "Black excellence" and entrepreneurship found in Bronzeville's heyday and in the Greenwood District, Thorpe hopes these virtual classes will inspire students to take control of their economic futures.
"In terms of Tulsa and Bronzeville, there were so many viable successful businesses," Thorpe said. "In Black Wall Street, a dollar circulated so many times; it hardly left the community. It's the opposite now in so many predominantly Black communities."
Subscribe to Block Club Chicago. Every dime we make funds reporting from Chicago's neighborhoods.
Already subscribe? Click here to support Block Club with a tax-deductible donation.