CHICAGO — Counterfeit coronavirus vaccination cards are spreading — and they put the public in danger, some say.
The cards are often sold online and come blank, so buyers can fill them in. The business is being driven by people who do not want to be or have not yet been vaccinated but who fear they'll have to show proof of getting a shot in some settings.
But those cards pose a danger to others, said Steve Bernas, president and CEO of the Better Business Bureau of Chicago.
"Think about the security risk. Would you want to get on an airplane if somebody has a fake card that was not vaccinated? That may be the quandary that we're stuck in and, unfortunately, there's no national database that is housing all this information. They are relying on citizens to have their own cards," Bernas said.
Not everyone is medically able to be vaccinated, which means they are relying on other people to get shots and drive down the spread of COVID-19 so they can stay protected and the world can reopen. And though the shots are highly effective at preventing serious illness and death, even people who have gotten vaccinated do still have a slight risk of catching COVID-19 from others.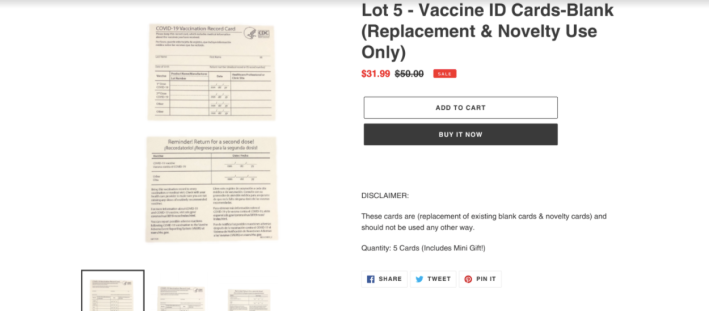 People who aren't getting vaccinated also risk getting sick with mutations of COVID-19 — and it's possible the virus could mutate enough that current vaccinations wouldn't work against it, restarting the pandemic.
For one Indiana man who is selling blank vaccination cards on the Chicago Craigslist page, all it took was a few minutes on Word to create them. The man, who only goes by the name Mike, said he began selling the cards a few weeks ago as a "novelty" and he advises people to only use them if they lose their own cards, rather than using them to fraudulently claim they were vaccinated.
"I was selling them as a joke and then a couple people contacted me, and I've been selling maybe one order a day," Mike said.
In addition to Craigslist, Mike sells the cards through a website that appears to be a sandwich shop. However, when one clicks on items for sale tab, the only things on the menu are vaccination cards that cost $7.99-$139.99.
Mike said while he does not believe what he is doing is illegal, but sites like Ebay and OfferUp, which host others selling blank vaccination cards, recently banned him. When asked about printing the logo of the Centers for Disease Control on his cards, he said, "That may be copyrighted."
Asked if he's worried that his actions can contribute to a spike in COVID cases, Mike again said they are for "novelty use."
"All I can say is that I advised them not to. I've gotten orders asking me to pre-fill it out and I've declined. I just sell blank 4-by-3 novelty cards," Mike said.
While legal scholars vary on whether employers will be able to force their workers to be vaccinated, or if businesses like airlines can refuse customers who are not vaccinated, some industries are looking into that as a way to keep people safe. Scott Kirby, CEO of Chicago-based United Airlines, which employs 60,000 people, wants to mandate COVID-19 vaccinations for his employees and is pushing for other employers to do the same.
One group representing the airline industry, Airlines For America, recently wrote a letter to the Biden administration urging the creation of a universal health credential that is accepted internationally and is more secure than the paper vaccine cards given to people now.
"The use of a secure, standardized COVID-19 health credential would add an additional layer of security and verification of this data, expedite the entry process and enhance privacy of traveler health records. This is another measure in the multi-layered approach that should give policymakers the confidence that the risk of transmission during travel is low and that travel restrictions and quarantines should be lifted," said Katherine Estep, spokesperson for Airlines For America.
Chad Anderson, a senior security researcher for Domaintools, a group tracking cyber threats around the world, said the pandemic has provided a great opportunity for scams and he has seen a lot of fake vaccination cards for sale over the past few months. He said numerous government agencies have warned people about posting pictures of their vaccine cards on social media, noting scammers can steal people's personal information to facilitate illegal activity.
Anderson wrote a report on the fake vaccine card problem in January and said a more secure, universally accepted health credential would help solve the issue.
"I do think there should be something that is internationally recognizable. If we want to have tourism return to normal and want travel to return to normal, there has to be something that is internationally verifiable and the cards really aren't going to cut it," Anderson said.
Bernas said the fake cards are not unique to Chicago, but urged people who see fake cards for sale to report them to the Better Business Bureau's Scam Tracker.
Cook County State's Attorney's Office spokesperson Tandra Simonton said the office does not have any open investigations or charged cases related to fraudulent vaccine cards, but she urged citizens to report any wrongdoing on the state's attorney's consumer fraud information website.
The Illinois Attorney General's Office is aware fake vaccination cards are being sold and has begun to look into the matter, said spokesperson Annie Thompson. She encouraged citizens to report vaccine scams or fraud to the office's website.
Subscribe to Block Club Chicago. Every dime we make funds reporting from Chicago's neighborhoods.
Already subscribe? Click here to support Block Club with a tax-deductible donation.