EDGEWATER — A yard sign campaign is part of the CTA's efforts to boost Far North Side businesses in the footprint of the massive Red Line overhaul — but not everyone got the message.
This week, the CTA rolled out a yard sign campaign by placing signs saying, "I Support … My" Uptown, Edgewater and Andersonville in yards throughout those neighborhoods. The yard signs went up without warning. They were supposed to be accompanied by a sheet that explains the campaign.
But some signs appeared without the additional information to give them context, the CTA confirmed Thursday.
"The signs were supposed to be distributed with a one-sheet explaining the purpose, which is to support the area's great local businesses," the CTA's Red-Purple Modernization Twitter account tweeted. "Unfortunately, some of the signs were delivered without this. We are sorry for the confusion and meant well!"
The signs are part of the CTA's Open For Business campaign, which seeks to help businesses near the Red Line in Uptown and Edgewater survive the massive Red-Purple overhaul project. The $2 billion project is ramping into high gear this spring.
Not all neighbors were familiar with the marketing effort, and some were confused by the signs.
"Who put these signs up all over our block without asking [and] what do they mean?" one Far North Side neighbor tweeted to the CTA.
The yard signs are one portion of the CTA's marketing effort to direct shoppers toward businesses near the Red Line construction area, spokeswoman Tammy Chase said. That campaign will also include banners and posters installed locally, a "support local" website, a social media effort and the yard signs.
RELATED: How Can North Side Businesses Survive A Massive Red Line Overhaul? City Steps Up To Help, But 'It's Gonna Suck'
An email the CTA sent to neighbors Thursday afternoon further explained the yard signs.
"Please place your yard sign in a visible location so that pedestrians and others are encouraged to remember that supporting local businesses means supporting our friends and neighbors," the CTA wrote in the email.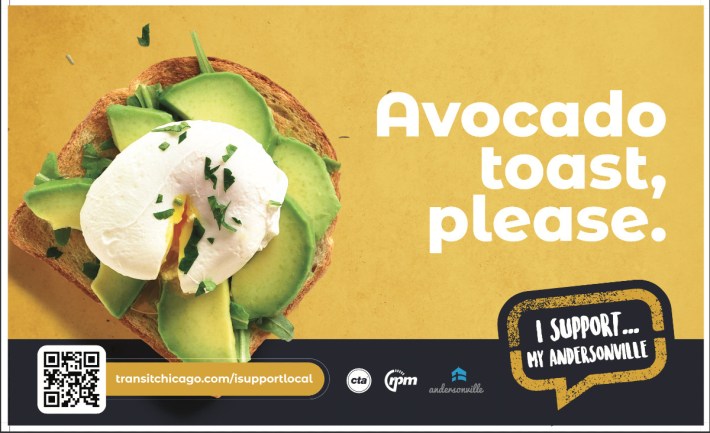 Signs customized for Uptown, Edgewater and Andersonville are available at Ald. Harry Osterman's 48th Ward office at 5533 N. Broadway, but neighbors are asked to call or email ahead to arrange a pickup or dropoff. The office can be reached at harry@48thward.org.
The CTA's Red Line reconstruction project will include tearing down and rebuilding the tracks and stations between Lawrence and Bryn Mawr. Aside from causing street, alley and sidewalk closures, the project is likely be a major headache for nearby businesses grappling with obstructed visibility and access for potential customers.
Businesses that sign on to the CTA's Open For Business program will get signs at stations and construction sites, a website with news and information about the businesses, plus digital advertising.
Subscribe to Block Club Chicago. Every dime we make funds reporting from Chicago's neighborhoods.
Already subscribe? Click here to support Block Club with a tax-deductible donation.