NORTH LAWNDALE — Four projects have been shortlisted in the bid to turn the long-vacant Silver Shovel dump site into a mixed-use industrial facility with community perks.
But despite attracting considerable buzz, a proposal to turn the site into a state-of-the-art youth baseball academy led by Pritzker Realty and Cubs Charities was not selected.
The Pritzker and Cubs project scored second-highest in the city's evaluation of the six redevelopment plans, according to planning department records, but it was at the bottom of the list for residents who filled out a a survey and submitted comments at community meetings.
Some residents were unconvinced the Pritzker and Cubs plan would create enough jobs and offer opportunities for Lawndale residents to build wealth, the evaluation said.
RELATED: Silver Shovel Redevelopment Must Consider Environment, Gentrification, Local Hiring, West Side Residents Say
Four projects ultimately were shortlisted. They are:
Solar-powered industrial, manufacturing and distribution buildings and an innovation center dedicated to supporting local businesses, proposed by Related Midwest and 548 Capital.
An industrial facility with affordable housing, a job training program and commercial space, proposed by McCaffery, A Safe Haven and KMA Development.
An industrial park with a business incubator, auto mechanic training program and athletic center, proposed by Matanky Realty, Safeway Construction, WBS Equities and North Lawndale Employment Network.
Warehouses, cold storage and a community center that would include athletic facilities, retail space, a café and artist studios, proposed by RK5 Development coalition.
The $173 million McCaffery plan is the most expensive of the proposals. Resident evaluations showed support for the plan, which would create up to 1,000 permanent jobs and 1,000 construction jobs, more than any other plan.
Community feedback also was supportive of the commercial, industrial and residential uses of the facility. The project would include extensive outdoor landscaping with a playground and amphitheater. Sixty units of affordable rental housing would be built. The Lawndale Wealth Creation Engine would be an incubation and training community space at the site to help business owners grow, spearheaded by A Safe Haven and Bunker Labs.
The $90 million RK5 plan could generate 370 permanent jobs and 300 construction jobs. The project would include a multi-use community center that would house sports programs for the North Lawndale Athletic and Recreation Association, a café run by Momentum Coffee, an incubator, retail space for local businesses and co-working spaces for artists.
"Residents praised the proposal for its innovative design and for including multiple avenues for residents to utilize the center," city planner Ethan Lassiter said.
The Matanky proposal would create up to 300 jobs at the industrial park.
Evaluations from residents praised the partnership with a trusted community organization, the North Lawndale Employment Network, which would ensure a local hiring pipeline for quality, middle-income jobs at the site.
An incubator at the facility would support local businesses, and the auto Mechanics Local 701 Union would be based at the site to provide mechanic training and access to union careers.
The Related Midwest/548 plan would create an estimated 500 jobs at the two industrial buildings.
In evaluations, residents said they supported the solar farm that would be installed on the roof, and the commitment by developers to prioritize minority-owned businesses at every level of the project.
A 10,000-square-foot innovation center that would be built at the facility was well-received by residents, Lassiter said. The center would partner with the North Lawndale Chamber of Commerce to maximize its impact on the business environment in the neighborhood.
Finalists will have two months to review city and resident evaluations and revise their plans to fill in any gaps in feasibility and community benefits, officials said.
The McCaffery plan and the RK5 plan are "more aspirational [and] were well-reviewed, but we need to work on feasibility," Lassiter said. On the other hand, the Matanky Realty and Related Midwest plans are highly feasible with minimal city incentives, but "maybe could better emphasize design quality or community benefits," Lassiter said.
After the two months, the city will initiate a second round of evaluations for the finalists, which will incorporate more community engagement, Ald. Michael Scott (24th) said.
"We still have to be mindful of COVID. There may be an opportunity to do things on a larger scale or maybe do something outdoors where more people can be involved. Maybe have a survey that can be done by hand," Scott said.
Several residents asked city planners how much community feedback would be weighed into the final decision on which project will be developed. The current process has no breakdown for precisely how much community evaluations will weigh into the decision, which is ultimately the city's to make, Lassiter said.
City Council would have to change request-for-proposal rules to define how community voices fit into the process, Lassiter said, but the city evaluations aim to reflect resident feedback.
"It is a larger legal change to have community feedback officially weigh in the process. But our intention is to align that as much as possible, given the constraints," Lassiter said.
Scott encouraged residents to stay involved in the process to determine what kinds of opportunities the redevelopment might bring to the neighborhood.
"We want to get this process right," Scott said. "We probably won't get another bite of the apple. We don't want to put something in the ground that is not going to be transformative to the community."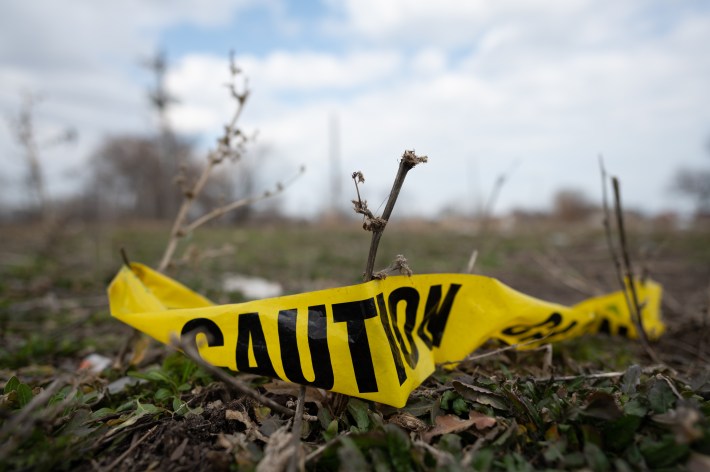 Pascal Sabino is a Report for America corps member covering Austin, North Lawndale and Garfield Park for Block Club Chicago.
Subscribe to Block Club Chicago. Every dime we make funds reporting from Chicago's neighborhoods.
Already subscribe? Click here to support Block Club with a tax-deductible donation.