KENWOOD — A Kenwood couple who used music to uplift their Lake Park Avenue neighbors through the pandemic will celebrate the anniversary of their first performance Saturday afternoon.
Jean-Paul Coffy and Yakini Ajanaku, organizers of the Lake Park Fired Up sessions held for 105 straight evenings last year, will mark the occasion 2–4 p.m Saturday in the 4500 block of Lake Park Avenue. If it rains, they'll instead perform Sunday.
Attendees at the outdoor event are encouraged to bring their instruments, pots and pans to create their own rhythms.
The celebration will also be held virtually on Coffy's Instagram, Ajanaku's Facebook and the couple's virtual music education platform, Music Magic Time.
Since the daily performances ended in July, one-off sessions have been held for the harvest season, the presidential inauguration in January and other occasions, Ajanaku said. She and Coffy are planning their next performance for Juneteenth.
Lake Park Fired Up has "evolved into a community venture where our goal is to create a conscious awareness of who we are on the block and in the neighborhood," Ajanaku said.
Before the couple started their front-yard performances, neighbors "usually just waved at each other while running to work or coming back form work," Coffy said. "Most people, you don't see them at all; they go through their garage in the back. … Now we know each other's names, and we're willing to stay connected and keep pushing that positive energy and love that this program has brought to the neighborhood."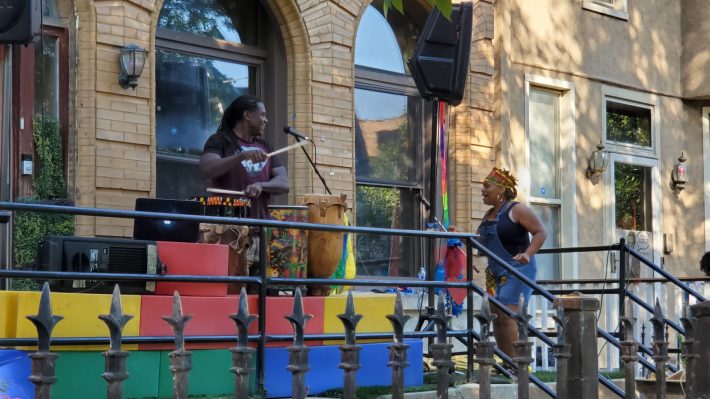 Ricky Jackson, who lives on the same block as Coffy and Ajanaku, inspired the couple to help the neighborhood cope with the pandemic through music.
Taking a cue from Italians who made music and noise out of their windows while under lockdown, Jackson made rhythms on his porch with a skillet days before the couple started their regular performances.
Jackson said last summer he is hesitant to take too much credit, as Coffy and Ajanaku took his idea and expanded it beyond his wildest expectations.
This weekend's anniversary celebration will recreate those initial sessions, with Lake Park Avenue neighbors drumming on pots and pans before Coffy gradually introduces his music, Coffy said.
Houses on the block will also display a banner featuring a word expressing residents' thoughts on the Lake Park Fired Up effort. "Spiritual," "neighborly," "commitment" and "enthusiasm" are among the descriptors neighbors chose, Ajanaku said.
The pandemic forced Coffy and Ajanaku to close their preschool business and transition to the Music Magic Time platform, which offers virtual music education for children aged up to age 6. As Coffy and Ajanaku are fully vaccinated, they said they anxiously await a return to normal.
"A celebration of life — that's what [Lake Park Fired Up] has turned into," Coffy said. "People are happy with the energy it brings and want to stay connected. We are here, we made it through and everybody's just happy to get back to real life."
Block Club Chicago's coronavirus coverage is free for all readers. Block Club is an independent, 501(c)(3), journalist-run newsroom.
Subscribe to Block Club Chicago. Every dime we make funds reporting from Chicago's neighborhoods.
Already subscribe? Click here to support Block Club with a tax-deductible donation.