HUMBOLDT PARK — For years, Humboldt Park's Roberto Clemente Community Academy has had a 25-meter indoor swimming pool — but no swim team to use it.
Now, the pool is buzzing with life thanks to an alumna with a passion for the sport.
Roberto Clemente's boys swim team — the Wildcats — competed this year for the first time since 1996. Their season was cut short due to the pandemic, but coach and Clemente alumna Miriam Franchi said it's only the beginning for the team, and for the revived swimming program at the school. Next year, Franchi aims to bring back the girls team, which has been dormant since 2010.
"This was a gem in the community back in the day, and the fact that it got taken away from the kids was a big disservice," Franchi said. "I don't know who did what, I don't know what or why, but the main solution I had was, I'm from Clemente, I'm from this neighborhood, this was my career for almost 10 years, so I'm going to make it happen here."
Franchi grew up in Humboldt Park and was on the girls swim team at Roberto Clemente in the late 2000s. She said being on the team — practicing everyday after school with her teammates and competing in swim meets — taught her important life skills she's carried with her into adulthood.
"This was my therapy, this was my home away from home. It was how I got through my day-to-day," Franchi said. "Swimming here competitively was one of the biggest things that gave me the confidence to do whatever I wanted."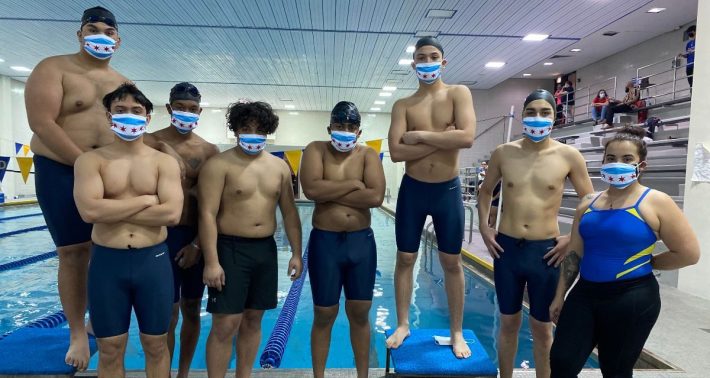 Franchi's experience swimming at Roberto Clemente shaped her career. As a young adult, she became a lifeguard and a swimming teacher at Chicago Park District pools on a seasonal basis before landing permanent gigs.
Later, she became a security officer at Roberto Clemente, which is when she discovered school leaders had let the swimming program fall by the wayside. The team Franchi was on her senior year — in 2010 — was the last group of girls to compete before the team's years-long dormancy. The boys team had been inactive for much longer, about 25 years.
"My reaction was like, 'So how are going to get kids in the pool? We have a beautiful facility, let's use it.' … It's one of the best CPS pools and I've worked at a lot. The fact that it wasn't being utilized, it broke my heart," she said.
Franchi built the team from the ground up. She recruited seven boys, most of them from the school's baseball team, and dug kick boards and other dusty equipment out of an old storage room. Much of the equipment she found was either broken or falling apart, so she asked coworkers, friends and neighbors for help. Donations poured in, which gave her the motivation to keep going.
"I tell everyone I'm not the one to ask for help, so seeing the support, seeing how people actually answered the call to action … it only pushed me to want to do more, to try and make sure I'm the best coach I can be for these kids," she said.
After just two weeks of practice, the Wildcats' truncated season started in November. The season had to be put on hold due to COVID-19, but the team was eventually able to pick it back up and finish with a 3-1 record, beating Senn High School last week.
Franchi wasn't able to recruit enough girls to launch a girls team this year, but she plans to launch one next year.
"I want them to have somewhere they can call home, I want them to have somewhere that they can say, you know what, 'I had a really bad day, but that swim helped me figure it out' … because that's how I was able to do it when I was here," she said.
'This Is My Second Home'
Named after Pittsburgh Pirates Hall of Fame left fielder Roberto Enrique Clemente Walker, Roberto Clemente Community Academy has long been known for its baseball team. But its swim team has languished for many years.
Principal Fernando S. Mojica couldn't say why given that he's only been principal for four years, but said the school has gone through "several transformations" over the years, which could have had an impact on its sports teams. At one point, the school had 4,000 students, which was "way too many," Mojica said. Today, the school enrolls just over 680 students and is considered "underutilized" by CPS.
"When you lose population, you lose people," Mojica said.
Another possible reason, Mojica said, is swimming is a specialized sport compared to other high school sports and it requires an experienced coach. Until Franchi, the school didn't have anyone who could safely and effectively teach the sport, he said.
"For us to have this team, you have to have a coach, you have to have someone who knows how to do it," he said. "A lot of us maybe play volleyball, a lot of us play basketball or baseball. We can kind of coach. You can't do that with swimming, you really have to have an expertise. That was part of it. When Miriam came on board that was really exciting."
Mojica said he's thrilled Franchi has revived the team, and is teaching the boys skills they can use long after graduation.
"Swim becomes a job for many of our kids. They get to become lifeguards, maybe even on the beaches in Chicago because they can pass the test," he said. "It does open up other avenues outside of just being in sports and learning how to be a team player."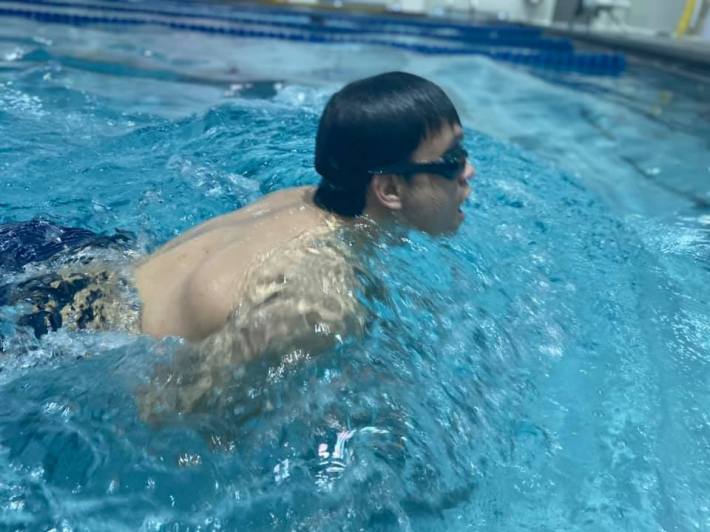 The team is already having a positive effect on the boys, many of whom didn't have much experience swimming prior to joining the team, in part because swimming lessons aren't common in Humboldt Park, Franchi said.
"A lot of kids and people from the neighborhood, they don't have access to indoor swim classes like other people would. It's not something that's in our neighborhood," she said.
Going into his first practice, James Solis, a senior at Roberto Clemente, didn't have any experience outside of swimming with his family growing up. He said he hadn't considered swimming competitively until his baseball coach encouraged him to join the team.
"I think swimming helps teach resiliency," the 18-year-old said. "In the water, it's tough, man. It's tough to keep going. It's tough to tell yourself to keep pushing. I think that helps outside of the water in school, as a person."
Rodrigo Rodriguez, a junior, said he's enjoyed being on the swim team so much now he can't imagine his life without it.
"I feel part of a big family," Rodriguez said. "When we're in competition or when we're practicing, this is my second home, my extra hours where I can have fun and communicate with people and do the one thing we have in common: swim."
Growing up in Humboldt Park, Franchi said she lost "a lot" of friends and her cousin to gun violence. With the swim team, she aims to give kids an outlet and protect them from violence, which continues to plague the city.
"I know I can't save everybody, but if I can help change the course of one of my boys and one of my girls, I'm completely OK with that. … I don't want to see them on the evening news. I'm tired of it," she said.
Listen to our "It's All Good" podcast featuring the Miriam Franchi, Mina Bloom and the story of the Roberto Clemente swim team:
Subscribe to Block Club Chicago. Every dime we make funds reporting from Chicago's neighborhoods.
Already subscribe? Click here to support Block Club with a tax-deductible donation.