PILSEN — A new ordinance aims to help restaurants and bars recoup liquor licensing fees if they were forced to close or limit indoor service during the pandemic.
Ald. Byron Sigcho-Lopez (25th) and Ald. Michael Rodriguez (22nd) announced the ordinance Monday, seeking to reimburse liquor license holders for businesses unable to operate normally for several months, thus being unable to actually use the license to serve liquor. 
The city requires licenses holders to purchase the $4,400 permit upfront which covers two years. The ordinance, scheduled to be introduced at City Council this week, calls for the city to use federal stimulus funds to return the fees based on the number of days a business was shut down or serve at limited indoor capacity.
Sigcho-Lopez, whose wards include Pilsen, Chinatown and portions of West Loop, said because of the closures from March to June last year businesses "did not open their doors…and yet they still had to pay a liquor license that is costly."
"The ordinance…intends to bring some relief using an equity formula so that our small businesses have a chance to get reimbursement for…a liquor license that has not been used during the pandemic," Sigcho-Lopez said Monday.
Rodriguez said "the food industry has suffered during the pandemic" and needed relief. Businesses across his ward, which includes 26th Street, commonly referred to as the second Magnificent Mile, were struggling just as other commercial corridors across the city. 
Rodriguez said the reimbursement "could mean opening or shutting the door."
"Businesses and restaurants are reaching out for support. Many have closed or are on the brink of closing, and losing the many working class jobs that go along with those businesses," Rodriguez said. "Helping businesses who have suffered the most is exactly what federal stimulus dollars should be used for."
Citing a survey done by the local chamber of commerce, Rodriguez said 36 out of 438 businesses had closed as a result of the pandemic.
"We need to do everything we can to support businesses staying open and this seems like a practical solution," Rodriguez added.
Illinois Restaurant Association Chairman Sam Sanchez said the reimbursement "would go a long way towards helping restaurants dig themselves out after a brutal year for the industry"
Philip Bernstein, owner of the Artisan Cellar at Merchandise Mart, said the liquor license was significantly more expensive than other business licenses.
"Under good economic conditions, that $4,400 is a significant financial impact on small business owners," Bernstein said. 
It's more difficult when businesses aren't able to open for months or can only operate at a limited capacity, Bernstein said. "It's just a grossly unfair system."
Months after getting his liquor license last January, Jose Cruz was forced to close Azul 18 in Pilsen.
The shutdowns meant to slow the spread of coronavirus meant his restaurant was closed for months and didn't make any revenue, Cruz said.
"We lost a lot of money during the pandemic," he said.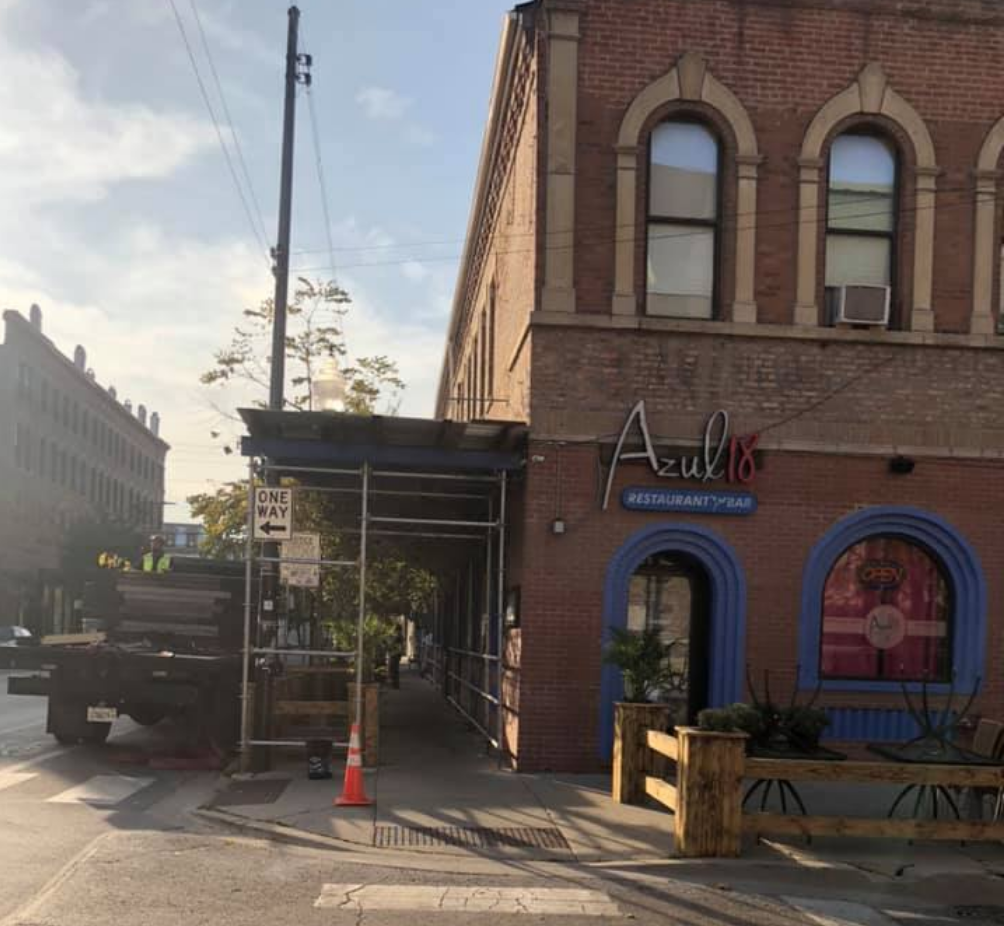 Sigcho-Lopez said he thought the ordinance would have a significant impact in giving back to "small businesses that are really hurting right now" and open the conversations to more ways to support local business owners.
Other supporters of the bill include: Ald. Daniel LaSpata (1st), Ald. Raymond Lopez (15th), Ald. Rossana Rodriguez Sanchez (33rd), Ald. Andre Vasquez (40th), Ald. Anthony Napolitano (41st), Ald. Matt Martin (47th), and Ald. Maria Hadden (49th).
Subscribe to Block Club Chicago. Every dime we make funds reporting from Chicago's neighborhoods.
Already subscribe? Click here to support Block Club with a tax-deductible donation.