LOGAN SQUARE — After a year of living in the NoCa Blu apartment complex at Milwaukee and California avenues, Bryan Arita decided to move out.
Arita, 23, liked his $2,800-per-month, two-bedroom apartment and the building, which had a gym and a rooftop lounge; coming from the East Coast, he found the apartment "surprisingly affordable with everything that came with it."
But with the coronavirus pandemic restricting all parts of daily life, he decided to leave this past summer for something cheaper with more space.
"I was basically sitting in my kitchen all the time," Arita said. "Me and my roommate both agreed that we wanted a bigger living area."
The pandemic has dealt a blow to the developers behind the many luxury apartment complexes that have sprung up in Logan Square in recent years, many of them catered to millennials without cars.
Renters have different priorities. Amenities like a shared gym or a lofted bedroom that were once selling points have become deterrents in the era of COVID-19, where common spaces aren't of much use and being stuck at home means needing more space to spread out.
As a result, developers and leasing agents have struggled to keep residents like Arita and bring in new renters, offering major concessions like two and three months free rent. Experts say the market is rebounding heading into spring, particularly in Logan Square, but pandemic renting habits may not change anytime soon.
Arita left his NoCa Blu apartment, which was just under 1,000 square feet, for a new place in a vintage building off Palmer Square Park. Now he pays $850 a month and has "way more" space and a yard. He lives with a roommate.
"I love it. Having a living room, having a dining room — it was totally worth it," Arita said. "And I feel like I'm more apart of the neighborhood."
'So Many Limitations … For How Much You're Paying'
A.M. 1980, a seven-story apartment complex at Milwaukee and Armitage avenues, opened in 2018, around the same time several other similar buildings popped up around the Milwaukee Avenue corridor.
Before the pandemic, the 132-unit building was almost at full capacity, leasing agent Douglas Leader said. But as of early March, the building was only 85 percent occupied, which is considered low, Leader said. Like NoCa Blu, most of the apartments in A.M. 1980 are small, with some under 500 square feet.
"We've definitely lost some people," Leader said. "There was a good amount of people who no longer had to be in the city, who went to live at grandma's lake house in Michigan or wherever to have more space. We did lose some people to the suburbs."
Leader said they've also struggled to bring in new renters due to a shift in priorities.
"Square footage was never the top priority for people. People wanted in-unit laundry, a nice gym. Now it's: 'What do you have available that has a balcony or a terrace? What's the largest one-bedroom you have?'" he said.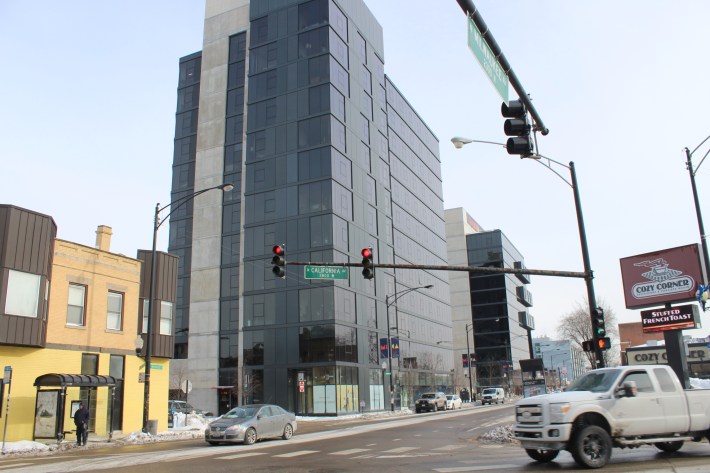 For months, the A.M. 1980 developer was offering big concessions, including two and three months free rent, $1,000 Visa gift cards and no move-in fees, Leader said. But the concessions are not unique to this developer or to Logan Square. It's quite the contrary, Leader said; such incentives are being used by developers and leasing agents across the city during the pandemic to be competitive and to avoid lowering rents.
"It's pretty much across the city. Some buildings are doing up to four months free. There's some insane concessions going on," he said.
One of those enticements kept renter Kristen Yang in one of Logan Square's new complexes — but not for long.
Yang, 28, was living in a $2,700-per month two-bedroom apartment with a roommate in the "L" building at 2211 N. Milwaukee Ave., another large Logan Square apartment complex built in recent years.
Yang's roommate left to live with her parents in the suburbs when the pandemic hit, so she took advantage of the one month free rent special the developer was offering and moved into a smaller apartment in the building, a $1,925-per-month one-bedroom unit.
A few months later, she moved out entirely to live in Florida.
"The value of being in a managed building was kinda going down because at times the gym would be closed, the shared spaces — there's limits on what you could use. Even having people over [was difficult.] It was great before, but there were so many limitations … for how much you're paying," Yang said.
Turnaround In 2021?
Over the last month or so, leasing has shot up in Logan Square and beyond, leasing agents said. It's consistent with the way the real estate market operates, as there is typically a lull in leasing in winter and an uptick in spring.
As of mid-March 2021, Logan Apartments at 2522 N. Milwaukee Ave. was more than 90 percent leased after a sluggish winter, said Jon Schneider, senior vice president and director of asset management at Fifield Companies, the developer that built the massive 220-unit apartment complex that replaced the Discount Megamall.
"We're really optimistic," Schneider said. "It was a bit of a crazy time, both for landlords and tenants … renters lost confidence in leasing agents, leasing agents didn't know what to do because it was the wild west. 2021 people are going to have a better grasp on renting."
Even so, Fifield has continued to offer three months free rent through April to pull in renters.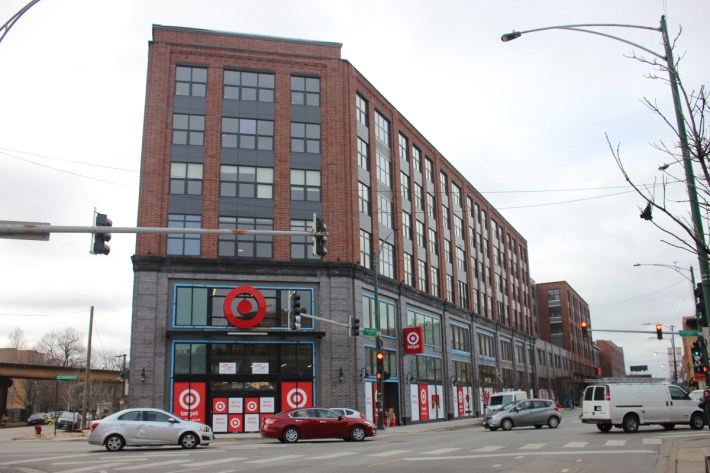 Schneider and Leader, the RentLife leasing agent, said Logan Square has fared better than other parts of the city because the neighborhood continues to be a desirable place to live for its restaurants and bars, parks and cultural offerings. Other parts of the city, like Downtown, have been clobbered by the pandemic, whereas Logan Square hasn't been hit nearly as hard, they said.
"I think some of the other properties outside of Logan, they don't have necessarily the same diehard people who are like, 'This is my neighborhood. This is where I'm going to live,'" Leader said.
"That's the one thing I've noticed doing leasing there compared to the South Loop and West Loop. People [there] are shopping a lot of different neighborhoods, they're looking for the best deal. It seems like the people who are looking in Logan Square — they plan to stay there."
Schneider said his team was having a hard time renting studios and convertibles in Logan Square Apartments in 2020, when the pandemic was at its worse, but now they're seeing an uptick in interest in small apartments.
"There will always be a demand for smaller units because they do come at a more affordable price point, but I do think that we, as developers, need to be more mindful of how that space is used to the extent that we design smaller units that are conducive to remote work and are flexible," he said.
Subscribe to Block Club Chicago. Every dime we make funds reporting from Chicago's neighborhoods.
Already subscribe? Click here to support Block Club with a tax-deductible donation.